New Girl Locations
New Girl is an American TV sitcom created by Elizabeth Meriwether for the Fox Broadcasting Company. Starring Zooey Deschanel, Jake Johnson, Max Greenfield, Hannah Simone, and Lamorne Morris, the show was aired between September 20, 2011, and May 15, 2018, nominated for five Golden Globes. The sitcom follows the story of Jess, an offbeat young woman, who moves into an apartment loft with three single men after a break-up. The apartment building exterior is the Binford Lofts, located at 837 Traction Avenue in the city's Arts District. And the bar exterior is The Griffin, located at 3000 Los Feliz Boulevard in Atwater Village, Los Angeles, California. The interior shots of the bar are from a restaurant called The Prince located at 3198 W 7th St, Los Angeles, California.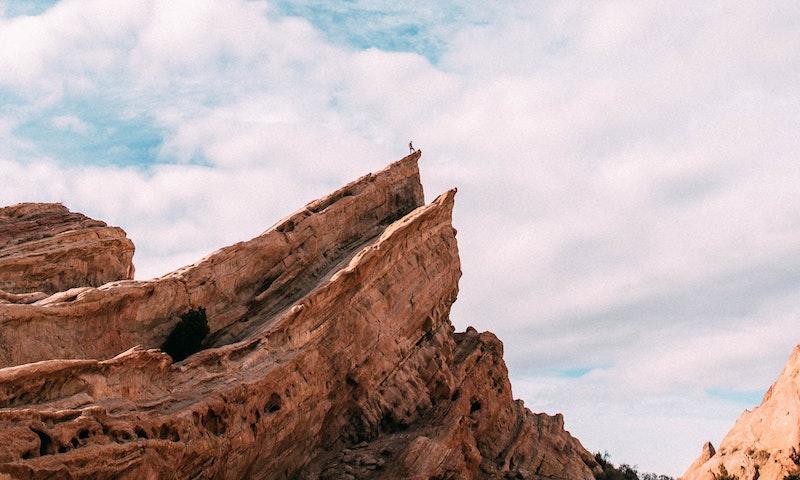 Vasquez Rocks Natural Area Park. Photo by Philipp Litvin on Unsplash.
Where was New Girl Filmed?
New Girl was filmed in 3601 Appleton St, Binford Lofts, Carondelet House, Los Angeles, MacArthur Park, The Griffin (Bar exteriors), The Prince (bar) and Vasquez Rocks Natural Area Park.
The complete list of the locations with latitude and longitude coordinates are listed below in the table.
New Girl Locations Map
New Girl Locations Table
| Location Name | Latitude | Longitude |
| --- | --- | --- |
| 3601 Appleton St | 34.121765 | -118.261765 |
| Binford Lofts | 34.044750 | -118.234520 |
| Carondelet House | 34.060757 | -118.280411 |
| Los Angeles | 34.052235 | -118.243683 |
| MacArthur Park | 34.058491 | -118.279510 |
| The Griffin (Bar exteriors) | 34.125221 | -118.264801 |
| The Prince (bar) | 34.059490 | -118.295059 |
| Vasquez Rocks Natural Area Park | 34.488510 | -118.320747 |
Related TV Series