The X-Files Locations
The X-Files is an American sci-fi crime drama mystery television series created by Chris Carter. Starring David Duchovny, Gillian Anderson, Mitch Pileggi, it follows two Federal Bureau of Investigation special agents Fox Mulder and Dana Scully who investigate paranormal and strange cases. It was released on Fox from September 10, 1993, to May 19, 2002, as well as from January 24, 2016, to March 21, 2018, ran for 11 seasons, 218 episodes. The show won five Golden Globes including "Best Television Series - Drama". The X-Files was shot in different cities of British Columbia, Canada such as Fresno, Richmond, Chilliwack, Burnaby, Langley, Delta, Port Coquitlam, and Vancouver. Filming also took place at Los Angeles Center Studios, 20th Century Fox Studios (Stages 5 and 6), North Shore Studios (Stage 2), and Universal Studios.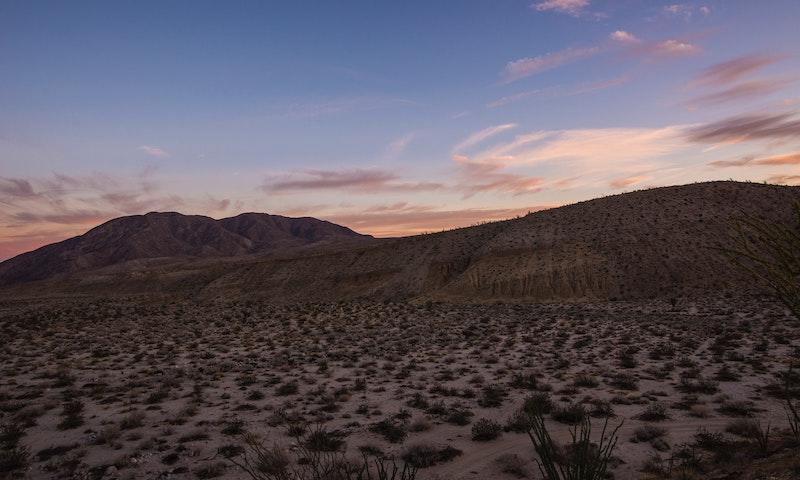 Anza-Borrego Desert State Park. Photo by Ethan Dow on Unsplash.
Where was The X-Files Filmed?
The X-Files was filmed in 1 W Cordova St (S01-E02, S03-E15, S05-E15), 10 E Hastings St (S01-E04), 1000 Station St (S01-E05, S04-E03), 102 E Pender St (S03-E15, E19), 1036 Salsbury Dr (S05-E07), 10469 St Edwards Dr (S01-E04), 1057 Iliff St (S06-E20), 10576 Wilson St (S05-E13, E14), 1081 Burrard St (S03-E17), 1099 Gayley Ave (S07-E21), 11130 W Magnolia Blvd (S07-E08), 1146 Corsica Dr (S07-E02), 12 Orwell St (S01-E11), 1241 Corsica Dr (S07-E02), 1318 W 2nd St (S07-E14), 1327 Palmetto St (S08-E08), 1442 Pendrell St, 15773 Marine Dr (S02-E20), 16373 Beach Rd (S02-E20) and 1640 Jones Ave (S01-E16).
The complete list of the locations with latitude and longitude coordinates are listed below in the table.
The X-Files Locations Map
The X-Files Locations Part 1
| Location Name | Latitude | Longitude |
| --- | --- | --- |
| 1 W Cordova St (S01-E02, S03-E15, S05-E15) | 49.282692 | -123.104668 |
| 10 E Hastings St (S01-E04) | 49.281277 | -123.106140 |
| 1000 Station St (S01-E05, S04-E03) | 49.272446 | -123.098045 |
| 102 E Pender St (S03-E15, E19) | 49.280308 | -123.102188 |
| 1036 Salsbury Dr (S05-E07) | 49.275356 | -123.067398 |
| 10469 St Edwards Dr (S01-E04) | 49.187778 | -123.111206 |
| 1057 Iliff St (S06-E20) | 34.049294 | -118.519829 |
| 10576 Wilson St (S05-E13, E14) | 49.195061 | -122.411774 |
| 1081 Burrard St (S03-E17) | 49.280518 | -123.128319 |
| 1099 Gayley Ave (S07-E21) | 34.060253 | -118.446846 |
| 11130 W Magnolia Blvd (S07-E08) | 34.164608 | -118.373619 |
| 1146 Corsica Dr (S07-E02) | 34.049149 | -118.504539 |
| 12 Orwell St (S01-E11) | 49.299870 | -123.028816 |
| 1241 Corsica Dr (S07-E02) | 34.051579 | -118.503311 |
| 1318 W 2nd St (S07-E14) | 33.742638 | -118.304832 |
| 1327 Palmetto St (S08-E08) | 34.040443 | -118.231628 |
| 1442 Pendrell St | 49.284607 | -123.136292 |
| 15773 Marine Dr (S02-E20) | 49.016758 | -122.785957 |
| 16373 Beach Rd (S02-E20) | 49.010113 | -122.769691 |
| 1640 Jones Ave (S01-E16) | 49.323875 | -123.081573 |
| 166 N Edgeware Rd (S07-E14) | 34.062698 | -118.256683 |
| 1956 Main Mall (S02-E03) | 49.267307 | -123.253716 |
| 2036 Marine Dr (S01-E10, S02-E16, E17) | 49.324924 | -123.123245 |
| 2036 Marine Dr (S04-E10, S05-E04) | 49.324978 | -123.123260 |
| 20th Century Fox Studios | 34.053383 | -118.412941 |
| 234 1st St (S02-12) | 49.212646 | -122.906494 |
| 23838 Fraser Hwy (S01-E02) | 49.075687 | -122.564026 |
| 2397 Barranca Pkwy (S06-E12) | 33.697319 | -117.830353 |
| 2408 Nanaimo St (S04-E04) | 49.262718 | -123.056412 |
| 2440 Kingsway (S03-E23, S05-E18) | 49.240963 | -123.055557 |
| 25140 Rye Canyon Loop (S07-E13) | 34.458393 | -118.577202 |
| 2598 Bellevue Ave (S03-E09) | 49.334160 | -123.185616 |
| 2601 Lougheed Hwy | 49.259502 | -122.799118 |
| 2644 York Ave (S01-E24) | 49.271694 | -123.165573 |
| 272 E Hastings St (S03-E20) | 49.281094 | -123.098099 |
| 2750 52 St (E02-E22) | 49.053852 | -123.079773 |
| 29990 Mulholland Hwy (S07-E15) | 34.113731 | -118.778946 |
| 3000 41b St (S05-E11) | 49.057629 | -123.109985 |
| 3112 Main St (S03-E14) | 49.257198 | -123.100952 |
| 317 S Arden Blvd (S09-E03) | 34.068352 | -118.326294 |
| 324 Alexander St (S02-E03) | 49.283844 | -123.096916 |
| 3268 W 49th Ave (S02-E16) | 49.227062 | -123.177773 |
| 328 Cambie St (S05-E03) | 49.282875 | -123.109238 |
| 3448 Fromme Rd (S03-E08) | 49.340656 | -123.043381 |
| 350 Water St (S05-E02) | 49.284359 | -123.110153 |
| 374 S. Spring St (S07-E08) | 34.048683 | -118.247871 |
| 3848 W 29th Ave (S02-E05) | 49.245880 | -123.189522 |
| 4108 104 St (S01-E08) | 49.078773 | -122.934891 |
| 411 5th St (S02-E21) | 49.211426 | -122.915688 |
| 4130 Greenbush Ave (S09-E05) | 34.144875 | -118.425896 |
| 4135 Firestone Blvd (S07-E03) | 33.953560 | -118.197189 |
| 425 Hornby St (S05-E18) | 49.286480 | -123.116417 |
| 435 W Pender St (S01-E13) | 49.283333 | -123.112289 |
| 441 Glen Dr (S04-E12) | 49.280327 | -123.081566 |
| 4490 Sanderson Way (S01-E01, E24) | 49.247440 | -123.006119 |
| 450 Cricketfield Ct (S06-E15) | 34.142883 | -118.868011 |
| 451 S Bixel St (S07-E06) | 34.055607 | -118.261299 |
| 4517 Kingsborough St (S01-E07) | 49.228500 | -123.005791 |
| 4536 Dunbar St (S05-E18) | 49.245876 | -123.184982 |
| 4540 Dunbar St (S02-E05) | 49.245853 | -123.184975 |
| 464 Carrall St (S02-E18) | 49.280895 | -123.104408 |
| 4800 Cambie St (S01-E01) | 49.241077 | -123.118355 |
| 502 Alexander St (S04-E03) | 49.283859 | -123.093079 |
| 506 S Beaudry Ave (S07-E06, E20) | 34.053799 | -118.259140 |
| 52 Alexander St (S01-E14) | 49.283440 | -123.102974 |
| 528 Homer St (S01-E01) | 49.282150 | -123.112152 |
| 552 S Grand Ave (S07-E06) | 34.048878 | -118.254951 |
| 556 Davie St (S03-E21) | 49.276112 | -123.124962 |
| 5946 12 Ave (S01-E02) | 49.023991 | -123.059654 |
| 6017 196a St (S03-E11) | 49.112713 | -122.678574 |
| 611 Jervis St (S01-E03) | 49.288822 | -123.126213 |
| 62b St & River Rd (S05-E05) | 49.127228 | -123.049576 |
| 6300 Orion Ave (S07-E16) | 34.184772 | -118.469505 |
| 6466 Kingsway (S03-E24) | 49.219124 | -122.969780 |
| 664 Burrard St (S01-E04) | 49.284763 | -123.119270 |
| 670 Smithe St | 49.279949 | -123.121353 |
| 678 W Georgia St (S01-E16) | 49.282154 | -123.118164 |
| 6th St & Broadway (S07-E08) | 34.016586 | -118.491753 |
| 7447 Firestone Blvd (S07-E07) | 33.947601 | -118.147186 |
| 750 53 St (S01-E02) | 49.016396 | -123.075760 |
| 750 Hornby St (S01-E04 and S02-E06) | 49.282997 | -123.120827 |
| 758 W 13th Ave (S02-E04) | 49.259281 | -123.121452 |
| 7900 N Figueroa St (S06-E09) | 34.148640 | -118.183899 |
| 80 W Pender St (S02-E04, S05-E02) | 49.280422 | -123.106300 |
| 800 Cassiar St (S02-E17) | 49.277397 | -123.030785 |
| 817 W Georgia St (S04-E19) | 49.283649 | -123.118950 |
| 832 Apex Ave (S03-E17) | 49.312218 | -122.980736 |
| 837 Beacon Ave (S08-E07) | 34.051987 | -118.274338 |
| 8554 Hanna Ave (S09-E18) | 34.225967 | -118.607246 |
| 862 Stayte Rd (S01-E11) | 49.017799 | -122.778755 |
| 8888 University Dr (S01-E10) | 49.278519 | -122.917320 |
| 900 W Georgia St (S01-E12 and E02-08) | 49.283714 | -123.120804 |
| 9156 Glover Rd (S04-E02) | 49.168873 | -122.579132 |
| 924 Stayte Rd (S01-E01, S04-E23) | 49.018799 | -122.778931 |
| 974 N Broadway (S07-E17) | 34.065964 | -118.236229 |
| Acton | 34.481609 | -118.194550 |
| AES Redondo Beach LLC | 33.851143 | -118.396416 |
| Agoura Hills | 34.151913 | -118.769295 |
| Altadena | 34.190762 | -118.138039 |
The X-Files Locations Part 2
| Location Name | Latitude | Longitude |
| --- | --- | --- |
| Anza-Borrego Desert State Park | 33.258060 | -116.406639 |
| Ashcroft | 50.732140 | -121.275658 |
| Ashcroft | 50.730198 | -121.276566 |
| Big Bear Lake | 34.253319 | -116.924751 |
| Borrego Springs | 33.241817 | -116.386925 |
| Boundary Bay | 49.004559 | -123.037994 |
| Boundary Bay Airport | 49.080132 | -123.011673 |
| Britannia Beach | 49.624218 | -123.205360 |
| Britannia Mine Museum | 49.623623 | -123.205032 |
| British Columbia Institute of Technology | 49.184769 | -123.145790 |
| Broughton St & Comox St (S02-E16) | 49.285084 | -123.136383 |
| Burnaby | 49.249405 | -122.982552 |
| Burnaby Mountain | 49.279167 | -122.917366 |
| Burrard Dry Dock Pier | 49.307674 | -123.080849 |
| Bute St & Melville St (S03-E21) | 49.287849 | -123.124275 |
| Cache Creek | 50.810883 | -121.325577 |
| Calabasas | 34.137192 | -118.667732 |
| Campbell Valley Regional Park | 49.017246 | -122.656723 |
| Carson | 33.840092 | -118.267014 |
| Centre Lawn | 49.246208 | -122.807625 |
| Chilliwack | 49.158649 | -121.955505 |
| Church of the Angels | 34.125523 | -118.176193 |
| Churchill St & 72 St | 49.082371 | -123.024132 |
| Club Ed Movie Set | 34.662041 | -117.862854 |
| Coquitlam | 49.285103 | -122.797516 |
| Delta | 49.097843 | -123.032166 |
| Department Of Water And Power | 34.058006 | -118.249557 |
| Drake St & Howe St (S04-E08) | 49.276733 | -123.128845 |
| E 39th Ave & Fraser St | 49.234756 | -123.090546 |
| Farmers and Merchants Bank and Annexes (Closed) | 34.048103 | -118.247597 |
| First Congregational Church of Los Angeles | 34.064617 | -118.285027 |
| Fort Langley | 49.168125 | -122.580627 |
| Fresno | 36.739468 | -119.790459 |
| Glendale | 34.192032 | -118.273666 |
| Granville St & W Pender St (S01-E15) | 49.284653 | -123.114906 |
| Griffith Park | 34.136383 | -118.294579 |
| Grouse Mountain | 49.380104 | -123.082100 |
| Hall of Justice | 34.055603 | -118.242668 |
| Highbury St & W 1st Ave (S03-E23) | 49.271336 | -123.187592 |
| Immanuel Presbyterian Church | 34.061569 | -118.294357 |
| Jackson Road | 49.190243 | -122.540100 |
| Jay Littleton Ball Park | 34.076965 | -117.628677 |
| Kamloops | 50.680180 | -120.345757 |
| Kingsway | 49.222523 | -122.981277 |
| La Crescenta Motel | 34.219662 | -118.231926 |
| Ladner | 49.089588 | -123.084572 |
| Lake Sherwood | 34.143017 | -118.871002 |
| Lancaster | 34.677647 | -118.178062 |
| Langley | 49.104542 | -122.662781 |
| Las Vegas | 36.116409 | -115.194283 |
| Leo Carrillo State Beach | 34.044506 | -118.940857 |
| Long Beach | 33.813793 | -118.179703 |
| Los Angeles | 34.046627 | -118.277725 |
| Los Angeles Center Studios | 34.054722 | -118.259972 |
| Los Angeles National Cemetery | 34.061871 | -118.454124 |
| Malibu | 34.032562 | -118.797279 |
| Mann Biomedical Park | 34.454971 | -118.580490 |
| Maple Ridge | 49.222382 | -122.606125 |
| Marina del Rey | 33.976154 | -118.452049 |
| Marine Corps Air Station Tustin | 33.702919 | -117.824013 |
| Marine Dr & Fell Ave (S03-E03) | 49.321232 | -123.094727 |
| Moncton St | 49.125134 | -123.175415 |
| Morton Park | 49.287678 | -123.142090 |
| NASA Johnson Space Center | 29.559277 | -95.090004 |
| New Westminster | 49.207668 | -122.926140 |
| Newhall Mansion (Piru Mansion) | 34.418121 | -118.795189 |
| North Hollywood | 34.191250 | -118.391884 |
| North Shore Studios | 49.311062 | -123.041214 |
| North Vancouver | 49.320004 | -123.075287 |
| Old Place (S07-E15) | 34.114571 | -118.778282 |
| Ontario | 34.026001 | -117.607491 |
| Pacific Central Station | 49.273670 | -123.097916 |
| Pacific Palisades | 34.038795 | -118.523277 |
| Pacific Park | 34.008511 | -118.498177 |
| Paramount Ranch | 34.119194 | -118.757141 |
| Pasadena | 34.152973 | -118.153694 |
| Piru | 34.409103 | -118.806053 |
| Piru United Methodist Church | 34.415623 | -118.796379 |
| Pitt Meadows | 49.293949 | -122.668182 |
| Pittsburgh | 40.439785 | -80.002060 |
| Port Coquitlam | 49.266850 | -122.787018 |
| Port Moody | 49.301888 | -122.897003 |
| Porteau Cove Provincial Park | 49.557190 | -123.236855 |
| Queen Mary Elementary School | 49.319447 | -123.078148 |
| Richmond | 49.166862 | -123.136627 |
| Riverview Hospital (Coquitlam) | 49.246071 | -122.805359 |
| Robson St & Howe St (S01-E09 and S03-E16) | 49.281998 | -123.120872 |
| Rogers Arena | 49.277802 | -123.108902 |
| Rose City High School | 34.139454 | -118.134926 |
| Ruskin Dam | 49.195976 | -122.407715 |
| S Spring St & W 5th St | 34.047352 | -118.249710 |
| S. S. Lane Victory | 33.717243 | -118.273163 |
| San Bernardino International Airport | 34.100719 | -117.247101 |
| San Diego | 32.715641 | -117.157784 |
| Santa Clarita | 34.406445 | -118.534912 |
| Santa Monica Pier | 34.009186 | -118.497696 |
| SCE Eagle Rock Substation | 34.149765 | -118.183548 |
| Shaver Lake | 37.124294 | -119.299278 |
| Sierra Pelona Motel | 34.511780 | -118.347191 |
| South Gate | 33.948574 | -118.208115 |
The X-Files Locations Part 3
| Location Name | Latitude | Longitude |
| --- | --- | --- |
| Split Mountain | 37.020210 | -118.422272 |
| Squamish | 49.700150 | -123.161270 |
| St Mary 1050 Linden | 33.780323 | -118.186218 |
| St. Andrew's Catholic Church | 34.150604 | -118.149155 |
| St. Helen's Anglican Church | 49.199062 | -122.868530 |
| Stafford | 39.706818 | -74.269791 |
| Steveston | 49.132324 | -123.185410 |
| Surrey | 49.192135 | -122.851997 |
| The Century Plaza | 34.057465 | -118.415909 |
| The Orpheum | 49.280045 | -123.120438 |
| The Queen Mary | 33.752686 | -118.190369 |
| Tsawwassen | 49.018589 | -123.083443 |
| Tucson | 32.198570 | -110.962212 |
| Tujunga | 34.258568 | -118.294022 |
| Tustin | 33.740623 | -117.824890 |
| Universal Studios | 34.136330 | -118.352776 |
| Valencia | 34.420830 | -118.567017 |
| Van Nuys | 34.198685 | -118.459656 |
| Vancouver | 49.280678 | -123.127625 |
| Vancouver Art Gallery | 49.282921 | -123.120506 |
| Vancouver International Airport | 49.196617 | -123.182381 |
| Venice | 33.992157 | -118.468788 |
| Victoria | 48.429153 | -123.367081 |
| Victory Park | 34.160496 | -118.096588 |
| Walhachin | 50.753605 | -120.992279 |
| Washington | 38.904873 | -77.042419 |
| Waterfront Station | 49.285938 | -123.111618 |
| West Lawn Building | 49.245457 | -122.808868 |
| West Vancouver | 49.369282 | -123.219978 |
| Westwood Village | 34.061714 | -118.445961 |
| White Rock | 49.025272 | -122.806755 |
| Woodlands | 49.213764 | -122.898094 |
Related TV Series