Armageddon Locations
An action, adventure, sci-fi, drama movie, Armageddon stars an ensemble cast including Bruce Willis, Billy Bob Thornton, Ben Affleck, Liv Tyler, Will Patton, Steve Buscemi, William Fichtner, Owen Wilson, and Michael Clarke Duncan. Directed by Michael Bay, written by Jonathan Hensleigh and J.J. Abrams, from a story by Robert Roy Pool and Jonathan Hensleigh, the film was a commercial success, becoming the highest-grossing film of 1998 with $553.7 million worldwide. The film was also nominated for four Academy Awards in 1999, including "Best Music, Original Song" (Diane Warren, for the song "I Don't Want To Miss A Thing"). Armageddon was shot in Houston, Texas, USA. Establishing shots took place at Blue Mosque and Ortaköy in Istanbul, Taj Mahal in Agra, Flatiron Building, and Queensboro Bridge in New York.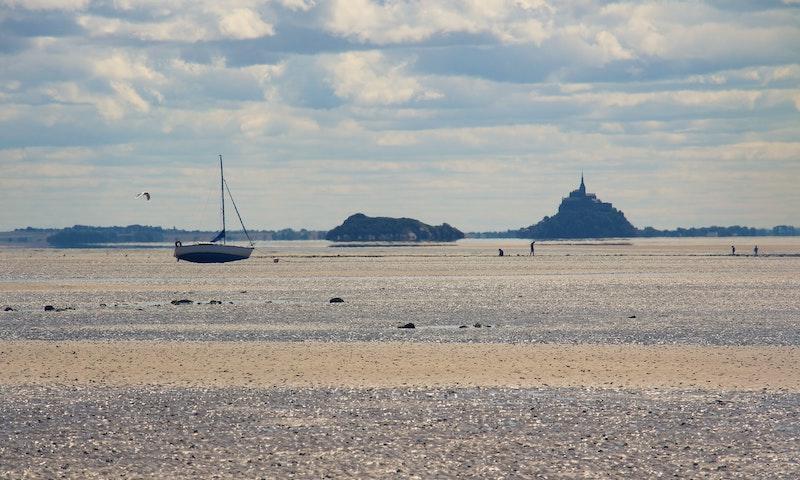 Baie du Mont-Saint-Michel, France. Photo by Mr Xerty on Unsplash.
Where was Armageddon Filmed?
Armageddon was filmed in 24721 S Main St, 5 Place Saint-Michel, Agra (आगरा), Aubrey, Badlands National Park, Baie du Mont-Saint-Michel, Barclay Hotel, Cape Canaveral, Carson, Denton, Dinan, Ed Koch Queensboro Bridge, Edwards AFB, Ellington Field Joint Reserve Base, Flatiron Building, Grand Central Terminal in NY, Gulf of Mexico, Houston, Interior and Kennedy Space Center.
The complete list of the locations with latitude and longitude coordinates are listed below in the table.
Armageddon Locations Map
Armageddon Locations Table
| Location Name | Latitude | Longitude |
| --- | --- | --- |
| 24721 S Main St | 33.801434 | -118.277390 |
| 5 Place Saint-Michel | 48.853516 | 2.344675 |
| Agra (आगरा) | 27.182203 | 77.975693 |
| Aubrey | 33.302223 | -96.988243 |
| Badlands National Park | 43.866341 | -102.361832 |
| Baie du Mont-Saint-Michel | 48.656708 | -1.625933 |
| Barclay Hotel | 34.048439 | -118.247192 |
| Cape Canaveral | 28.387041 | -80.609657 |
| Carson | 33.841076 | -118.263535 |
| Denton | 33.202602 | -97.172203 |
| Dinan | 48.446724 | -2.058387 |
| Ed Koch Queensboro Bridge | 40.756725 | -73.954613 |
| Edwards AFB | 34.912922 | -117.927612 |
| Ellington Field Joint Reserve Base | 29.608114 | -95.169876 |
| Flatiron Building | 40.741055 | -73.989731 |
| Grand Central Terminal in NY | 40.752686 | -73.977325 |
| Gulf of Mexico | 25.532549 | -91.451706 |
| Houston | 29.755739 | -95.405296 |
| Interior | 43.727654 | -101.986832 |
| Kennedy Space Center | 28.572329 | -80.650368 |
| Launch Complex 34 (Apollo 1- Grissom, White And Chaffee Memorial) | 28.521809 | -80.561478 |
| Los Angeles Theatre | 34.046448 | -118.252701 |
| Merritt Island | 28.365711 | -80.687752 |
| Mount Wilson Observatory | 34.225304 | -118.057373 |
| NASA Johnson Space Center | 29.559319 | -95.090134 |
| Ortaköy | 41.053829 | 29.025894 |
| Pasadena | 34.158463 | -118.165825 |
| Pilot Point | 33.397835 | -96.964043 |
| Red Fort (लाल किला) | 28.656071 | 77.240829 |
| Saint-Coulomb | 48.677460 | -1.918600 |
| Sanger | 33.362186 | -97.183365 |
| Shrine Auditorium and Expo Hall | 34.023426 | -118.281387 |
| Socorro | 34.059074 | -106.918991 |
| SpaceX LC-39A | 28.607992 | -80.604767 |
| St. Brendan's Catholic Church | 34.068699 | -118.314995 |
| Sunrider International | 33.831688 | -118.312561 |
| Taj Mahal (ताज महल) | 27.175035 | 78.042030 |
| The Blue Mosque (Sultan Ahmet Camii) | 41.005398 | 28.976753 |
| The Culver Studios | 34.024124 | -118.392990 |
| Titusville | 28.595669 | -80.829254 |
| Very Large Array | 34.078358 | -107.618408 |
| W 4th St | 34.055897 | -118.258644 |
| Walt Disney Studios | 34.156796 | -118.325363 |
| Washington | 38.913578 | -77.049011 |
Related Movies