Contagion (2011) Locations
Contagion is an American thriller action drama sci-fi movie directed by Steven Soderbergh, written by Scott Z. Burns. Starring Marion Cotillard, Kate Winslet, Laurence Fishburne, Bryan Cranston, Jude Law, Matt Damon, Gwyneth Paltrow, and Jennifer Ehle, the film was released on September 9, 2011 (United States), and grossed $135.5 million worldwide. Contagion was shot in different countries such as China, the US, the UK, Switzerland, and Morocco. Filming locations included the Jumbo Floating Restaurant, the Princess Margaret Hospital, and the Hong Kong International Airport in Hong Kong and O'Hare International Airport and Midway Airport in Chicago, Illinois.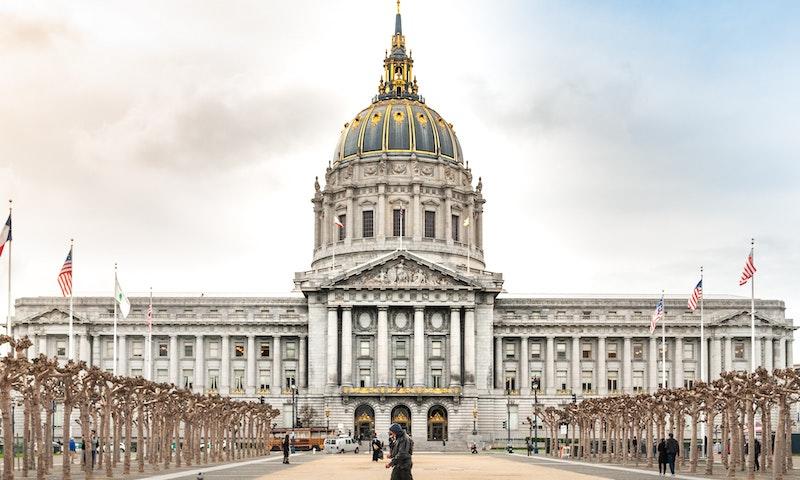 San Francisco City Hall. Photo by David Vives on Unsplash.
Where was Contagion (2011) Filmed?
Contagion (2011) was filmed in 4441 Wolf Road, 823 Burlington Ave, Advocate Sherman Hospital, Aero Mock-Ups, Inc., Atlanta, BrainWash (Closed), Candlestick Park (Closed), Casablanca, Central Elementary School, Chemin de la Grande-Vigne, Chicago, Chicago Midway International Airport, Commercial St, General Richard L Jones Armory, Genève, Glencoe, Glenview, Golden Gate Park, Holywell Ln & Great Eastern St and Hong Kong International Airport.
The complete list of the locations with latitude and longitude coordinates are listed below in the table.
Contagion (2011) Locations Map
Contagion (2011) Locations Table
| Location Name | Latitude | Longitude |
| --- | --- | --- |
| 4441 Wolf Road | 41.809246 | -87.898422 |
| 823 Burlington Ave | 41.808750 | -87.899696 |
| Advocate Sherman Hospital | 42.070309 | -88.331024 |
| Aero Mock-Ups, Inc. | 34.206470 | -118.419556 |
| Atlanta | 33.748997 | -84.387985 |
| BrainWash (Closed) | 37.776386 | -122.408829 |
| Candlestick Park (Closed) | 37.714390 | -122.386009 |
| Casablanca | 33.573109 | -7.589843 |
| Central Elementary School | 42.077354 | -87.701622 |
| Chemin de la Grande-Vigne | 46.259327 | 6.155665 |
| Chicago | 41.883228 | -87.632401 |
| Chicago Midway International Airport | 41.786751 | -87.752304 |
| Commercial St | 51.518890 | -0.074480 |
| General Richard L Jones Armory | 41.799412 | -87.607071 |
| Genève | 46.201645 | 6.137484 |
| Glencoe | 42.132401 | -87.758263 |
| Glenview | 42.076920 | -87.798538 |
| Golden Gate Park | 37.769386 | -122.486328 |
| Holywell Ln & Great Eastern St | 51.523705 | -0.079405 |
| Hong Kong International Airport | 22.303009 | 113.917191 |
| InterContinental Hong Kong | 22.293528 | 114.173836 |
| Jumbo Floating Restaurant | 22.243540 | 114.161720 |
| London | 51.500149 | -0.126240 |
| Los Angeles | 34.052235 | -118.243683 |
| Naperville | 41.771488 | -88.148003 |
| O'Hare International Airport | 41.980049 | -87.901550 |
| Princess Margaret Hospital | 22.341524 | 114.133812 |
| San Francisco | 37.780079 | -122.420174 |
| San Francisco Chronicle | 37.782173 | -122.406204 |
| San Francisco City Hall | 37.779160 | -122.419174 |
| Sara Lee Corporation (Closed) | 41.822960 | -88.031990 |
| Shek O | 22.230499 | 114.251541 |
| Skokie | 42.033173 | -87.737762 |
| Taylor St | 37.795319 | -122.413330 |
| Tsim Sha Tsui Star Ferry Pier (尖沙咀渡輪) | 22.293756 | 114.168732 |
| Tsing Ma Bridge | 22.350933 | 114.073318 |
| Waukegan | 42.359581 | -87.833900 |
| 荃灣華人永遠墳場 (Tsuen Wan Chinese Permanent Cemetery) | 22.359163 | 114.115952 |
Related Movies