The Day After Tomorrow Locations
Adapted from the book entitled "The Coming Global Superstorm" by Art Bell and Whitley Strieber, The Day After Tomorrow is an American disaster action adventure sci-fi movie that stars Dennis Quaid, Jake Gyllenhaal, Ian Holm, Emmy Rossum, and Sela Ward. Directed by Roland Emmerich, written by Emmerich and Jeffrey Nachmanoff, produced by Mark Gordon and Emmerich, the film was released on May 28, 2004, in the US, earned $552.6 million worldwide. The Day After Tomorrow was shot in California and New York, USA. Filming also took place in Canada, Scotland, Japan, and Hawaii.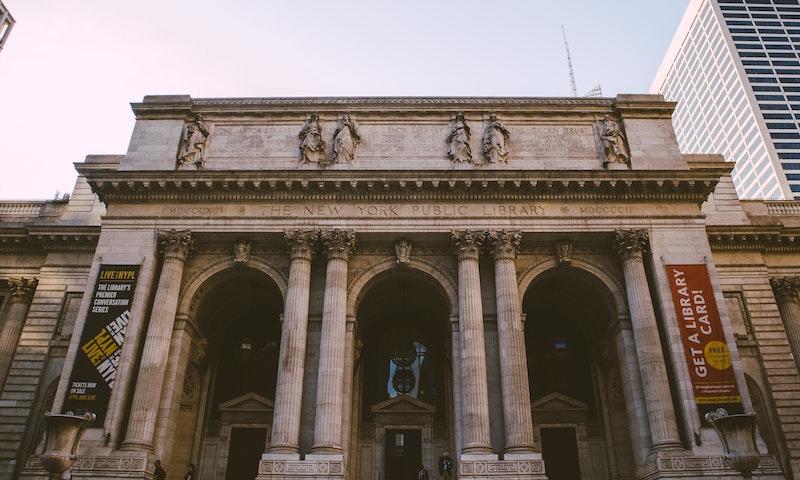 New York Public Library, NY, USA. Photo by Alejandro Barba on Unsplash.
Where was The Day After Tomorrow Filmed?
The Day After Tomorrow was filmed in Chiyoda City (千代田区), Colton St & N Edgeware Rd, El Paso, Hollywood Sign, I-105, Los Angeles Center Studios, Montreal, New York Public Library, Toronto, Trinity Church, Vine St & Yucca St and Washington.
The complete list of the locations with latitude and longitude coordinates are listed below in the table.
The Day After Tomorrow Locations Map
The Day After Tomorrow Locations Table
| Location Name | Latitude | Longitude |
| --- | --- | --- |
| Chiyoda City (千代田区) | 35.686947 | 139.721268 |
| Colton St & N Edgeware Rd | 34.062943 | -118.256645 |
| El Paso | 31.787451 | -106.460678 |
| Hollywood Sign | 34.125443 | -118.366165 |
| I-105 | 33.928581 | -118.246132 |
| Los Angeles Center Studios | 34.055244 | -118.261444 |
| Montreal | 45.510216 | -73.606476 |
| New York Public Library | 40.753151 | -73.982338 |
| Toronto | 43.729469 | -79.454323 |
| Trinity Church | 40.708008 | -74.011658 |
| Vine St & Yucca St | 34.103771 | -118.326797 |
| Washington | 38.922619 | -77.038200 |
Related Movies