The Holdovers Locations
The Holdovers is an American comedy-drama Christmas movie directed by Alexander Payne, written by David Hemingson, and starring Paul Giamatti, Da'Vine Joy Randolph, Gillian Vigman, Tate Donovan, Carrie Preston, and Dominic Sessa. It premiered on August 31, 2023, at the Telluride Film Festival, and was released on October 27, 2023, in the United States. The film received very good reviews and a few awards. The Holdovers was shot in Massachusetts, United States. The whole movie was filmed in real locations. The scenes for the fictional Barton Academy mostly took place at Fairhaven High School. Filming locations included Deerfield Academy, Groton School, St. Mark's School, and Northfield Mount Hermon School.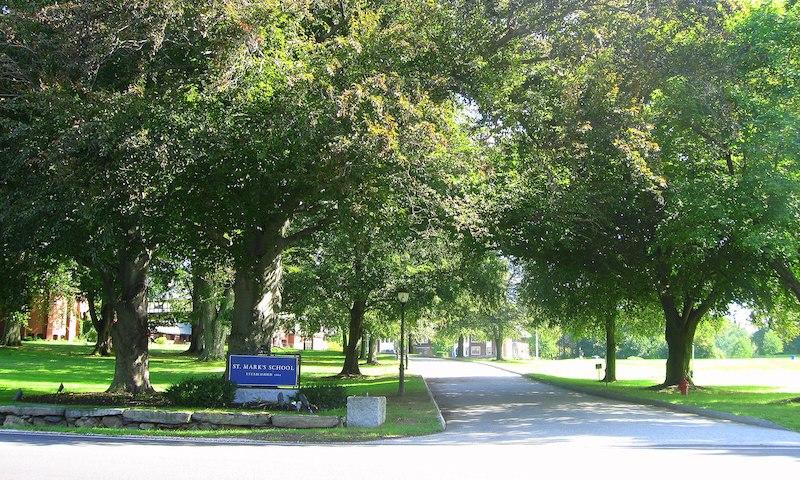 St. Mark's School of Southborough. Photo by OldBurgess at English Wikipedia.
Where was The Holdovers Filmed?
The Holdovers was filmed in Deerfield, Deerfield Academy, Fairhaven, Fairhaven High School, Gill, Groton, Groton School, Northfield Mount Hermon, Somerville Theater, Southborough, St. Mark's School of Southborough and Worcester Common.
The complete list of the locations with latitude and longitude coordinates are listed below in the table.
The Holdovers Locations Map
The Holdovers Locations Table
| Location Name | Latitude | Longitude |
| --- | --- | --- |
| Deerfield | 42.518410 | -72.631668 |
| Deerfield Academy | 42.546101 | -72.607788 |
| Fairhaven | 41.638176 | -70.906166 |
| Fairhaven High School | 41.639614 | -70.894020 |
| Gill | 42.640614 | -72.506653 |
| Groton | 42.611279 | -71.590065 |
| Groton School | 42.593513 | -71.584129 |
| Northfield Mount Hermon | 42.670410 | -72.483932 |
| Somerville Theater | 42.396652 | -71.123138 |
| Southborough | 42.304775 | -71.535873 |
| St. Mark's School of Southborough | 42.308990 | -71.529770 |
| Worcester Common | 42.262012 | -71.800728 |
Related Movies