The Stranger (2020) Locations
The Stranger is a British mystery thriller TV series developed by Harlan Coben, based on the Harlan Coben novel of the same name. Starring Richard Armitage, Siobhan Finneran, Jennifer Saunders, Brandon Fellows, Jacob Dudman, and Shaun Dooley, the series premiered on Netflix on 30 January 2020, ran for 8 episodes. It follows the story of suburban families whose lives are devastated after the appearance of a stranger. The Stranger was shot in Stockport, Manchester, Bury, and Bolton, Greater Manchester, England, UK.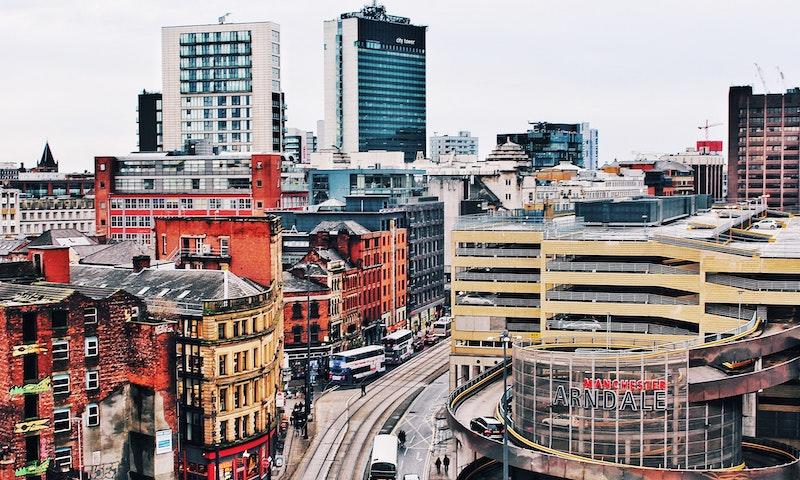 Manchester, England, UK. Photo by William McCue on Unsplash.
Where was The Stranger (2020) Filmed?
The Stranger (2020) was filmed in Ancoats Coffee Co., Bolton, Bolton School, Bury, Didsbury, Manchester, Martholme Viaduct, Monton Sports Club, Park End House, Proper Tea, Stockport and White Peak Alpacas.
The complete list of the locations with latitude and longitude coordinates are listed below in the table.
The Stranger (2020) Locations Map
The Stranger (2020) Locations Table
| Location Name | Latitude | Longitude |
| --- | --- | --- |
| Ancoats Coffee Co. | 53.483440 | -2.227629 |
| Bolton | 53.578461 | -2.429840 |
| Bolton School | 53.578850 | -2.454773 |
| Bury | 53.593193 | -2.297466 |
| Didsbury | 53.413082 | -2.241187 |
| Manchester | 53.480709 | -2.234380 |
| Martholme Viaduct | 53.800529 | -2.378817 |
| Monton Sports Club | 53.494633 | -2.343402 |
| Park End House | 53.411655 | -2.227850 |
| Proper Tea | 53.484730 | -2.244652 |
| Stockport | 53.407234 | -2.168542 |
| White Peak Alpacas | 53.314697 | -2.274666 |
Related TV Series