Beef Locations
Created by Lee Sung Jin, and starring Steven Yeun, Ali Wong, David Choe, Young Mazino, Joseph Lee, Remy Holt, Ashley Park, Maria Bello, Justin H. Min, and Patti Yasutake, an American comedy-drama TV Series Beef premiered at the SXSW Festival on March 18, 2023, and was digitally released by Netflix on April 6, 2023. The series follows two strangers who let an incident of road rage slowly consume their every action and thoughts. Beef was primarily filmed in Los Angeles, California, USA. Some popular spots in LA were used in the background of the scenes, including Venice Canal Historic District, Dodger Stadium, the Hollywood Sign, and so on.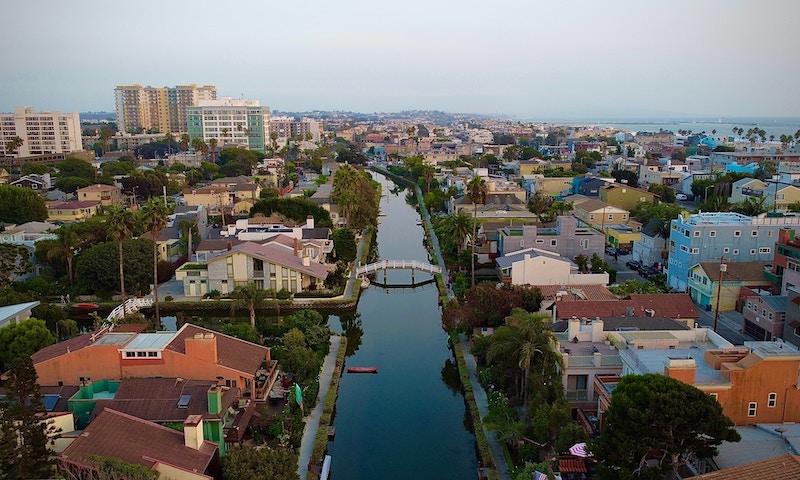 Venice Canal Historic District. Photo by Adam Acosta on Unsplash.
Where was Beef Filmed?
Beef was filmed in Dodger Stadium, Griffith Observatory, Hollywood Sign, Los Angeles, Olvera St, Staples Center and Venice Canals.
The complete list of the locations with latitude and longitude coordinates are listed below in the table.
Beef Locations Map
Beef Locations Table
| Location Name | Latitude | Longitude |
| --- | --- | --- |
| Dodger Stadium | 34.073868 | -118.240089 |
| Griffith Observatory | 34.118427 | -118.300529 |
| Hollywood Sign | 34.134144 | -118.321693 |
| Los Angeles | 34.053139 | -118.267715 |
| Olvera St | 34.057552 | -118.238091 |
| Staples Center | 34.042988 | -118.267464 |
| Venice Canals | 33.983543 | -118.467796 |
Related TV Series