Bridgerton Locations
Bridgerton is an American period drama television series narrated by Julie Andrews, produced by Shonda Rhimes, Betsy Beers, and Chris Van Dusen, developed by Chris Van Dusen, based on the best-selling novels of the same name by Julia Quinn. Starring Adjoa Andoh, Julie Andrews, Jonathan Bailey, Ruby Barker, Jason Barnett, Sabrina Bartlett, Joanna Bobin, Harriet Cains, and Bessie Carter, it premiered on 25 December 2020 on Netflix. Bridgerton was shot in Bath and London, UK. Filming also took place at Wilton House in Salisbury, which is home to the 18th Earl and Countess of Pembroke.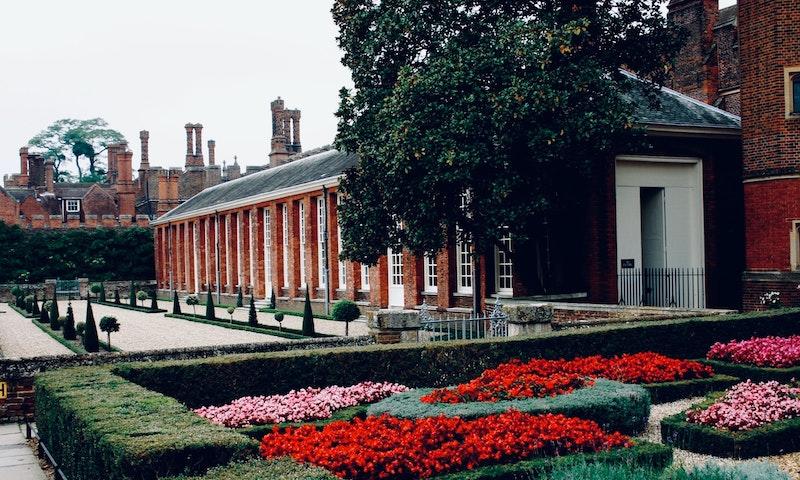 Hampton Court Palace, UK. Photo by Chad Greiter on Unsplash.
Where was Bridgerton Filmed?
Bridgerton was filmed in 12 Trim Street, Abbey Street, Alfred Street, Badminton House, Bath, Bath Assembly Rooms, Beauford Square, Castle Howard, Coneysthorpe, Dorney Court, Guildhall, Hackney Empire, Halton House, Hampton Court Palace, Lancaster House, Leigh Court, London, North Mymms Park, Painshill and Ranger's House.
The complete list of the locations with latitude and longitude coordinates are listed below in the table.
Bridgerton Locations Map
Bridgerton Locations Table
| Location Name | Latitude | Longitude |
| --- | --- | --- |
| 12 Trim Street | 51.382603 | -2.361612 |
| Abbey Street | 51.380817 | -2.359214 |
| Alfred Street | 51.385944 | -2.362076 |
| Badminton House | 51.544735 | -2.280898 |
| Bath | 51.379948 | -2.363673 |
| Bath Assembly Rooms | 51.386192 | -2.362834 |
| Beauford Square | 51.382393 | -2.363256 |
| Castle Howard | 54.121712 | -0.906269 |
| Coneysthorpe | 54.131310 | -0.912501 |
| Dorney Court | 51.502533 | -0.668589 |
| Guildhall | 51.382202 | -2.358978 |
| Hackney Empire | 51.545540 | -0.055593 |
| Halton House | 51.782383 | -0.725675 |
| Hampton Court Palace | 51.403564 | -0.337829 |
| Lancaster House | 51.503761 | -0.139218 |
| Leigh Court | 51.469475 | -2.659325 |
| London | 51.507702 | -0.136810 |
| North Mymms Park | 51.725422 | -0.232890 |
| Painshill | 51.329987 | -0.420879 |
| Ranger's House | 51.473370 | -0.001674 |
| Royal Cres | 51.387253 | -2.368457 |
| St Mary's Church, Twickenham | 51.446930 | -0.325207 |
| Sunbury Park | 51.407131 | -0.410137 |
| Syon House | 51.476765 | -0.312550 |
| Temple of Venus | 52.024326 | -1.019103 |
| The Historic Dockyard Chatham | 51.397068 | 0.528921 |
| The Holburne Museum | 51.385704 | -2.350950 |
| The Langdon Down Centre | 51.418858 | -0.315313 |
| Uxbridge | 51.540554 | -0.475007 |
| Wilton House | 51.078537 | -1.859402 |
| Wrotham Park | 51.677399 | -0.196447 |
Related TV Series