Fight Club Locations
Fight Club is an American movie directed by David Fincher, written by Jim Uhls, released on October 15, 1999, in the United States. It is based on Chuck Palahniuk's novel of the same name published in 1996. Starring are Brad Pitt, Edward Norton, Meat Loaf, and Helena Bonham Carter. The film was a commercial success, grossed $101,187,503, and nominated for Oscar. It is regarded as one of the greatest films ever made. Fight Club was filmed on location in Los Angeles, California. Filming also took place at Los Angeles Center Studios and 20th Century Fox Studios. Tyler's house was located at 240 North Neptune Avenue, Los Angeles, California.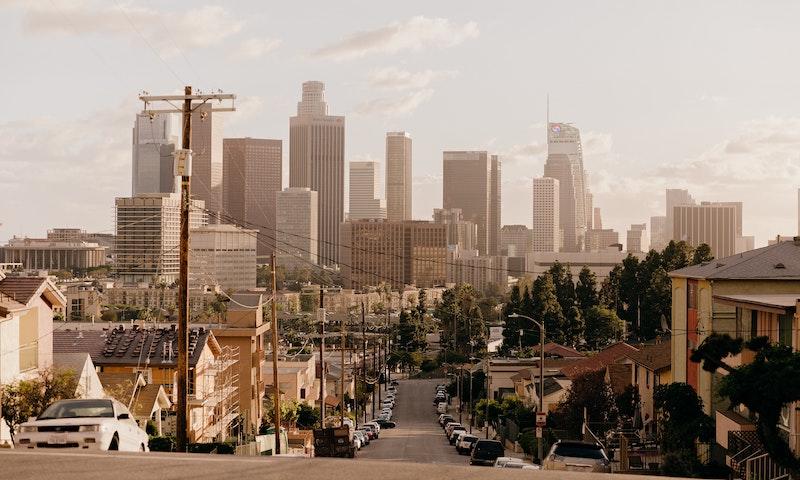 Los Angeles, CA, USA. Photo by Dillon Shook on Unsplash.
Where was Fight Club Filmed?
Fight Club was filmed in 123 South Figueroa Stree, 150 World Way, 240 North Neptune Ave (Tyler's House), 325 West 8th Street, 330 West 8th Street, 421 West 8th Street, 505 North Avalon Boulevard, Los Angeles Center Studios, Los Angeles Theatre, Melrose Avenue & N. Heliotrope Dr, Olympic Theatre, St. Brendan's Catholic Church, Stage 15, 20th Century Fox Studios, Stage 16, 20th Century Fox Studios and The Tower Theatre.
The complete list of the locations with latitude and longitude coordinates are listed below in the table.
Fight Club Locations Map
Fight Club Locations Table
| Location Name | Latitude | Longitude |
| --- | --- | --- |
| 123 South Figueroa Stree | 34.057648 | -118.253342 |
| 150 World Way | 33.945492 | -118.400940 |
| 240 North Neptune Ave (Tyler's House) | 33.772537 | -118.268265 |
| 325 West 8th Street | 34.044521 | -118.255447 |
| 330 West 8th Street | 34.044235 | -118.255737 |
| 421 West 8th Street | 34.044968 | -118.256317 |
| 505 North Avalon Boulevard | 33.775795 | -118.262398 |
| Los Angeles Center Studios | 34.054974 | -118.260033 |
| Los Angeles Theatre | 34.046471 | -118.252762 |
| Melrose Avenue & N. Heliotrope Dr | 34.083580 | -118.295319 |
| Olympic Theatre | 34.044312 | -118.254936 |
| St. Brendan's Catholic Church | 34.068481 | -118.314690 |
| Stage 15, 20th Century Fox Studios | 34.050060 | -118.411812 |
| Stage 16, 20th Century Fox Studios | 34.049763 | -118.412369 |
| The Tower Theatre | 34.043438 | -118.254501 |
Related Movies