It's a Sin Locations
Created by Russell T Davies, directed by Peter Hoar, It's a Sin is well-praised television series released between 22 January – 19 February 2021 on Channel 4. Starring Olly Alexander, Nathaniel Curtis, Shaun Dooley, Omari Douglas, Lydia West, Keeley Hawes, Callum Scott Howells, and Neil Ashton, this British drama series was also rated as one of the Top Rated shows by IMDB users. was shot in Manchester, Liverpool, and Warrington, England, UK. The interior scenes took place at The Old Wentworth High School, Wentworth Rd, Eccles, while the exteriors took place on Paton Street.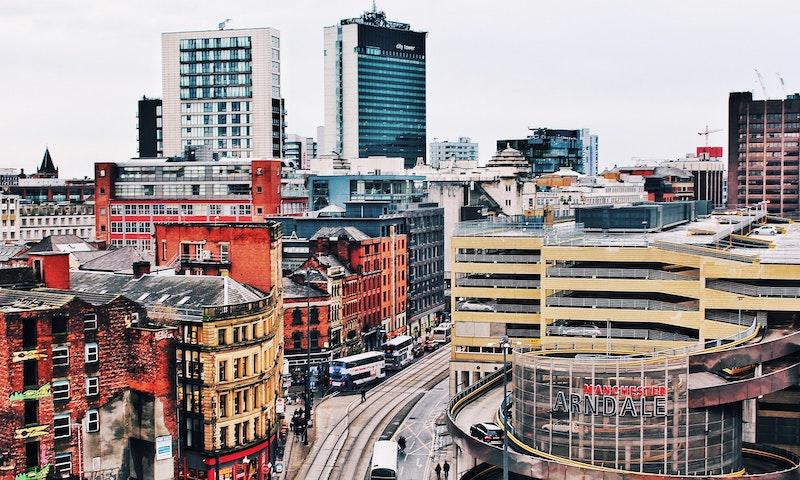 Manchester, UK. Photo by William McCue on Unsplash.
Where was It's a Sin Filmed?
It's a Sin was filmed in Bolton, Jackson's Boat (Pub), Liverpool, Manchester, Paton St, Rhos on Sea, Star & Garter, The Old Wentworth High School, The Pink Palace and University of Chester.
The complete list of the locations with latitude and longitude coordinates are listed below in the table.
It's a Sin Locations Map
It's a Sin Locations Table
| Location Name | Latitude | Longitude |
| --- | --- | --- |
| Bolton | 53.578011 | -2.437313 |
| Jackson's Boat (Pub) | 53.429878 | -2.287127 |
| Liverpool | 53.414139 | -2.966939 |
| Manchester | 53.480663 | -2.248124 |
| Paton St | 53.480133 | -2.233094 |
| Rhos on Sea | 53.307449 | -3.753980 |
| Star & Garter | 53.476017 | -2.227396 |
| The Old Wentworth High School | 53.492798 | -2.334003 |
| The Pink Palace | 53.480122 | -2.233350 |
| University of Chester | 53.415226 | -2.547521 |
Related TV Series