Nathan for You Locations
Nathan for You is a comedy documentary television series created by Nathan Fielder and Michael Koman. Nathan Fielder who graduated from one of Canada's top business schools helps small businesses with unusual marketing advice. The series was released between February 28, 2013, and November 9, 2017 on Comedy Central, ran for 4 seasons and 32 episodes, won several awards and nominations such as the Canadian Comedy Awards and Writers Guild of America. Nathan for You was shot in Los Angeles and Burbank, California, USA. "Dumb Starbucks" was located at 1802 Hillhurst Ave, Los Feliz, Los Angeles.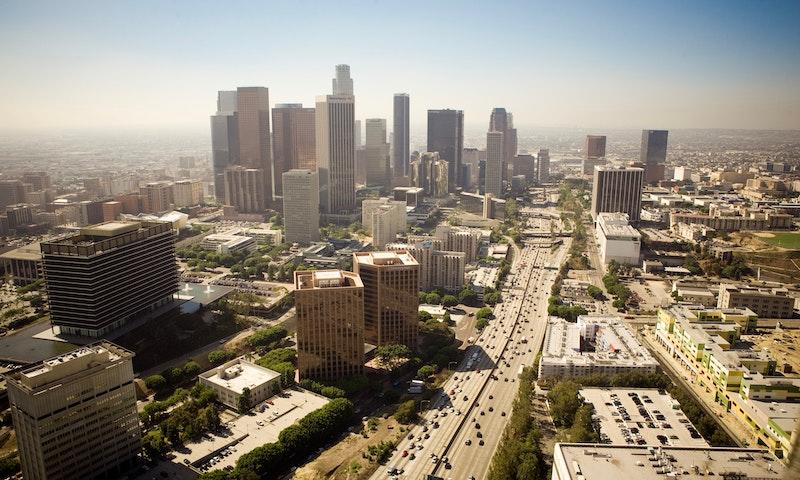 Los Angeles, CA, USA. Photo by Daniel Lee on Unsplash.
Where was Nathan for You Filmed?
Nathan for You was filmed in 1802 Hillhurst Ave (Dumb Starbucks), 1881, Bouquet Plaza Liquor, China Lee (Closed), Corner Beauty Nail Spa, Downtown Wigs & Fashions, Dumas High School, Elizabeth Albert, Elysian Park, G & Y Auto Repair, Hollywood, Joe K's Deli, L.A. Fame, Legacy Hotel & Suites (Closed), Lie-N-Den Bar & Grill (Closed), Little Rock, Little Rock Central High School, Los Angeles, Los Feliz Car Wash and Magnolia and Willow.
The complete list of the locations with latitude and longitude coordinates are listed below in the table.
Nathan for You Locations Map
Nathan for You Locations Table
| Location Name | Latitude | Longitude |
| --- | --- | --- |
| 1802 Hillhurst Ave (Dumb Starbucks) | 34.103779 | -118.286957 |
| 1881 | 34.169308 | -118.111816 |
| Bouquet Plaza Liquor | 34.453571 | -118.495399 |
| China Lee (Closed) | 34.090405 | -118.318535 |
| Corner Beauty Nail Spa | 34.181808 | -118.159943 |
| Downtown Wigs & Fashions | 34.745831 | -92.270668 |
| Dumas High School | 33.877224 | -91.470650 |
| Elizabeth Albert | 34.169266 | -118.342339 |
| Elysian Park | 34.080006 | -118.236237 |
| G & Y Auto Repair | 34.162937 | -118.284401 |
| Hollywood | 34.095333 | -118.330772 |
| Joe K's Deli | 34.014332 | -118.220146 |
| L.A. Fame | 34.101357 | -118.334991 |
| Legacy Hotel & Suites (Closed) | 34.744957 | -92.278137 |
| Lie-N-Den Bar & Grill (Closed) | 35.382915 | -118.998573 |
| Little Rock | 34.745312 | -92.324516 |
| Little Rock Central High School | 34.736774 | -92.298523 |
| Los Angeles | 34.054138 | -118.298019 |
| Los Feliz Car Wash | 34.125526 | -118.265350 |
| Magnolia and Willow | 33.804214 | -118.197945 |
| Monterey Park Hospital AHMC | 34.049747 | -118.138268 |
| Oak Tree Mountain | 34.051643 | -116.952599 |
| Oxford Palace Hotel | 34.057915 | -118.308128 |
| PBS Pub & Co. | 33.804245 | -118.197609 |
| Pet Haven Cemetery & Crematory | 33.863747 | -118.280716 |
| Pet Mania (Closed) | 34.155807 | -118.346344 |
| Pink's Hot Dogs | 34.083851 | -118.344276 |
| Reardon Simi Valley Funeral Home | 34.283741 | -118.743523 |
| Reign of Terror Haunted House | 34.183266 | -118.878052 |
| Santa Monica State Beach | 34.013596 | -118.503181 |
| Speers TV | 34.115356 | -118.150581 |
| Swan Day Spa | 34.090927 | -118.283386 |
| The Helio Cafe (Closed) | 34.083981 | -118.294884 |
| The Mayfair Hotel | 34.052143 | -118.267578 |
| The Roost Cocktails | 34.124352 | -118.266602 |
| Tracy | 37.758018 | -121.465607 |
| Travelure By Rose | 34.141869 | -118.258095 |
| Yogurt Haven (Closed) | 34.138935 | -118.215538 |
Related TV Series