Psy's Gangnam Style Locations
Gangnam Style (강남스타일 in Korean) is a K-pop song from the album Psy 6 (Six Rules), Part 1 by South Korean singer and songwriter Psy (Park Jae-sang). It was released on July 15, 2012, by YG Entertainment, produced by Park Jae-sang, Yoo Gun-hyung, and Yang Hyun-suk and won Best Video at the MTV Europe Music Awards. The music video became one of the most viewed and liked videos on YouTube. It also became the first video to be viewed more than one billion times. So, Psy won Guinness World Records achievements for the most-watched and most liked video online. Gangnam Style music video was directed by Cho Soo-hyun and shot in the Gangnam District, Seoul, South Korea. World Trade Center Seoul and Central Park Songdo were also among the filming locations.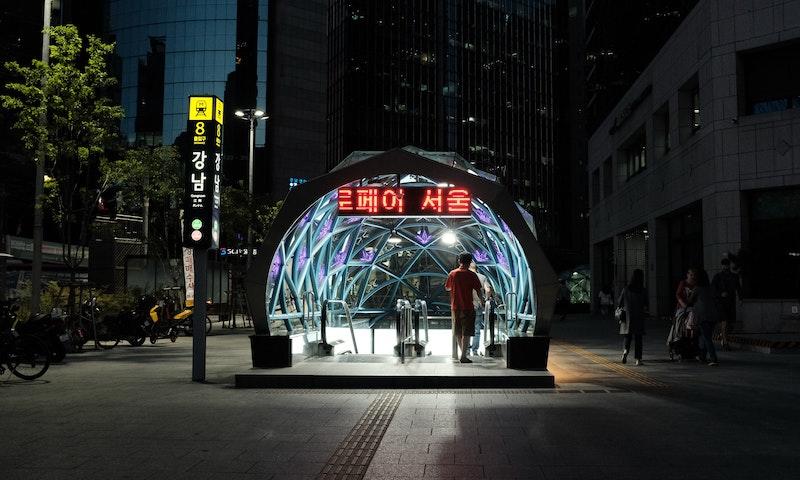 Gangnam, Seoul, South Korea. Photo by Vicky Yu on Unsplash.
Psy's Gangnam Style locations are Central Park Songdo (송도 센트럴공원), Gangnam (강남구), Samseong (World Trade Center Seoul) (삼성) and Songdo-dong (송도동).
The complete list of the locations with latitude and longitude coordinates are listed below in the table.
Psy's Gangnam Style Locations Map
Psy's Gangnam Style Locations Table
| Location Name | Latitude | Longitude |
| --- | --- | --- |
| Central Park Songdo (송도 센트럴공원) | 37.392357 | 126.638374 |
| Gangnam (강남구) | 37.501911 | 127.050827 |
| Samseong (World Trade Center Seoul) (삼성) | 37.509285 | 127.062378 |
| Songdo-dong (송도동) | 37.377098 | 126.631310 |
Related Music Videos