The Bachelorette Locations
American reality-TV game-show and the spin-off of "The Bachelor", The Bachelorette is created by Mike Fleiss, presented by Chris Harrison, Tayshia Adams, and Kaitlyn Bristowe. The show premiered on ABC on January 8, 2003. The eighteenth season of the show was released on October 19, 2021. In the show, a single bachelorette dates several men to find her true love. The show won a few awards and nominations including MTV Movie + TV Awards (Best Dating Show), ASCAP Film and Television Music Awards (Top Television Series), and so on. The Bachelorette was shot in California, Nevada, Washington, Minnesota, Arizona, Texas, Florida, New York, New Jersey, Utah, and Colorado, USA. Filming also took place in various countries such as Spain, Italy, Denmark, France, Ireland, England, Switzerland, Germany, Belgium, Argentina, Dominican Republic, Thailand, and Uruguay. The bachelor house is located at 2351 Kanan Road, Agoura Hills, CA.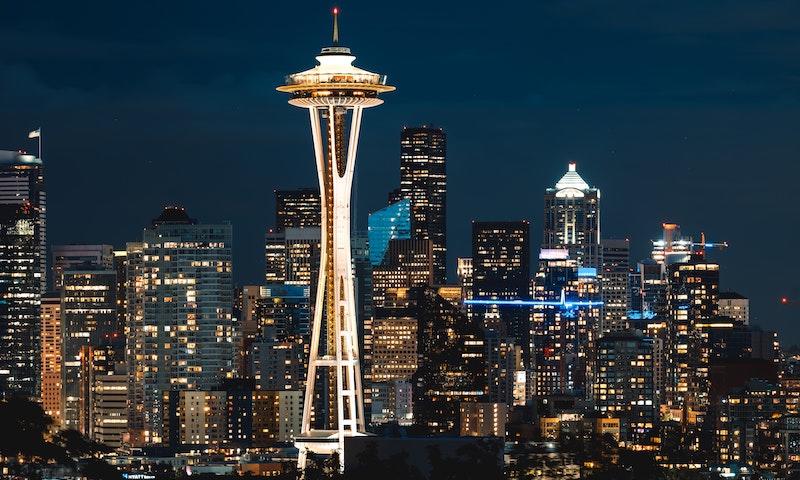 Space Needle, Seattle, WA, USA. Photo by Andrea Leopardi on Unsplash.
Where was The Bachelorette Filmed?
The Bachelorette was filmed in 1020 Dollywood Ln, 16424 Marvin Rd, 2351 Kanan Rd, 36 Main St, 6801 Hollywood Blvd, Abano Grand Hotel, Abano Terme, Absecon Lighthouse, Andaz West Hollywood, Antigua, Arlington, Aspen, Atlantic City, Atwater Village Theatre, Baltimore, Barbuda, Barcelona, Bellagio Hotel & Casino, Betty's Hope Historic Sugar Plantation and Blandy's Wine Lodge.
The complete list of the locations with latitude and longitude coordinates are listed below in the table.
The Bachelorette Locations Map
The Bachelorette Locations Part 1
| Location Name | Latitude | Longitude |
| --- | --- | --- |
| 1020 Dollywood Ln | 35.789074 | -83.540276 |
| 16424 Marvin Rd | 35.028179 | -80.841843 |
| 2351 Kanan Rd | 34.120693 | -118.794006 |
| 36 Main St | 41.351257 | -72.386917 |
| 6801 Hollywood Blvd | 34.102310 | -118.340004 |
| Abano Grand Hotel | 45.353783 | 11.784750 |
| Abano Terme | 45.360077 | 11.776228 |
| Absecon Lighthouse | 39.366264 | -74.414337 |
| Andaz West Hollywood | 34.095379 | -118.373238 |
| Antigua | 14.559235 | -90.741394 |
| Arlington | 42.748482 | -91.673004 |
| Aspen | 39.199760 | -106.842346 |
| Atlantic City | 39.373531 | -74.455902 |
| Atwater Village Theatre | 34.116211 | -118.251930 |
| Baltimore | 39.301239 | -76.635239 |
| Barbuda | 17.626274 | -61.788300 |
| Barcelona | 41.388588 | 2.105075 |
| Bellagio Hotel & Casino | 36.112942 | -115.176643 |
| Betty's Hope Historic Sugar Plantation | 17.080984 | -61.745720 |
| Blandy's Wine Lodge | 32.647873 | -16.910669 |
| Bluffton | 32.224419 | -80.961235 |
| Boardwalk, Atlantic City | 39.352131 | -74.443871 |
| Boise | 43.605103 | -116.274948 |
| Brussels | 50.853481 | 4.345095 |
| Buenos Aires | -34.599331 | -58.472492 |
| Burnet | 30.758421 | -98.235695 |
| Calanques de Marseille | 43.218548 | 5.430203 |
| Cape Cod | 41.684464 | -70.322739 |
| Castello Cini Monselice | 45.241486 | 11.752863 |
| Chadds Ford | 39.873421 | -75.602287 |
| Charlotte | 35.225800 | -80.901344 |
| Château de La Hulpe | 50.738022 | 4.472091 |
| Chiang Mai | 18.792826 | 98.973579 |
| Chicago | 41.874748 | -87.678032 |
| Chico | 39.749409 | -121.846138 |
| Citi Field | 40.757187 | -73.846146 |
| Colleyville | 32.894516 | -97.156631 |
| Copenhagen | 55.681091 | 12.541753 |
| Cork | 51.901352 | -8.484480 |
| Cumming | 34.207172 | -84.143333 |
| Dallas | 32.843361 | -96.835976 |
| Denarua Island | -17.773155 | 177.370071 |
| Dinant | 50.249321 | 4.925487 |
| Dublin | 53.355068 | -6.279109 |
| Dubrovnik | 42.652241 | 18.088278 |
| El Matador Beach | 34.038052 | -118.874741 |
| Enniskillen | 54.344250 | -7.635508 |
| Essex | 41.354702 | -72.426086 |
| Estadi Cornellà-El Prat | 41.348011 | 2.074718 |
| Euless | 32.831673 | -97.107895 |
| Farmington | 39.807709 | -79.567505 |
| Flagstaff | 35.186802 | -111.644005 |
| Freixenet | 41.420376 | 1.793587 |
| Galley Bay Resort & Spa | 17.119980 | -61.893105 |
| Gaztelugatxe | 43.447060 | -2.785448 |
| Geneva | 46.208904 | 6.131812 |
| Ghent | 51.060135 | 3.695541 |
| Green Bay | 44.518932 | -88.024139 |
| Gruene | 29.739372 | -98.106094 |
| Hamilton | 32.295345 | -64.786804 |
| Hanover Park | 41.985561 | -88.142677 |
| Helsingborg | 56.048378 | 12.693789 |
| Helsingør | 56.035526 | 12.546039 |
| Highlands Ranch | 39.551228 | -104.999580 |
| Hilton Head Island | 32.187847 | -80.775536 |
| Hollywood | 34.096489 | -118.332603 |
| Hollywood Sign | 34.134106 | -118.321594 |
| Hong Kong | 22.340631 | 114.137985 |
| Hôtel Dieu Intercontinental Marseille | 43.298561 | 5.369613 |
| Hotel Vier Jahreszeiten Kempinski München | 48.138889 | 11.581751 |
| Hôtellerie du Château de Coudrée Sciez sur Leman | 46.340214 | 6.383140 |
| House of Blues (Closed) | 39.361748 | -74.418518 |
| Hua Hin District | 12.573681 | 99.760025 |
| Hyatt Regency Tamaya Resort And Spa | 35.349640 | -106.546509 |
| Hyde Park | 51.507305 | -0.165948 |
| Innisfallen Island | 52.046116 | -9.555039 |
| InterContinental Los Angeles Century City, an IHG Hotel | 34.054180 | -118.412186 |
| Istanbul | 41.056179 | 28.950378 |
| Jacksonville | 30.356028 | -81.731644 |
| Jim Whelan Boardwalk Hall | 39.354858 | -74.438545 |
| Killarney | 52.061790 | -9.511367 |
| Klein Curaçao | 11.991180 | -68.643456 |
| Kleine Knip | 12.341148 | -69.152512 |
| Křivoklát | 50.039738 | 13.875750 |
| Křivoklát Castle | 50.037575 | 13.872414 |
| La Quinta Resort & Club, A Waldorf Astoria Resort | 33.688007 | -116.310631 |
| La Rioja | 42.343754 | -2.616209 |
| Lake Union | 47.639767 | -122.337051 |
| Las Vegas | 36.144196 | -115.204308 |
| Lisbon | 38.747395 | -9.185899 |
| Lizards Mouth Trail | 34.502258 | -119.868057 |
| London | 51.507095 | -0.140833 |
| London Eye | 51.503330 | -0.119665 |
| Los Angeles | 34.064415 | -118.298401 |
| Lough Cutra Castle | 53.032219 | -8.813139 |
| Madeira | 32.818241 | -17.072588 |
| Madison | 43.093082 | -89.459663 |
| Madrid | 40.427593 | -3.720580 |
| Malibu | 34.038803 | -118.810562 |
The Bachelorette Locations Part 2
| Location Name | Latitude | Longitude |
| --- | --- | --- |
| Malibu Rocky Oaks Estate Vineyards | 34.102867 | -118.808716 |
| Mandalay Bay | 36.092018 | -115.175079 |
| Marina del Rey | 33.977482 | -118.455185 |
| Marseille | 43.299625 | 5.363093 |
| Maui | 20.824911 | -156.370285 |
| McMinnville | 45.216255 | -123.210648 |
| Meliá Sitges | 41.236668 | 1.823682 |
| Miami | 25.774879 | -80.235878 |
| Milwaukee | 43.052471 | -87.955734 |
| Minneapolis | 44.979202 | -93.275696 |
| Mohegan Sun | 41.491505 | -72.088776 |
| Monselice | 45.240292 | 11.747487 |
| Monte Carlo | 36.104694 | -115.174904 |
| Munich | 48.152767 | 11.546747 |
| Munich Residenz | 48.141788 | 11.579370 |
| Music Academy of the West | 34.419430 | -119.648941 |
| Nemacolin | 39.878441 | -79.932701 |
| Neptune's Net | 34.053185 | -118.962463 |
| New York City | 40.744663 | -74.042107 |
| Ojai Valley Inn | 34.437569 | -119.254814 |
| Oslo | 59.921543 | 10.740861 |
| Palais Longchamp | 43.305485 | 5.396764 |
| Paradisus Punta Cana Resort | 18.701632 | -68.439270 |
| Paramount Ranch | 34.117027 | -118.754791 |
| Phoenix Raceway | 33.375050 | -112.311852 |
| Phuket | 7.960011 | 98.289909 |
| Playa Cas Abao | 12.228110 | -69.092293 |
| Playa Kalki | 12.375460 | -69.157822 |
| Prague | 50.093857 | 14.381945 |
| Punta del Este | -34.933979 | -54.932877 |
| Quinta do Lorde Resort Hotel Marina | 32.742023 | -16.711323 |
| Rancho Peligro | 18.639980 | -68.958717 |
| Renaissance Esmeralda Resort & Spa, Indian Wells | 33.723125 | -116.325912 |
| Rendezvous Bay | 17.010939 | -61.803001 |
| Rioja | 42.350979 | -2.715006 |
| Roskilde | 55.648651 | 12.055730 |
| Roslyn | 40.799793 | -73.650871 |
| Saddlerock Ranch | 34.097420 | -118.832809 |
| Salt Lake City | 40.747166 | -111.977196 |
| San Antonio | 29.493574 | -98.560455 |
| San Diego | 32.731518 | -117.171638 |
| San Francisco | 37.761425 | -122.463493 |
| San Rafael | 37.989491 | -122.533882 |
| Santa Anita Park | 34.140015 | -118.045662 |
| Santa Barbara | 34.429707 | -119.744865 |
| Santa Monica Pier | 34.008690 | -118.498917 |
| Santo Domingo | 18.483004 | -69.965996 |
| Savusavu | -16.779133 | 179.336319 |
| Schlossanlage Schleißheim | 48.247810 | 11.568285 |
| Scottsdale | 33.621670 | -111.923317 |
| Seaside Heights | 39.946175 | -74.081970 |
| Seattle | 47.610352 | -122.343071 |
| Sedona | 34.864491 | -111.803726 |
| Seville | 37.391010 | -5.987061 |
| Sitges | 41.238049 | 1.804411 |
| Sonoma | 38.292332 | -122.461105 |
| Spa Montage Deer Valley | 40.616058 | -111.512444 |
| Space Needle | 47.620514 | -122.349350 |
| Speakers' Corner | 51.511868 | -0.159719 |
| St. Anne's Point | 17.010746 | -61.773994 |
| St. Augustine | 29.906712 | -81.329247 |
| St. George | 37.102093 | -113.594101 |
| St. George's | 32.382202 | -64.679657 |
| St. James's Club & Villas, Antigua | 17.016878 | -61.733261 |
| Steigenberger GrandHotel Handelshof | 51.340649 | 12.376117 |
| Ston | 42.837799 | 17.692778 |
| Stratford-upon-Avon | 52.191647 | -1.710866 |
| Superior Court Of California County Of Santa Barbara | 34.423985 | -119.702194 |
| Tahiti | -17.624985 | -149.477417 |
| Tampa | 27.988289 | -82.501137 |
| Tegernsee | 47.715153 | 11.755570 |
| The Alamo | 29.425997 | -98.486214 |
| The Beverly Hilton | 34.066429 | -118.412704 |
| The May Fair, A Radisson Collection Hotel | 51.508163 | -0.143947 |
| The Peninsula Beverly Hills | 34.065765 | -118.410789 |
| The Ritz-Carlton Bacara, Santa Barbara | 34.434147 | -119.920387 |
| Tortuga Bay Hotel at Puntacana Resort & Club | 18.517447 | -68.369492 |
| Tower of London | 51.508072 | -0.076202 |
| Trafalgar Sq | 51.507732 | -0.128810 |
| Triunfo Creek Vineyards | 34.120449 | -118.786705 |
| Tūpai | -16.248920 | -151.799835 |
| Tuscaloosa | 33.202927 | -87.557442 |
| Vail | 39.643723 | -106.379868 |
| Venice | 45.461369 | 12.315037 |
| Verona | 45.438904 | 10.986085 |
| Villa Mosconi Bertani | 45.503635 | 10.946035 |
| Vomo | -17.492001 | 177.267395 |
| W Seattle | 47.607399 | -122.333694 |
| Watamula | 12.383999 | -69.153305 |
| Waukesha | 43.015133 | -88.260864 |
| Westlake Village Inn | 34.148746 | -118.815201 |
| White Sulphur Springs | 37.796726 | -80.302055 |
| Willemstad | 12.123982 | -68.903931 |
Related TV Series