The Girlfriend Experience Locations
Based on Steven Soderbergh's 2009 film of the same name, The Girlfriend Experience is an American drama thriller television series developed by Lodge Kerrigan, Amy Seimetz, and Anja Marquardt. Starring Riley Keough, Paul Sparks, Mary Lynn Rajskub, Briony Glassco, Julia Goldani Telles, Armin Karima, and Sabryn Rock, the series was released on April 10, 2016, on Starz. The third season of the show premiered on May 2, 2021. Riley Keough earned a Golden Globe nomination for her performance in the series. The Girlfriend Experience was shot in Toronto, Ontario, Canada, and London, England, UK. Filming also took place in Albuquerque, New Mexico, USA.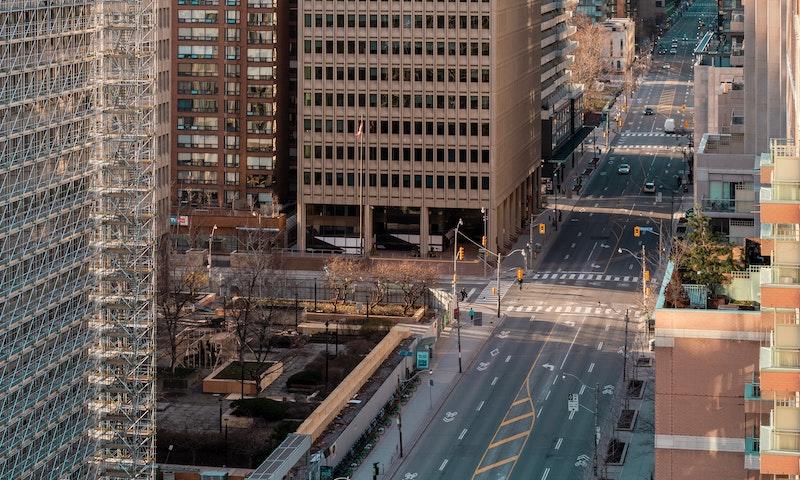 Bay Street, Toronto, ON, Canada.
Where was The Girlfriend Experience Filmed?
The Girlfriend Experience was filmed in 1611 4th St NW, Albuquerque, Bay St, Chicago, London, Miami, Toronto, University of Toronto Mississauga and Yorkville.
The complete list of the locations with latitude and longitude coordinates are listed below in the table.
The Girlfriend Experience Locations Map
The Girlfriend Experience Locations Table
| Location Name | Latitude | Longitude |
| --- | --- | --- |
| 1611 4th St NW | 35.100361 | -106.648788 |
| Albuquerque | 35.085777 | -106.664192 |
| Bay St | 43.657269 | -79.384392 |
| Chicago | 41.862053 | -87.702263 |
| London | 51.507683 | -0.134244 |
| Miami | 25.762751 | -80.214798 |
| Toronto | 43.747093 | -79.479568 |
| University of Toronto Mississauga | 43.548615 | -79.663185 |
| Yorkville | 43.672565 | -79.393204 |
Related TV Series