Tom Clancy's Jack Ryan Locations
Tom Clancy's Jack Ryan is an American action drama thriller TV Series starring John Krasinski, Abbie Cornish, Noomi Rapace, Wendell Pierce, Ali Suliman, John Hoogenakker, Dina Shihabi, Jordi Mollà, Francisco Denis, Cristina Umaña, Michael Peña, Jovan Adepo, and Michael Kelly. Developed for television by Carlton Cuse and Graham Roland, based on the characters created by Tom Clancy, the series premiered on August 31, 2018, on Amazon Prime Video. It was nominated for three Primetime Emmy Awards in 2019 and 2020. Tom Clancy's Jack Ryan was shot in Canada, Morocco, France, Austria, Slovakia, Spain, Hungary, the Czech Republic, Greece, and the USA.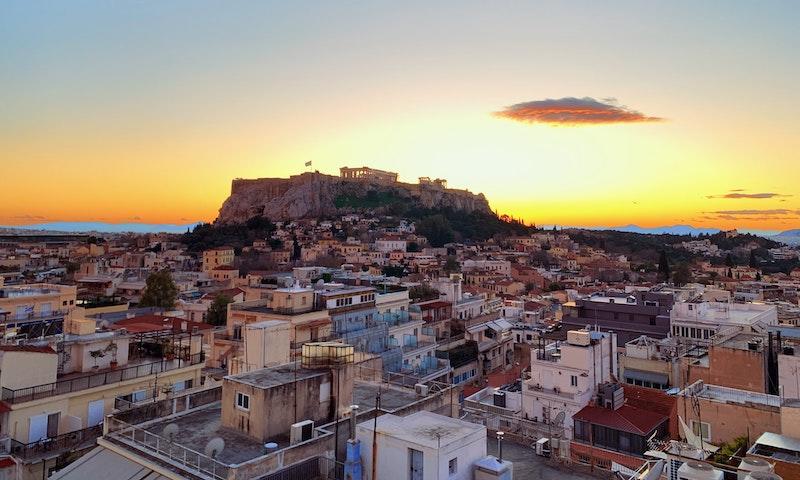 Athens. Photo by Christos Papandreou on Unsplash.
Where was Tom Clancy's Jack Ryan Filmed?
Tom Clancy's Jack Ryan was filmed in Annapolis, Athens (Αθήνα), Bar Courcelle, Bogotá, Budapest, Easton, Église Saint-Merry, Essaouira (الصويرة), Federal Trade Commission, Gran Canaria, Liverpool Street, Los Angeles, Marrakesh (مراكش), Montreal, Moscow (Москва), Prague, Royal Holloway, Santorini (Σαντορίνη), Tenerife and Vienna.
The complete list of the locations with latitude and longitude coordinates are listed below in the table.
Tom Clancy's Jack Ryan Locations Map
Tom Clancy's Jack Ryan Locations Table
| Location Name | Latitude | Longitude |
| --- | --- | --- |
| Annapolis | 38.974522 | -76.521141 |
| Athens (Αθήνα) | 37.991165 | 23.722652 |
| Bar Courcelle | 45.472927 | -73.588860 |
| Bogotá | 4.662832 | -74.120392 |
| Budapest | 47.510517 | 19.035208 |
| Easton | 38.776279 | -76.080734 |
| Église Saint-Merry | 48.859100 | 2.350782 |
| Essaouira (الصويرة) | 31.512169 | -9.765942 |
| Federal Trade Commission | 38.892651 | -77.020844 |
| Gran Canaria | 27.985291 | -15.665148 |
| Liverpool Street | 51.518761 | -0.081533 |
| Los Angeles | 34.053833 | -118.284912 |
| Marrakesh (مراكش) | 31.648149 | -8.035313 |
| Montreal | 45.514870 | -73.606155 |
| Moscow (Москва) | 55.768475 | 37.540554 |
| Prague | 50.086842 | 14.378289 |
| Royal Holloway | 51.425674 | -0.563151 |
| Santorini (Σαντορίνη) | 36.395222 | 25.450588 |
| Tenerife | 28.286102 | -16.644575 |
| Vienna | 48.218567 | 16.323372 |
| Washington | 38.915421 | -77.046684 |
Related TV Series