8 Mile Locations
An American musical drama 8 Mile is written by Scott Silver, directed by Curtis Hanson, and starring Eminem, Mekhi Phifer, Brittany Murphy, Kim Basinger, and Eugene Byrd. It was released on November 8, 2002, in the US and grossed $242.9 million against a $41 million budget. The film won "Best Music, Original Song" at the 2003 Academy Awards for the song "Lose Yourself". It also won many other awards and nominations including ASCAP Film and Television Music Awards, Broadcast Film Critics Association Awards, MTV Movie + TV Awards, and so on. 8 Mile was shot in various locations in Michigan and New York, USA. The Michigan Building in downtown Detroit was featured in the film.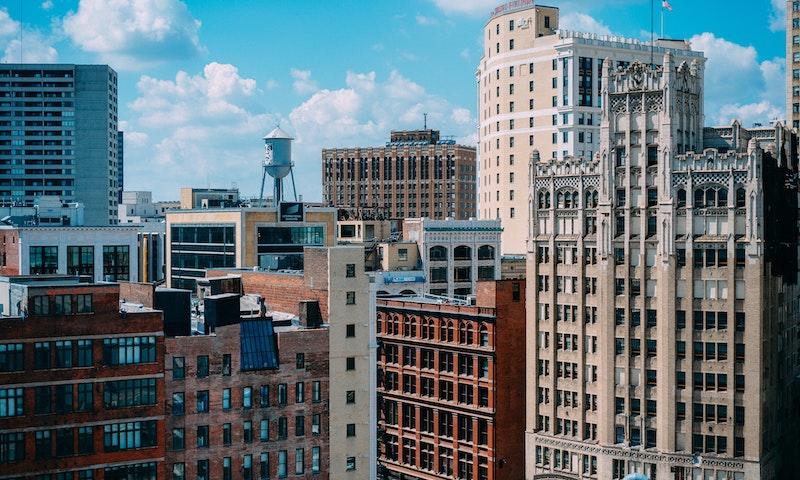 Detroit, MI, USA. Photo by Alex Brisbey on Unsplash.
Where was 8 Mile Filmed?
8 Mile was filmed in Chin Tiki Club, Detroit, Griswold St & Clifford St, Highland Park, Queens, Southfield, Southgate, Sterling Heights, The Michigan Building and Warren.
The complete list of the locations with latitude and longitude coordinates are listed below in the table.
8 Mile Locations Map
8 Mile Locations Table
| Location Name | Latitude | Longitude |
| --- | --- | --- |
| Chin Tiki Club | 42.336277 | -83.055801 |
| Detroit | 42.332878 | -83.070404 |
| Griswold St & Clifford St | 42.334675 | -83.050163 |
| Highland Park | 42.405193 | -83.101913 |
| Queens | 40.729275 | -73.816109 |
| Southfield | 42.475723 | -83.233353 |
| Southgate | 42.206264 | -83.219208 |
| Sterling Heights | 42.582626 | -83.050354 |
| The Michigan Building | 42.334530 | -83.053360 |
| Warren | 42.483952 | -83.034149 |
Related Movies