About a Boy Locations
About a Boy is a romantic comedy-drama movie directed by Chris Weitz and Paul Weitz and based on the 1998 novel of the same name by Nick Hornby. Starring Hugh Grant, Nicholas Hoult, Toni Collette, Sharon Small, Natalia Tena, Chris Webster, and Nicholas Hutchison, the film was released on 26 April 2002 (UK) and 17 May 2002 (US), grossed $130.5 million against a $30 million budget, and nominated for an Oscar in "Best Writing, Adapted Screenplay". About a Boy was mainly shot in London, England, UK. Filming locations included West Hill Primary School, Acton Town Hall, ODEON BFI IMAX, Hakkasan Restaurant, and Regent's Park. Filming also took place at Shepperton Studios.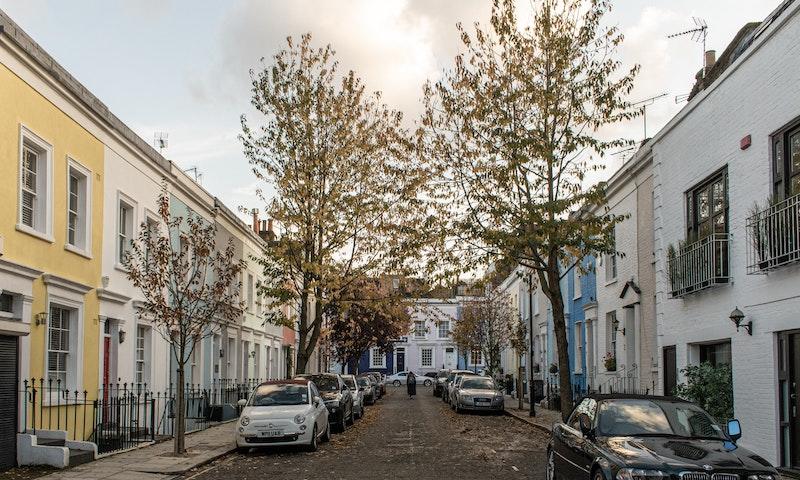 Notting Hill, London, UK. Photo by Leandro Mazzuquini on Unsplash.
Where was About a Boy Filmed?
About a Boy was filmed in 215 Sutherland Ave, Acton Town Hall, Bayswater, Clerkenwell, Fiona and Marcus' house, Hakkasan Hanway Place, Hanway Pl, Inspire Saint James Church, Clerkenwell, Kentish Town, Lady Margaret Road, London, London Zoo, Notting Hill, ODEON BFI IMAX, Rachel's house, Regent's Park, Scotswood St, Shepperton Studios, Southfields and St James Walk.
The complete list of the locations with latitude and longitude coordinates are listed below in the table.
About a Boy Locations Map
About a Boy Locations Table
| Location Name | Latitude | Longitude |
| --- | --- | --- |
| 215 Sutherland Ave | 51.528034 | -0.181750 |
| Acton Town Hall | 51.506420 | -0.267781 |
| Bayswater | 51.513294 | -0.187508 |
| Clerkenwell | 51.526569 | -0.109096 |
| Fiona and Marcus' house | 51.547928 | -0.133844 |
| Hakkasan Hanway Place | 51.517193 | -0.131699 |
| Hanway Pl | 51.517029 | -0.132086 |
| Inspire Saint James Church, Clerkenwell | 51.523464 | -0.105790 |
| Kentish Town | 51.548870 | -0.144890 |
| Lady Margaret Road | 51.554344 | -0.136899 |
| London | 51.507324 | -0.140032 |
| London Zoo | 51.535217 | -0.153712 |
| Notting Hill | 51.516003 | -0.210726 |
| ODEON BFI IMAX | 51.504963 | -0.113662 |
| Rachel's house | 51.517857 | -0.194611 |
| Regent's Park | 51.531231 | -0.157269 |
| Scotswood St | 51.524033 | -0.106182 |
| Shepperton Studios | 51.407627 | -0.466235 |
| Southfields | 51.445301 | -0.205698 |
| St James Walk | 51.523960 | -0.105191 |
| West Hill Primary School | 51.456066 | -0.198592 |
| Woodbridge Chapel | 51.523956 | -0.104138 |
Related Movies