Atomic Blonde Locations
Based on the graphic novel "The Coldest City" by Antony Johnston and Sam Hart, written for the screen by Kurt Johnstad, and directed by David Leitch, Atomic Blonde is an American action thriller movie that was released on July 28, 2017, in the United States. Starring Charlize Theron, James McAvoy, John Goodman, Til Schweiger, Eddie Marsan, Sofia Boutella, Roland Møller, and Toby Jones, the film premiered at South by Southwest on March 12, 2017, and won several awards such as "Best Actress - Audience Award" and "Top Ten of the Year - Audience Award" at the CinEuphoria Awards, "Best Stunts" at Hawaii Film Critics Society, etc. Atomic Blonde was mainly shot in Budapest, Hungary. Filming also took place in Germany and the UK.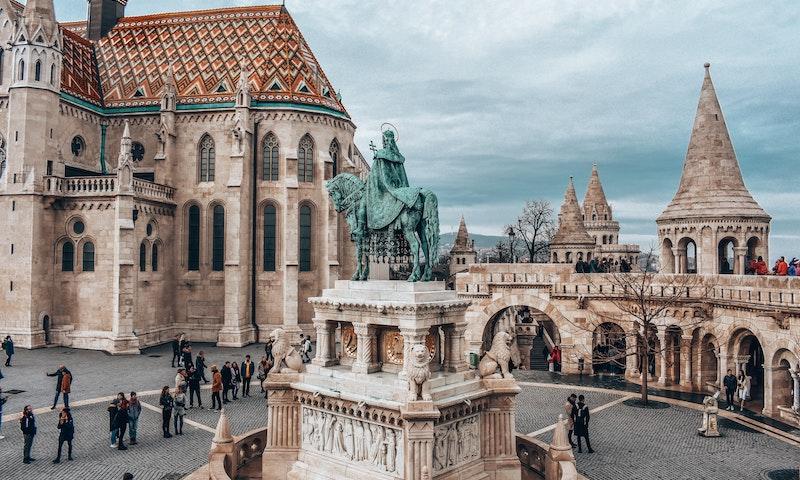 Budapest, Hungary. Photo by Emma Fabbri on Unsplash.
Where was Atomic Blonde Filmed?
Atomic Blonde was filmed in Berlin, Berlin Cathedral, Berliner Fernsehturm, Breitscheidplatz, Budapest, Kaiser-Wilhelm-Gedächtnis-Kirche, Kiss József u., London, Park Inn by Radisson Berlin Alexanderplatz, Studio Babelsberg and Tempelhof Airport.
The complete list of the locations with latitude and longitude coordinates are listed below in the table.
Atomic Blonde Locations Map
Atomic Blonde Locations Table
| Location Name | Latitude | Longitude |
| --- | --- | --- |
| Berlin | 52.525944 | 13.348020 |
| Berlin Cathedral | 52.519035 | 13.400942 |
| Berliner Fernsehturm | 52.520836 | 13.409343 |
| Breitscheidplatz | 52.504730 | 13.335160 |
| Budapest | 47.506748 | 19.046713 |
| Kaiser-Wilhelm-Gedächtnis-Kirche | 52.504738 | 13.334975 |
| Kiss József u. | 47.496887 | 19.074467 |
| London | 51.516220 | -0.151932 |
| Park Inn by Radisson Berlin Alexanderplatz | 52.523121 | 13.412629 |
| Studio Babelsberg | 52.387028 | 13.120133 |
| Tempelhof Airport | 52.482513 | 13.389040 |
Related Movies