Casino Royale Locations
Directed by Martin Campbell, written by Neal Purvis, Robert Wade, and Paul Haggis, based on the novel of the same name by Ian Fleming, Casino Royale is an action-adventure thriller spy movie that was released on 16 November 2006 in the United Kingdom and 17 November 2006 in the United States. Starring Daniel Craig, Eva Green, Mads Mikkelsen, Jeffrey Wright, and Judi Dench, the film grossed $616.5 million against a $150 million budget, won many awards and nominations including BAFTA Awards, ASCAP Film and Television Music Awards, Empire Awards, and so on. Casino Royale was shot in Italy, the Bahamas, Czech Republic, and the UK. Exterior scenes for Casino Royale were shot at Kaiserbad, while the exterior shots of Hotel Splendid took place at Grandhotel Pupp.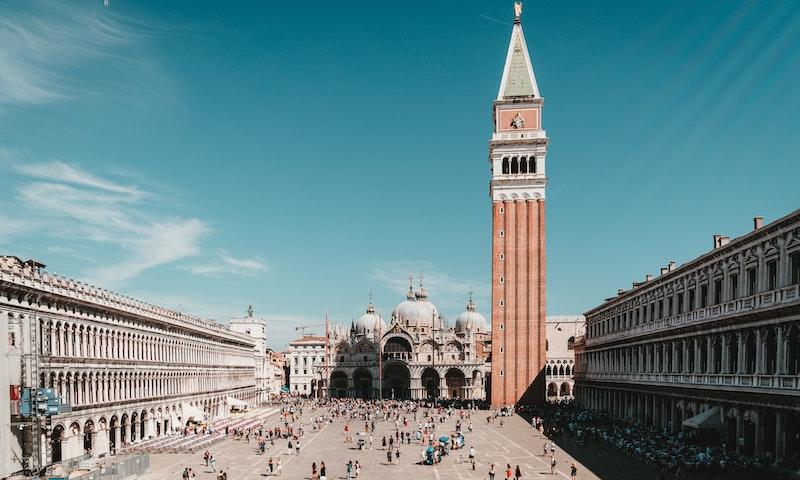 St. Mark's Square, Venice, Italy. Photo by Claudio Schwarz on Unsplash.
Where was Casino Royale Filmed?
Casino Royale was filmed in Albany, The Bahamas, Barrandov Studio, Belmond Hotel Cipriani, Big Ben, Black Park Country Park, Campo San Barnaba, Canary Wharf, Danube House, Dunsfold Aerodrome, Eton College, Giudecca, Grand Canal, Grandhotel Pupp, Houses of Parliament, Kaiserbad Spa, Lake Como, Lenno, Libreria Toletta, Lion Morosini Palace and Loket Castle.
The complete list of the locations with latitude and longitude coordinates are listed below in the table.
Casino Royale Locations Map
Casino Royale Locations Table
| Location Name | Latitude | Longitude |
| --- | --- | --- |
| Albany, The Bahamas | 25.003605 | -77.508194 |
| Barrandov Studio | 50.030758 | 14.391332 |
| Belmond Hotel Cipriani | 45.426434 | 12.341274 |
| Big Ben | 51.500744 | -0.124664 |
| Black Park Country Park | 51.538780 | -0.551917 |
| Campo San Barnaba | 45.433060 | 12.324962 |
| Canary Wharf | 51.505569 | -0.024536 |
| Danube House | 50.094376 | 14.443928 |
| Dunsfold Aerodrome | 51.120224 | -0.533875 |
| Eton College | 51.495735 | -0.606634 |
| Giudecca | 45.426445 | 12.325610 |
| Grand Canal | 45.435436 | 12.327810 |
| Grandhotel Pupp | 50.219753 | 12.879022 |
| Houses of Parliament | 51.499607 | -0.125263 |
| Kaiserbad Spa | 50.219086 | 12.881580 |
| Lake Como | 46.020641 | 9.251914 |
| Lenno | 45.972889 | 9.188346 |
| Libreria Toletta | 45.431911 | 12.325734 |
| Lion Morosini Palace | 45.439411 | 12.336690 |
| Loket Castle | 50.187012 | 12.754337 |
| Menaggio | 46.022907 | 9.235117 |
| Military History Institute in Prague: The Army Museum Žižkov | 50.087463 | 14.444589 |
| Mill Colonnade | 50.225208 | 12.882041 |
| Millbrook Proving Ground | 52.045273 | -0.533151 |
| Národní muzeum | 50.078968 | 14.430924 |
| Nassau International Airport (now Lynden Pindling International Airport) | 25.046221 | -77.465965 |
| One and Only Ocean Club | 25.082708 | -77.310524 |
| Palackého | 50.419846 | 14.909544 |
| Paradise Island | 25.082504 | -77.314812 |
| Piazza San Marco | 45.434158 | 12.338422 |
| Pinewood Studios | 51.548893 | -0.532224 |
| Planá | 49.868946 | 12.742732 |
| Ponte dell'Accademia | 45.431686 | 12.328874 |
| Ponte di Rialto | 45.438072 | 12.335918 |
| Royal Bahamas Defence Force | 24.981735 | -77.470032 |
| Strahov Library | 50.086632 | 14.389095 |
| Strahov Monastery | 50.086510 | 14.389121 |
| The Queen's Stand | 51.313278 | -0.255391 |
| Tremezzina | 45.988544 | 9.175819 |
| Václav Havel Airport Prague | 50.101780 | 14.263102 |
| Villa del Balbianello | 45.965256 | 9.202472 |
| Vltava | 49.474915 | 14.167949 |
| Wenceslas Square | 50.081760 | 14.427167 |
Related Movies