Cruella Locations
Directed by Craig Gillespie, written by Dana Fox and Tony McNamara, based upon the 1956 novel "One Hundred and One Dalmatians" by Dodie Smith, Cruella is an American comedy crime film that premiered on May 18, 2021, at the El Capitan Theatre. Starring Emma Stone, Emma Thompson, Joel Fry, Paul Walter Hauser, John McCrea, Emily Beecham, Mark Strong, and Kayvan Novak, it follows the story of the character Cruella de Vil. The film won the 2022 Academy Award for "Best Achievement in Costume Design". Cruella was shot in London, England, UK. Englefield Estate in Reading, England was used for the scenes of Hell Hall.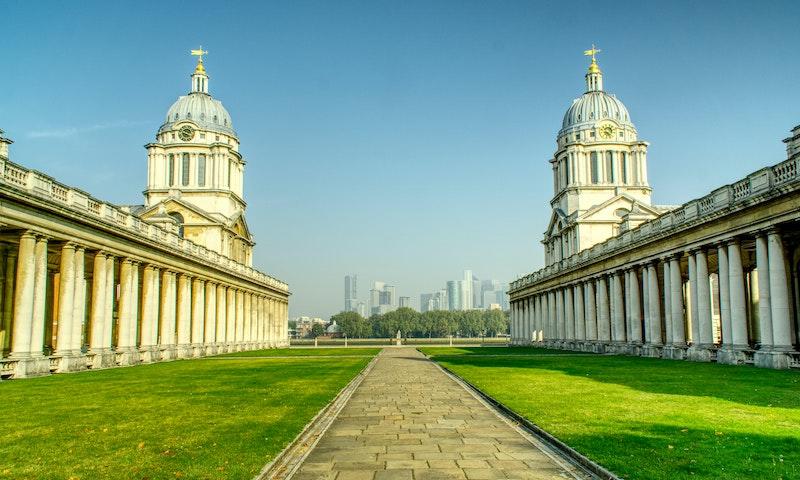 Old Royal Naval College, London, UK. Photo by Darko M. on Unsplash.
Where was Cruella Filmed?
Cruella was filmed in 27 Great Marlborough St, 27/28 Great Marlborough St, Bermondsey, Englefield Estate, Greenwich, King William Walk, Old Royal Naval College, Pret A Manger, Shad Thames, Soho, Theale and Wheat Wharf Apartments.
The complete list of the locations with latitude and longitude coordinates are listed below in the table.
Cruella Locations Map
Cruella Locations Table
| Location Name | Latitude | Longitude |
| --- | --- | --- |
| 27 Great Marlborough St | 51.513779 | -0.139903 |
| 27/28 Great Marlborough St | 51.513729 | -0.139710 |
| Bermondsey | 51.493378 | -0.074486 |
| Englefield Estate | 51.441296 | -1.087870 |
| Greenwich | 51.493793 | 0.005061 |
| King William Walk | 51.480942 | -0.007961 |
| Old Royal Naval College | 51.483212 | -0.006006 |
| Pret A Manger | 51.513760 | -0.139814 |
| Shad Thames | 51.501862 | -0.072507 |
| Soho | 51.513592 | -0.136862 |
| Theale | 51.437248 | -1.073421 |
| Wheat Wharf Apartments | 51.502888 | -0.072623 |
Related Movies