Dark Side of the Moon Tour Venues Locations
A concert tour consisting of 128 shows by legendary English rock band Pink Floyd, The Dark Side of the Moon Tour started on 20 January 1972 and ended on 4 November 1973. This is the eighth studio album that was released on 1 March 1973. The band spent three days in production rehearsals at the Rainbow Theatre from 19 to 21 February 1973. They performed the live debut of the album at the Brighton Dome on 20 January.
You can find a list of all venues of the Dark Side of the Moon Tour with their coordinates below.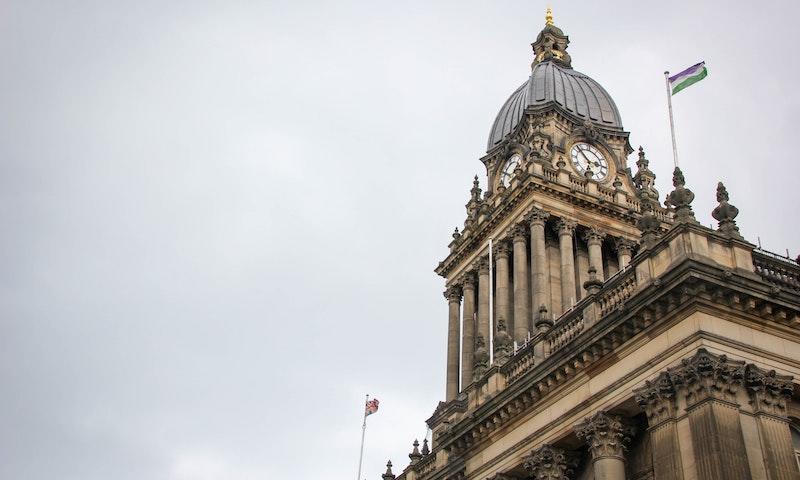 Leeds Town Hall, UK. Photo by Gary Butterfield on Unsplash.
Dark Side of the Moon Tour Venues locations are Akron Civic Theatre, Allen Theatre, Armory Fieldhouse, Atlanta Symphony Concert Hall, Auditorium Theatre, Big Surf, Blossom Music Center, Bournemouth Winter Gardens (Demolished), Brighton Dome, Buffalo Memorial Auditorium (Demolished), Carnegie Hall, Charlotte Park Center (Grady Cole Center), Cincinnati Music Hall, Civic Arena, Civic Center Music Hall, Cobo Hall (Huntington Place), Colston Hall (Bristol Beacon), Dane County Coliseum (Veterans Memorial Coliseum), De Montfort Hall and Deutschlandhalle (Demolished).
The complete list of the locations with latitude and longitude coordinates are listed below in the table.
Dark Side of the Moon Tour Venues Locations Map
Dark Side of the Moon Tour Venues Locations Table
| Location Name | Latitude | Longitude |
| --- | --- | --- |
| Akron Civic Theatre | 41.080750 | -81.520226 |
| Allen Theatre | 41.501427 | -81.681541 |
| Armory Fieldhouse | 39.131794 | -84.514214 |
| Atlanta Symphony Concert Hall | 33.789101 | -84.384483 |
| Auditorium Theatre | 41.875854 | -87.625465 |
| Big Surf | 33.445751 | -111.911987 |
| Blossom Music Center | 41.191307 | -81.560699 |
| Bournemouth Winter Gardens (Demolished) | 50.717690 | -1.880996 |
| Brighton Dome | 50.823708 | -0.138164 |
| Buffalo Memorial Auditorium (Demolished) | 42.878082 | -78.877541 |
| Carnegie Hall | 40.765083 | -73.980049 |
| Charlotte Park Center (Grady Cole Center) | 35.219036 | -80.829338 |
| Cincinnati Music Hall | 39.109074 | -84.518700 |
| Civic Arena | 40.457146 | -79.916725 |
| Civic Center Music Hall | 35.469070 | -97.523613 |
| Cobo Hall (Huntington Place) | 42.326599 | -83.049973 |
| Colston Hall (Bristol Beacon) | 51.454327 | -2.598292 |
| Dane County Coliseum (Veterans Memorial Coliseum) | 43.047153 | -89.379333 |
| De Montfort Hall | 52.624855 | -1.121693 |
| Deutschlandhalle (Demolished) | 52.500225 | 13.270592 |
| Earls Court (Demolished) | 51.488911 | -0.198249 |
| Empire Pool (The SSE Arena, Wembley) | 51.558151 | -0.283092 |
| Festhalle Messe Frankfurt | 50.111885 | 8.650409 |
| Festival Hall (フェスティバルホール) | 34.693596 | 135.496887 |
| Ford Auditorium | 42.327015 | -83.044113 |
| Forest National | 50.810093 | 4.326226 |
| Fort Homer Hesterly Armory | 27.949142 | -82.483490 |
| Free Trade Hall | 53.477901 | -2.246980 |
| Golden Hall | 32.717098 | -117.163673 |
| Hallenstadion | 47.411564 | 8.551441 |
| Hampton Coliseum | 37.034660 | -76.381592 |
| Hec Edmundson Pavilion (Alaska Airlines Arena) | 47.652134 | -122.302216 |
| Hollywood Bowl | 34.112003 | -118.339684 |
| Hollywood Sportatorium | 26.008844 | -80.375435 |
| Hollywood Sportatorium | 26.008850 | -80.375443 |
| Houston Music Hall (Demolished) | 29.761765 | -95.369926 |
| International Amphitheatre (Demolished) | 41.816986 | -87.645630 |
| Jacksonville Veterans Memorial Coliseum (Demolished) | 30.324320 | -81.640350 |
| John F. Kennedy Center for the Performing Arts | 38.895733 | -77.055878 |
| K.B. Hallen | 55.677612 | 12.495026 |
| Kiel Auditorium (Demolished) | 38.626884 | -90.202660 |
| Le Dôme de Paris - Palais des Sports | 48.832741 | 2.286182 |
| Leeds Town Hall | 53.799953 | -1.549355 |
| Levitt Arena (Charles Koch Arena) | 37.721668 | -97.297729 |
| Liverpool Empire | 53.408844 | -2.978559 |
| Louisville Gardens (Closed) | 38.251568 | -85.760406 |
| Maple Leaf Gardens (Mattamy Athletic Centre) | 43.662155 | -79.380363 |
| McFarlin Auditorium | 32.844250 | -96.785973 |
| Memorial Athletic and Convocation Center | 41.147854 | -81.344475 |
| Memorial Coliseum | 45.532177 | -122.669594 |
| Memorial Hall | 39.112206 | -94.627396 |
| Merriweather Post Pavilion | 39.209377 | -76.861710 |
| Montreal Forum | 45.490101 | -73.584755 |
| Municipal Auditorium (Atlanta) | 33.753815 | -84.384613 |
| Music Hall (Boch Center - Wang Theatre) | 42.350384 | -71.064377 |
| Nakajima Sports Center | 43.042908 | 141.354767 |
| Newcastle City Hall (O2 City Hall Newcastle) | 54.977131 | -1.610206 |
| Olympia Stadium (Demolished) | 42.354877 | -83.100487 |
| Olympiahalle | 48.174812 | 11.549602 |
| Olympic Stadium Amsterdam | 52.343426 | 4.853721 |
| Palace Theater | 41.555202 | -73.039261 |
| Palais des Sports de Lyon Gerland | 45.724155 | 4.828123 |
| Parc des Expositions de Caen | 49.171360 | -0.380619 |
| Philips Halle (Mitsubishi Electric Hall) | 51.206245 | 6.808264 |
| Portsmouth Guildhall | 50.797585 | -1.092632 |
| Providence Civic Center (Dunkin' Donuts Center) | 41.823586 | -71.418030 |
| Radio City Music Hall | 40.759945 | -73.980042 |
| Rainbow Theatre (Rehearsals) | 51.562401 | -0.109366 |
| Roosevelt Stadium (Demolished) | 40.711002 | -74.104431 |
| Saratoga Performing Arts Center | 43.055428 | -73.806023 |
| Sheffield City Hall | 53.380581 | -1.472372 |
| Southampton Guildhall (O2 Guildhall) | 50.908051 | -1.406279 |
| Spectrum (Demolished) | 39.901169 | -75.172050 |
| Syria Mosque (Demolished) | 40.444771 | -79.955307 |
| Tampa Stadium (Demolished) | 27.976124 | -82.503601 |
| The Lyric Baltimore | 39.305943 | -76.617989 |
| Tokyo Metropolitan Gymnasium (東京体育館) | 35.679668 | 139.712204 |
| Township Auditorium | 34.009380 | -81.027664 |
| Tucson Convention Center | 32.217827 | -110.974220 |
| University of Denver Arena (Demolished) | 39.682079 | -104.961914 |
| Wiener Stadthalle | 48.202358 | 16.333282 |
| Winterland Ballroom | 37.785812 | -122.435181 |
Related Important Places