Divergent Locations
Starring Shailene Woodley, Theo James, Kate Winslet, Ashley Judd, Jai Courtney, Ray Stevenson, Zoë Kravitz, Miles Teller, Tony Goldwyn, Ansel Elgort, and Maggie Q, the first film of The Divergent Series was released on March 21, 2014. It is a post-apocalyptic action-adventure movie directed by Neil Burger and written for the screen by Evan Daugherty and Vanessa Taylor, based on the novel by Veronica Roth. The film grossed $288.9 million against an $85 million budget. Shailene Woodley and Theo James played the lead roles in the film. Divergent was primarily shot in Chicago, Illinois, USA. Many interior shots took place at Cinespace Chicago Film Studios.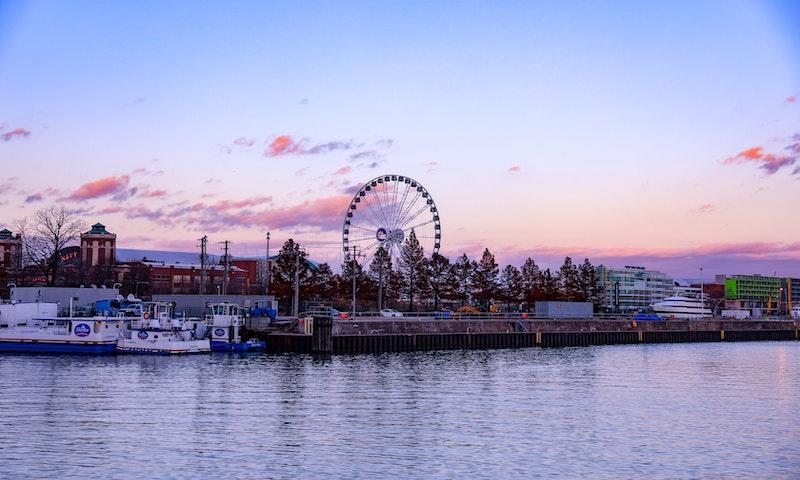 Ferris Wheel Navy Pier Chicago. Photo by rigel on Unsplash.
Where was Divergent Filmed?
Divergent was filmed in 1500 S Western Ave, 600 S Wells St, 635 Mateo St, Chicago, Cinespace Chicago Film Studios, E 57th St & S Ellis Ave, Ferris Wheel Navy Pier Chicago, Lake Street Bridge, LaSalle Bridge, Navy Pier, Pioneer Court, Seventeenth Church of Christ Scientist, The Joe and Rika Mansueto Library and Wacker Dr.
The complete list of the locations with latitude and longitude coordinates are listed below in the table.
Divergent Locations Map
Divergent Locations Table
| Location Name | Latitude | Longitude |
| --- | --- | --- |
| 1500 S Western Ave | 41.860680 | -87.686996 |
| 600 S Wells St | 41.873173 | -87.634361 |
| 635 Mateo St | 34.036816 | -118.232834 |
| Chicago | 41.875046 | -87.650528 |
| Cinespace Chicago Film Studios | 41.859661 | -87.691833 |
| E 57th St & S Ellis Ave | 41.791359 | -87.601357 |
| Ferris Wheel Navy Pier Chicago | 41.891163 | -87.606934 |
| Lake Street Bridge | 41.885693 | -87.637703 |
| LaSalle Bridge | 41.887432 | -87.632439 |
| Navy Pier | 41.891800 | -87.605377 |
| Pioneer Court | 41.889469 | -87.623779 |
| Seventeenth Church of Christ Scientist | 41.887096 | -87.625870 |
| The Joe and Rika Mansueto Library | 41.791908 | -87.600922 |
| Wacker Dr | 41.878433 | -87.636780 |
Related Movies