Iron Man 3 Locations
Produced by Kevin Feige, directed by Shane Black, written for the screen by Black and Drew Pearce, based on the Marvel comic book by Stan Lee, Don Heck, Larry Lieber, and Jack Kirby, based on the "Extremis" miniseries by Warren Ellis and Adi Granov, Iron Man 3 is the seventh film in the Marvel Cinematic Universe. Starring Robert Downey Jr., Guy Pearce, Gwyneth Paltrow, Don Cheadle, Rebecca Hall, Jon Favreau, Ben Kingsley, James Badge Dale, Stephanie Szostak, and Paul Bettany, the film was released on May 3, 2013, in the US, grossed $1.215 billion worldwide. Iron Man 3 was shot in North Carolina, California, and Florida, USA. The exterior scenes of the New Year's Eve party took place in Bern, Switzerland.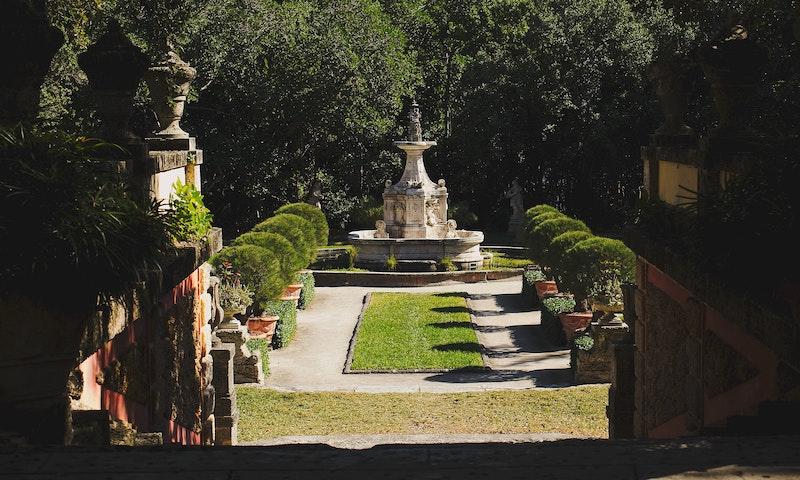 Vizcaya Museum & Gardens, FL, USA. Photo by Ussama Azam on Unsplash.
Where was Iron Man 3 Filmed?
Iron Man 3 was filmed in Blue Cloud Movie Ranch, Currie, Dania Beach Bar + Grill (Closed), Epic Games, EUE / Screen Gems Studios, Hollywood Blvd, Kenansville, Malibu, Miami, Oak Island, Rose Hill, TCL Chinese Theatre, The Parliament Building, Vizcaya Museum & Gardens and Wilmington.
The complete list of the locations with latitude and longitude coordinates are listed below in the table.
Iron Man 3 Locations Map
Iron Man 3 Locations Table
| Location Name | Latitude | Longitude |
| --- | --- | --- |
| Blue Cloud Movie Ranch | 34.463390 | -118.482780 |
| Currie | 34.462639 | -78.102013 |
| Dania Beach Bar + Grill (Closed) | 26.054155 | -80.112335 |
| Epic Games | 35.755943 | -78.733620 |
| EUE / Screen Gems Studios | 34.253452 | -77.921280 |
| Hollywood Blvd | 34.101624 | -118.328239 |
| Kenansville | 34.961788 | -77.969254 |
| Malibu | 34.030914 | -118.786575 |
| Miami | 25.762632 | -80.203941 |
| Oak Island | 33.912918 | -78.113007 |
| Rose Hill | 34.827217 | -78.026840 |
| TCL Chinese Theatre | 34.102028 | -118.341042 |
| The Parliament Building | 46.946533 | 7.443950 |
| Vizcaya Museum & Gardens | 25.744396 | -80.210556 |
| Wilmington | 34.211983 | -77.905411 |
Related Movies