Iron Man Locations
Written by Mark Fergus, Hawk Ostby, Art Marcum, and Matt Holloway, directed by Jon Favreau, and based on the character created by Stan Lee, Larry Lieber, Don Heck, and Jack Kirby, Iron Man is the first film in the Marvel Cinematic Universe. Starring Robert Downey Jr., Gwyneth Paltrow, Terrence Howard, Jeff Bridges, Leslie Bibb, Shaun Toub, Faran Tahir, Jon Favreau, Paul Bettany, and Clark Gregg, the film was released on May 2, 2008, in the United States, earned $585.8 million worldwide. It was also nominated for 2 Oscars in "Best Achievement in Sound Editing" and "Best Achievement in Visual Effects". Iron Man was shot in California and Nevada, USA. Afghanistan scenes took place in Alabama Hills, CA.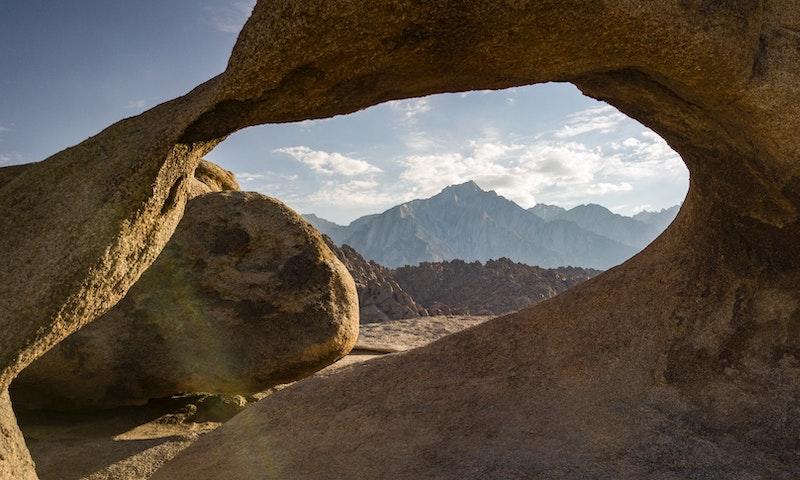 Alabama Hills, CA, USA. Photo by Stephen Leonardi on Unsplash.
Where was Iron Man Filmed?
Iron Man was filmed in 909 N Sepulveda Blvd, Alabama Hills, Blue Cloud Movie Ranch (Closed), Caesars Palace, California Steel Industries, Discovery, Downtown Los Angeles, Edwards AFB, Lone Pine, Long Beach, Malibu, Movie Rd, Olancha, Palmdale Regional Airport, Playa Vista, Point Dume, Santa Monica Pier and Walt Disney Concert Hall.
The complete list of the locations with latitude and longitude coordinates are listed below in the table.
Iron Man Locations Map
Iron Man Locations Table
| Location Name | Latitude | Longitude |
| --- | --- | --- |
| 909 N Sepulveda Blvd | 33.884975 | -118.396576 |
| Alabama Hills | 36.568192 | -118.091965 |
| Blue Cloud Movie Ranch (Closed) | 34.463379 | -118.482788 |
| Caesars Palace | 36.116135 | -115.174591 |
| California Steel Industries | 34.077847 | -117.493324 |
| Discovery | 33.664371 | -117.757339 |
| Downtown Los Angeles | 34.039711 | -118.254608 |
| Edwards AFB | 34.911922 | -117.932587 |
| Lone Pine | 36.587177 | -118.085709 |
| Long Beach | 33.796219 | -118.193184 |
| Malibu | 34.030819 | -118.799797 |
| Movie Rd | 36.621498 | -118.116241 |
| Olancha | 36.281265 | -118.009552 |
| Palmdale Regional Airport | 34.627487 | -118.083611 |
| Playa Vista | 33.975857 | -118.421913 |
| Point Dume | 34.001217 | -118.806641 |
| Santa Monica Pier | 34.009174 | -118.498375 |
| Walt Disney Concert Hall | 34.055363 | -118.249893 |
Related Movies