L.A. Confidential Locations
L.A. Confidential is an American crime drama mystery film that premiered on May 14, 1997, at Cannes, and was released on September 19, 1997, in the United States. Directed by Curtis Hanson, written by Brian Helgeland and Curtis Hanson, and based on the neo-noir novel by James Ellroy, the film stars Kevin Spacey, Russell Crowe, Guy Pearce, Kim Basinger, James Cromwell, David Strathairn, and Danny DeVito. It grossed $126.2 million against a $35 million budget and won 2 Academy Awards (Best Actress in a Supporting Role and Best Writing, Screenplay Based on Material Previously Produced or Published). L.A. Confidential was mainly shot in Los Angeles, California, USA. Pierce Patchett's house was located at 4616 Dundee Drive, while Lynn Bracken's house was located at 501 Wilcox Avenue. The closing scene took place at Los Angeles City Hall.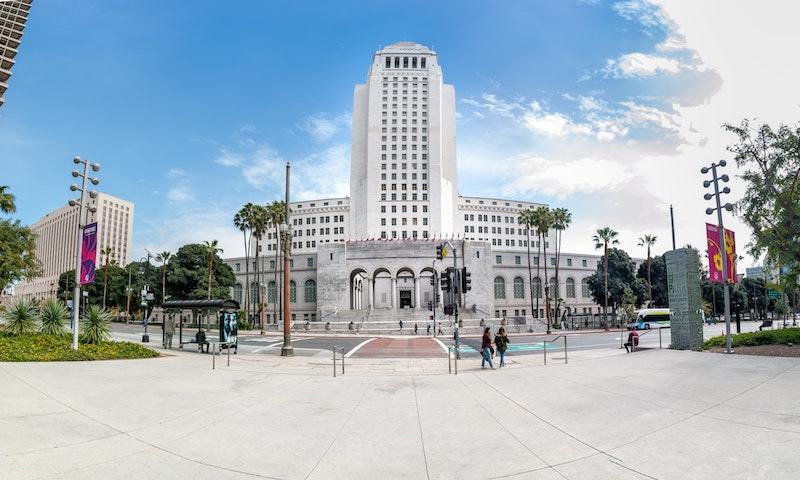 Los Angeles City Hall. Photo by David Vives on Unsplash.
Where was L.A. Confidential Filmed?
L.A. Confidential was filmed in 1255 Bellevue Ave, 1279 S Cochran Ave, 1704 Morton Ave, 1714 N Gramercy Pl, 4216 Rose Ave, 4439 Victoria Park Dr, 4616 Dundee Dr, 496 E Ave 28, 501 Wilcox Ave, 5620 Hollywood Blvd, 5668 Berkshire Dr, 6720 Sunset Blvd, 685 Venice Blvd., Blessed Sacrament Catholic Church, Boardner's by La Belle, Crossroads of the World, Echo Park, Elysian Park, Formosa Cafe and Frolic Room.
The complete list of the locations with latitude and longitude coordinates are listed below in the table.
L.A. Confidential Locations Map
L.A. Confidential Locations Table
| Location Name | Latitude | Longitude |
| --- | --- | --- |
| 1255 Bellevue Ave | 34.068069 | -118.252464 |
| 1279 S Cochran Ave | 34.051697 | -118.351616 |
| 1704 Morton Ave | 34.082165 | -118.252243 |
| 1714 N Gramercy Pl | 34.102341 | -118.312027 |
| 4216 Rose Ave | 33.835117 | -118.169098 |
| 4439 Victoria Park Dr | 34.047375 | -118.332069 |
| 4616 Dundee Dr | 34.118198 | -118.287872 |
| 496 E Ave 28 | 34.080692 | -118.207695 |
| 501 Wilcox Ave | 34.079075 | -118.331291 |
| 5620 Hollywood Blvd | 34.101509 | -118.312325 |
| 5668 Berkshire Dr | 34.097958 | -118.156609 |
| 6720 Sunset Blvd | 34.097427 | -118.337151 |
| 685 Venice Blvd. | 33.991524 | -118.458801 |
| Blessed Sacrament Catholic Church | 34.098148 | -118.335159 |
| Boardner's by La Belle | 34.101135 | -118.334908 |
| Crossroads of the World | 34.098206 | -118.335732 |
| Echo Park | 34.084133 | -118.251198 |
| Elysian Park | 34.083775 | -118.236725 |
| Formosa Cafe | 34.090496 | -118.346146 |
| Frolic Room | 34.101795 | -118.325958 |
| Hollywood Pantages Theatre | 34.101982 | -118.325874 |
| JJ's Sandwich Shop (Closed) | 34.044933 | -118.249428 |
| Lacy Street Production Center | 34.082108 | -118.219521 |
| Lincoln Heights | 34.073395 | -118.214264 |
| Lincoln Heights Jail | 34.077801 | -118.225182 |
| Los Angeles City Hall | 34.053745 | -118.242737 |
| Montecito St | 34.080994 | -118.207741 |
| The Queen Mary | 33.752586 | -118.190399 |
Related Movies