Once Upon a Time Locations
Once Upon a Time is an American fantasy-adventure drama television series created by Adam Horowitz and Edward Kitsis. Starring Ginnifer Goodwin, Jennifer Morrison, Josh Dallas, Lana Parrilla, Jared Gilmore, Robert Carlyle, Colin O'Donoghue, and Emilie de Ravin, the series was released on ABC from October 23, 2011, to May 18, 2018, ran for 7 seasons, 155 episodes, and nominated for 7 Primetime Emmys. Once Upon a Time was mainly shot in British Columbia, Canada. Filming also took place at The Bridge Studios in Burnaby. Filming locations included Tourism Richmond Visitor Centre, Steveston Coffee Company, Nikaido, and Romania Country Bread in Richmond.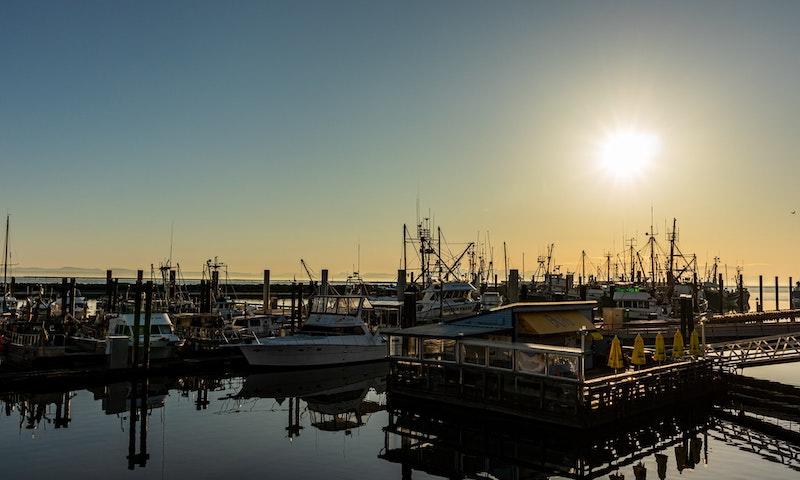 Steveston, Richmond, BC, Canada. Photo by Lucas Santos on Unsplash.
Where was Once Upon a Time Filmed?
Once Upon a Time was filmed in 403 St George St (Mr. Gold's House), Bridge Studios, Britannia Shipyards National Historic Site, Burnaby Art Gallery, Cannery Café, Cates Park, East Lawn Building, Fort Langley Community Hall, Garry Point Park, Gotham Steakhouse & Cocktail Bar, Gulf of Georgia Cannery National Historic Site, Iona Beach, Its Posh, Kerrisdale Elementary School, New Westminster, Nikaido, North Vancouver Cemetery, Pacific Central Station, Prickly Pear Garden Centre and Richmond.
The complete list of the locations with latitude and longitude coordinates are listed below in the table.
Once Upon a Time Locations Map
Once Upon a Time Locations Table
| Location Name | Latitude | Longitude |
| --- | --- | --- |
| 403 St George St (Mr. Gold's House) | 49.209469 | -122.911682 |
| Bridge Studios | 49.263035 | -123.020714 |
| Britannia Shipyards National Historic Site | 49.121098 | -123.169540 |
| Burnaby Art Gallery | 49.241497 | -122.971924 |
| Cannery Café | 49.125462 | -123.183640 |
| Cates Park | 49.303017 | -122.955292 |
| East Lawn Building | 49.247711 | -122.806282 |
| Fort Langley Community Hall | 49.169075 | -122.579933 |
| Garry Point Park | 49.125782 | -123.195229 |
| Gotham Steakhouse & Cocktail Bar | 49.282848 | -123.115814 |
| Gulf of Georgia Cannery National Historic Site | 49.124924 | -123.187004 |
| Iona Beach | 49.218742 | -123.215111 |
| Its Posh | 49.124977 | -123.184944 |
| Kerrisdale Elementary School | 49.236160 | -123.173470 |
| New Westminster | 49.207249 | -122.935135 |
| Nikaido | 49.125065 | -123.183968 |
| North Vancouver Cemetery | 49.322948 | -123.018509 |
| Pacific Central Station | 49.273613 | -123.097839 |
| Prickly Pear Garden Centre | 49.124367 | -123.181404 |
| Richmond | 49.164562 | -123.139603 |
| Romania Country Bread | 49.125053 | -123.183685 |
| Spur 4 Bridge | 49.390377 | -122.990067 |
| Steveston | 49.131985 | -123.182487 |
| Steveston Coffee Company | 49.125259 | -123.184937 |
| Steveston Museum | 49.125301 | -123.183060 |
| Storybrooke Library | 49.125340 | -123.184639 |
| Storybrooke Pier | 49.123657 | -123.186783 |
| T-Rex Urban Food & Coffee Bar | 49.275925 | -123.100159 |
| Tourism Richmond Visitor Centre | 49.125271 | -123.183014 |
| Vancouver | 49.280376 | -123.125343 |
| Victory Square | 49.282223 | -123.110100 |
| Waterfront Station | 49.285946 | -123.111519 |
| Whytecliff Park | 49.373135 | -123.288559 |
Related TV Series