Squid Game Locations
Squid Game (오징어 게임) is a South Korean action drama horror mystery series created, written, and directed by Hwang Dong-hyuk. Starring Lee Jung-jae, Park Hae-soo, Wi Ha-joon, O Yeong-su, Jung Ho-yeon, Heo Sung-tae, Kim Joo-ryoung, and Anupam Tripathi, the series was digitally released worldwide on September 17, 2021 by Netflix. It became the most-watched Netflix series with 142 million account views. The first season of the show consists of 9 episodes. Squid Game was shot in Seoul, South Korea. The secret island scenes took place at Seongapdo Island.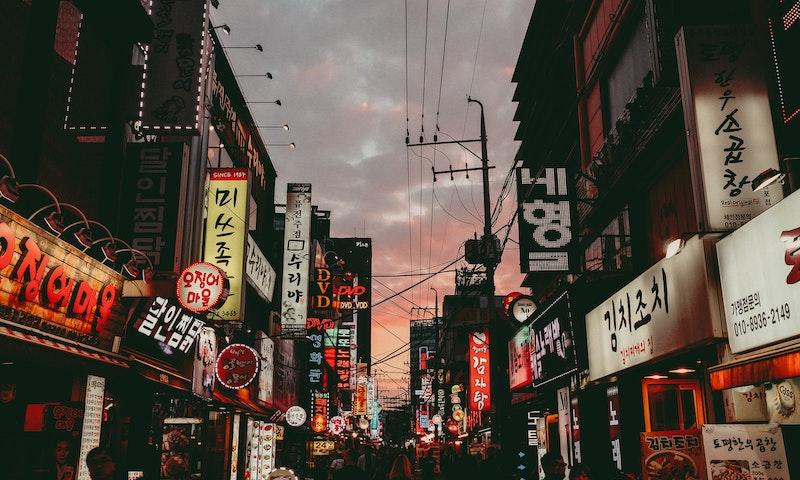 Seoul, South Korea. Photo by Sava Bobov on Unsplash.
Where was Squid Game Filmed?
Squid Game was filmed in Changdong (창동), Daejeon (대전광역시), IFC mall (IFC몰), Island Seongapdo, Keunumul-ro (큰우물로), Korea International Exhibition Center, Samyang-ro 154-gil (삼양로154길), Sangbong Intercity Bus Terminal (상봉시외버스터미널), Seoul (서울특별시), Ssangmun-dong (쌍문동), Uicheon-ro 39-gil (우이천로39길), Wolmido (월미도) and Yangjae Citizen Forest (양재시민의숲).
The complete list of the locations with latitude and longitude coordinates are listed below in the table.
Squid Game Locations Map
Squid Game Locations Table
| Location Name | Latitude | Longitude |
| --- | --- | --- |
| Changdong (창동) | 37.652691 | 127.047798 |
| Daejeon (대전광역시) | 36.373081 | 127.318588 |
| IFC mall (IFC몰) | 37.525215 | 126.925491 |
| Island Seongapdo | 37.256672 | 126.306076 |
| Keunumul-ro (큰우물로) | 37.543121 | 126.942757 |
| Korea International Exhibition Center | 37.668888 | 126.745560 |
| Samyang-ro 154-gil (삼양로154길) | 37.655571 | 127.014397 |
| Sangbong Intercity Bus Terminal (상봉시외버스터미널) | 37.596149 | 127.092590 |
| Seoul (서울특별시) | 37.576038 | 126.944580 |
| Ssangmun-dong (쌍문동) | 37.654644 | 127.026321 |
| Uicheon-ro 39-gil (우이천로39길) | 37.649437 | 127.018753 |
| Wolmido (월미도) | 37.475430 | 126.597832 |
| Yangjae Citizen Forest (양재시민의숲) | 37.469936 | 127.038322 |
Related TV Series