The Hangover Locations
The Hangover is an American comedy movie directed by Todd Phillips, written by Jon Lucas and Scott Moore. Starring Zach Galifianakis, Bradley Cooper, Justin Bartha, Ed Helms, Heather Graham, Sasha Barrese, Jeffrey Tambor, and Ken Jeong, the film is the first one in The Hangover trilogy. It was released on June 5, 2009, in the United States, grossed $469.3 million worldwide against a $35 million budget, and won the 2010 Golden Globes for "Best Motion Picture - Comedy or Musical". The Hangover was shot in Las Vegas, Nevada, and Los Angeles, California, USA. Filming locations included Chevron Gas Station, Wild Wild West Gambling Hall, Caesars Palace, and Webster Elementary School.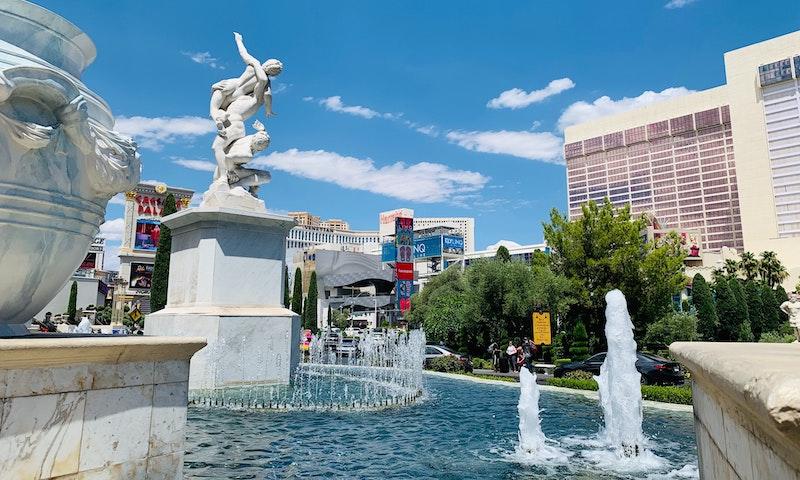 Caesars Palace, Las Vegas, USA. Photo by Queen Ahumareze on Unsplash.
Where was The Hangover Filmed?
The Hangover was filmed in 11409 Penrose St, 303 S Union Ave, 415 S Grand Ave, Caesars Palace, Chevron, Haven St & E Mandalay Bay Rd, Jean/ Roach Dry Lake Beds, Las Vegas, Rialto, Webster Elementary School and Wild Wild West Gambling Hall.
The complete list of the locations with latitude and longitude coordinates are listed below in the table.
The Hangover Locations Map
The Hangover Locations Table
| Location Name | Latitude | Longitude |
| --- | --- | --- |
| 11409 Penrose St | 34.223419 | -118.380264 |
| 303 S Union Ave | 34.060749 | -118.268478 |
| 415 S Grand Ave | 34.138474 | -118.162605 |
| Caesars Palace | 36.116135 | -115.174622 |
| Chevron | 35.781982 | -115.332748 |
| Haven St & E Mandalay Bay Rd | 36.093529 | -115.170410 |
| Jean/ Roach Dry Lake Beds | 35.787708 | -115.261299 |
| Las Vegas | 36.111053 | -115.193382 |
| Rialto | 34.116600 | -117.399086 |
| Webster Elementary School | 34.169567 | -118.107292 |
| Wild Wild West Gambling Hall | 36.101551 | -115.184891 |
Related Movies