The Hunger Games: Catching Fire Locations
The Hunger Games: Catching Fire is an American action-adventure sci-fi movie starring Jennifer Lawrence, Josh Hutcherson, Liam Hemsworth, Elizabeth Banks, Woody Harrelson, Lenny Kravitz, Philip Seymour Hoffman, Stanley Tucci, Jeffrey Wright, and Donald Sutherland. Directed by Francis Lawrence, written for the screen by Simon Beaufoy and Michael deBruyn, and based on the novel by Suzanne Collins, the film premiered in London on November 11, 2013, and was released on November 22, 2013, in the US. It grossed $865 million worldwide against a $130–140 million budget, and received good reviews as well as several awards and nominations. The Hunger Games: Catching Fire was shot in Atlanta, Georgia, USA. Filming also took place in O'ahu, Hawaii.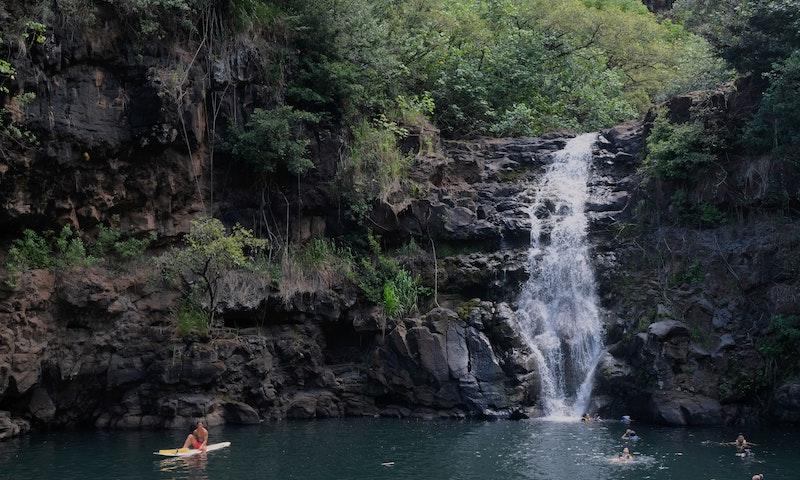 Waimea Valley. Photo by Mari Sparacino on Unsplash.
Where was The Hunger Games: Catching Fire Filmed?
The Hunger Games: Catching Fire was filmed in Atlanta Marriott Marquis, Clayton County, DeKalb-Peachtree Airport, Georgia World Congress Center, Kawela Bay Beach Park, O'ahu, Oakland, Swan House at Atlanta History Center, Sweetwater Creek Sate Park, The Goat Farm Arts Center, Universal Studios Hollywood and Waimea Valley.
The complete list of the locations with latitude and longitude coordinates are listed below in the table.
The Hunger Games: Catching Fire Locations Map
The Hunger Games: Catching Fire Locations Table
| Location Name | Latitude | Longitude |
| --- | --- | --- |
| Atlanta Marriott Marquis | 33.761581 | -84.385986 |
| Clayton County | 33.556232 | -84.396614 |
| DeKalb-Peachtree Airport | 33.876797 | -84.308014 |
| Georgia World Congress Center | 33.758251 | -84.398315 |
| Kawela Bay Beach Park | 21.697372 | -158.006851 |
| O'ahu | 21.428988 | -158.029510 |
| Oakland | 41.026913 | -74.253548 |
| Swan House at Atlanta History Center | 33.840466 | -84.387634 |
| Sweetwater Creek Sate Park | 33.752552 | -84.628891 |
| The Goat Farm Arts Center | 33.786011 | -84.416618 |
| Universal Studios Hollywood | 34.138107 | -118.353439 |
| Waimea Valley | 21.640026 | -158.060135 |
Related Movies