The Last Samurai Locations
Directed by Edward Zwick, written by John Logan, Edward Zwick, Marshall Herskovitz, from a story by Logan, and scored by Hans Zimmer, The Last Samurai is an American action drama movie. It was released on November 20, 2003, in Tokyo, and December 5, 2003, in the United States, grossed $456.8 million worldwide against a $140 million budget. Starring Tom Cruise, Ken Watanabe, Billy Connolly, William Atherton, Chad Lindberg, Tony Goldwyn, Masato Harada, Masashi Odate, Timothy Spall, and Shichinosuke Nakamura, the film was nominated for 4 Oscars including "Best Actor in a Supporting Role" (Ken Watanabe). The Last Samurai was shot in New Zealand, Japan, and the USA. Japanese village and battle scenes took place in Taranaki, New Zealand.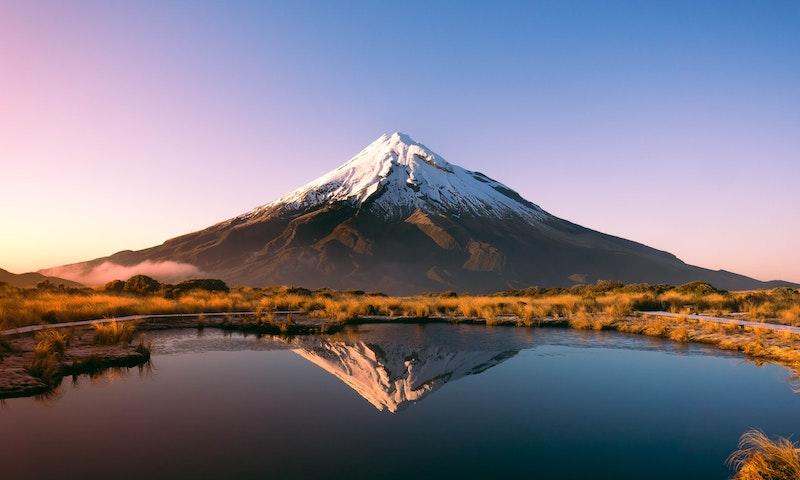 Mount Taranaki, Taranaki, New Zealand. Photo by Sophie Turner on Unsplash.
Where was The Last Samurai Filmed?
The Last Samurai was filmed in 99 S Raymond Ave, Awaji (淡路市), Henderson Valley Studios (Auckland Film Studios), Mt. Taranaki, New Plymouth, Nijō Castle (元離宮二条城), Pukekura Park, Shoshazan Engyo-ji temple (圓教寺), Uruti, Warner Bros. Studios (Stage 15) and Warner Bros. Studios (Stage 19).
The complete list of the locations with latitude and longitude coordinates are listed below in the table.
The Last Samurai Locations Map
The Last Samurai Locations Table
| Location Name | Latitude | Longitude |
| --- | --- | --- |
| 99 S Raymond Ave | 34.143932 | -118.149132 |
| Awaji (淡路市) | 34.488152 | 134.894287 |
| Henderson Valley Studios (Auckland Film Studios) | -36.884003 | 174.629700 |
| Mt. Taranaki | -39.296970 | 174.062851 |
| New Plymouth | -39.060055 | 174.064743 |
| Nijō Castle (元離宮二条城) | 35.014206 | 135.748169 |
| Pukekura Park | -39.063591 | 174.079941 |
| Shoshazan Engyo-ji temple (圓教寺) | 34.891125 | 134.656342 |
| Uruti | -38.958965 | 174.567291 |
| Warner Bros. Studios (Stage 15) | 34.147964 | -118.339340 |
| Warner Bros. Studios (Stage 19) | 34.148685 | -118.338837 |
Related Movies