The Lobster Locations
The Lobster is a surreal romantic comedy-drama movie directed by Yorgos Lanthimos, written by Lanthimos and Efthimis Filippou. Starring an amazing cast consisting of Colin Farrell, Rachel Weisz, Jessica Barden, Léa Seydoux, Olivia Colman, Ben Whishaw, Ashley Jensen, Ariane Labed, Angeliki Papoulia, John C. Reilly, and Michael Smiley, the film premiered at Cannes on 15 May 2015, was released on 16 October 2015 in the United Kingdom and Ireland, on 22 October 2015 in Greece and Netherlands, on 28 October 2015 in France. It was nominated for an Oscar in "Best Original Screenplay". Olivia Colman won "Best Supporting Actress" at the 2015 British Independent Film Awards. The film also won three awards at the 2015 Cannes Film Festival. The Lobster was shot in Ireland. The interior scenes of the hotel took place at The Eccles Hotel, which is located at Harbour, Reenmeen East, Glengarriff, Co. Cork, Ireland, while the city scenes were filmed in Dublin. The exteriors of the hotel scenes were mostly filmed at Parknasilla Resort & Spa.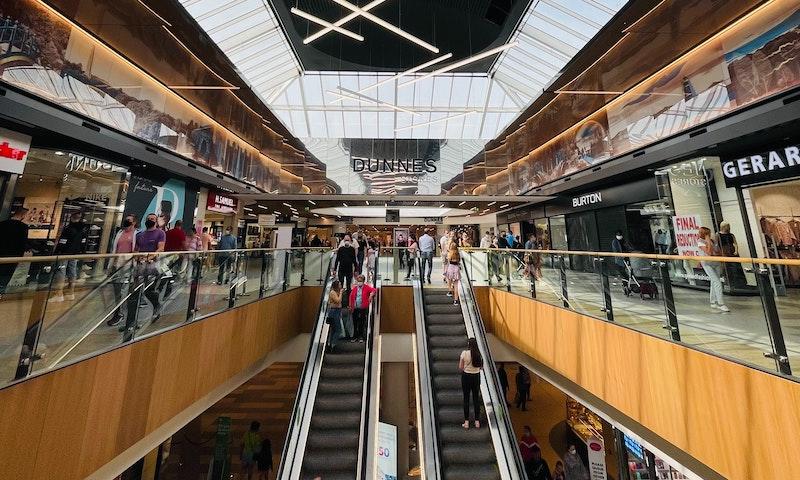 Blanchardstown Centre, Ireland. Photo by Adam Szczepaniak on Unsplash.
Where was The Lobster Filmed?
The Lobster was filmed in 5 Lazer Ln, Blanchardstown Centre, Chimney Park, Dromore Woods, Eccles Hotel, Grand Canal Dock, Joel's Restaurant and Parknasilla Resort & Spa.
The complete list of the locations with latitude and longitude coordinates are listed below in the table.
The Lobster Locations Map
The Lobster Locations Table
| Location Name | Latitude | Longitude |
| --- | --- | --- |
| 5 Lazer Ln | 53.345238 | -6.238811 |
| Blanchardstown Centre | 53.391865 | -6.391074 |
| Chimney Park | 53.345123 | -6.239547 |
| Dromore Woods | 52.935940 | -8.959102 |
| Eccles Hotel | 51.752262 | -9.540421 |
| Grand Canal Dock | 53.344563 | -6.241115 |
| Joel's Restaurant | 53.314842 | -6.384013 |
| Parknasilla Resort & Spa | 51.815811 | -9.874716 |
Related Movies