The Omen Locations
A classic horror movie The Omen was released on June 6, 1976 in the UK and on June 25, 1976 in the US. Written by David Seltzer, directed by Richard Donner, produced by Harvey Bernhard, scored by Jerry Goldsmith, the film stars Gregory Peck, Lee Remick, David Warner, Holly Palance, Anthony Nicholls, Patrick Troughton, and Billie Whitelaw. It is the first installment of The Omen film series. The film won an Oscar for "Best Music, Original Score" and a nomination for "Best Music, Original Song". The Omen was shot in London and Surrey, England, UK. Filming also took place in Rome, Italy and Jerusalem, Israel.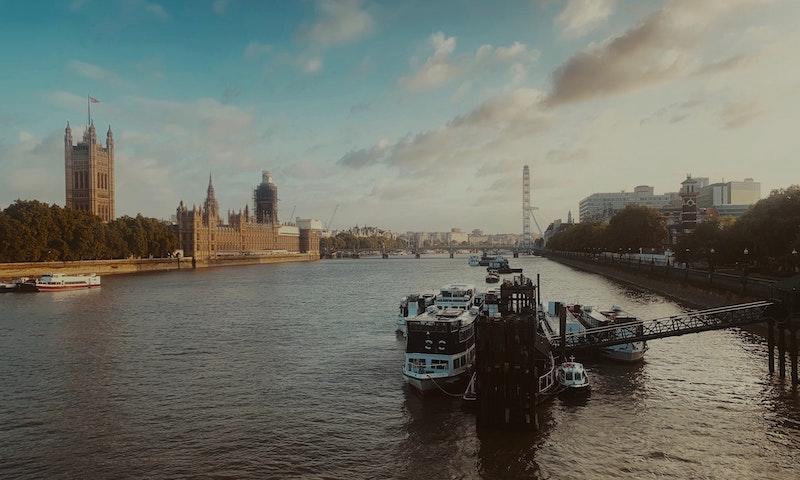 Lambeth, London, UK. Photo by Nitin Tulswani on Unsplash.
Where was The Omen Filmed?
The Omen was filmed in All Saints, Fulham, Bishops Park, Brookwood American Cemetery, Garden Museum, Grosvenor Square, Guildford Cathedral, Jerusalem, Northwick Park Hospital, Parliament Hill Fields, Parliament Square Westminster, Piazza Mincio, Pyrford Court, Rome, Shepperton Studios, South Hill Park, St. Peter's Church and Windsor Rugby Football Club.
The complete list of the locations with latitude and longitude coordinates are listed below in the table.
The Omen Locations Map
The Omen Locations Table
| Location Name | Latitude | Longitude |
| --- | --- | --- |
| All Saints, Fulham | 51.468609 | -0.211707 |
| Bishops Park | 51.471565 | -0.217157 |
| Brookwood American Cemetery | 51.300594 | -0.638925 |
| Garden Museum | 51.494942 | -0.120214 |
| Grosvenor Square | 51.511532 | -0.151578 |
| Guildford Cathedral | 51.241421 | -0.591151 |
| Jerusalem | 31.786312 | 35.183434 |
| Northwick Park Hospital | 51.575382 | -0.320298 |
| Parliament Hill Fields | 51.557083 | -0.155920 |
| Parliament Square Westminster | 51.500175 | -0.126987 |
| Piazza Mincio | 41.918762 | 12.502305 |
| Pyrford Court | 51.318531 | -0.516321 |
| Rome | 41.907566 | 12.477638 |
| Shepperton Studios | 51.407818 | -0.466216 |
| South Hill Park | 51.393650 | -0.750141 |
| St. Peter's Church | 51.428616 | -0.509076 |
| Windsor Rugby Football Club | 51.490101 | -0.603388 |
Related Movies