The Seventh Seal Locations
A Swedish classic drama fantasy movie The Seventh Seal (Det sjunde inseglet) is written and directed by Ingmar Bergman. The film is based on the director's play Trämålning (Wood Painting). Starring Gunnar Björnstrand, Bengt Ekerot, Nils Poppe, Max von Sydow, Bibi Andersson, Inga Landgré, and Åke Fridell, the film was released on 16 February 1957. It is considered one of the greatest movies of all time. The film won Jury Special Prize at the 1957 Cannes Film Festival. The Seventh Seal was entirely shot in Stockholm County (Stockholms län), Sweden. Many scenes in the film were shot at Filmstaden in Råsunda. The opening and ending scenes took place at Hovs Hallar Nature Reserve.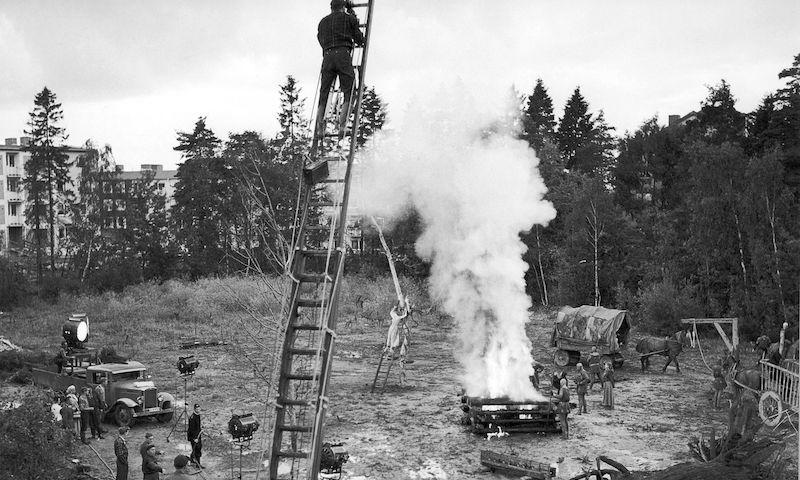 Louis Huch - Svensk Filmindustri. (Photo at English Wikipedia)
Where was The Seventh Seal Filmed?
The Seventh Seal was filmed in Filmstaden Råsunda, Gustavsberg, Hovs Hallar Nature Reserve, Östanå, Skevik, Skytteholm, Solna and Viby.
The complete list of the locations with latitude and longitude coordinates are listed below in the table.
The Seventh Seal Locations Map
The Seventh Seal Locations Table
| Location Name | Latitude | Longitude |
| --- | --- | --- |
| Filmstaden Råsunda | 59.367191 | 17.981611 |
| Gustavsberg | 59.327393 | 18.387899 |
| Hovs Hallar Nature Reserve | 56.468952 | 12.707478 |
| Östanå | 59.557899 | 18.577667 |
| Skevik | 59.339367 | 18.392172 |
| Skytteholm | 59.358902 | 17.993193 |
| Solna | 59.369190 | 18.006525 |
| Viby | 59.633533 | 17.714376 |
Related Movies