65 Locations
Written and directed by Scott Beck and Bryan Woods, scored by Chris Bacon, 65 is an American action-adventure drama sci-fi movie starring Adam Driver and Ariana Greenblatt. The film was released on March 10, 2023, by Sony Pictures Releasing in the United States, grossing $54.8 million worldwide. It also stars Chloe Coleman, Nika King, and Brian Dare (voice). Sam Raimi is among the producers of the film. 65 was filmed at Second Line Stages in New Orleans, Ardmore Studios in Ireland, and Sony Pictures Studios in California. Kisatchie National Forest in Louisiana was among the filming locations.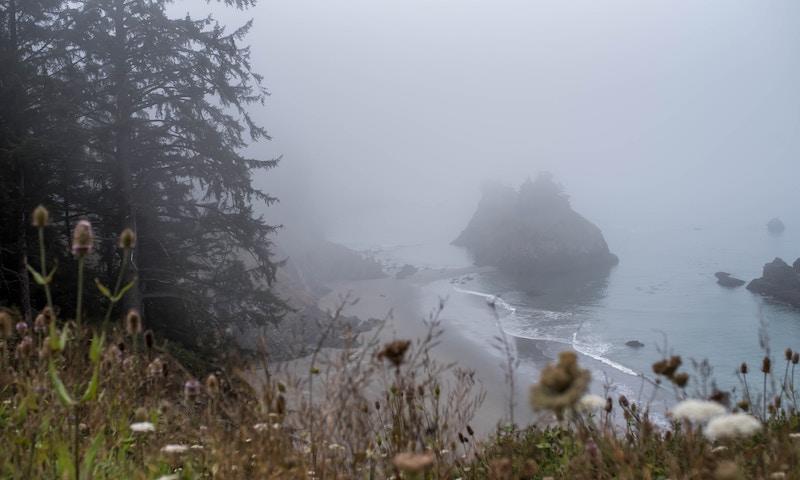 Whaleshead Beach. Photo by Cortney Chummoungpak on Unsplash.
Where was 65 Filmed?
65 was filmed in Agness, Ardmore Studios, Bray, Coos Bay, Covington, Elk Creek Falls, Gold Beach, Kisatchie National Forest, Meyer's Creek Beach, New Sarpy, Second Line Stages, Sony Pictures Studios, Vernon Parish and Whaleshead Beach.
The complete list of the locations with latitude and longitude coordinates are listed below in the table.
65 Locations Map
65 Locations Table
| Location Name | Latitude | Longitude |
| --- | --- | --- |
| Agness | 42.556473 | -124.066483 |
| Ardmore Studios | 53.196690 | -6.124930 |
| Bray | 53.200272 | -6.124028 |
| Coos Bay | 43.367252 | -124.216202 |
| Covington | 30.476631 | -90.109596 |
| Elk Creek Falls | 42.815975 | -124.011932 |
| Gold Beach | 42.408531 | -124.424156 |
| Kisatchie National Forest | 30.998877 | -92.624062 |
| Meyer's Creek Beach | 42.312267 | -124.415436 |
| New Sarpy | 29.978464 | -90.390526 |
| Second Line Stages | 29.931593 | -90.070068 |
| Sony Pictures Studios | 34.017708 | -118.401276 |
| Vernon Parish | 31.112085 | -93.311676 |
| Whaleshead Beach | 42.144394 | -124.355156 |
Related Movies