A Christmas Story Locations
A Christmas Story is a 1983 American Christmas comedy film directed by Bob Clark, written by Jean Shepherd, Leigh Brown, and Bob Clark, based on the novel "In God We Trust, All Others Pay Cash" by Jean Shepherd. It stars Peter Billingsley, Melinda Dillon, Darren McGavin, Scott Schwartz, R.D. Robb, and Zack Ward. The film was released on November 18, 1983, and won two Canadian Genie Awards in 1984. It was also selected for preservation in the National Film Registry by the Library of Congress. The film is listed as one of the best Christmas films ever. A Christmas Story was shot in Toronto, Ontario, Canada and Cleveland, Ohio, USA.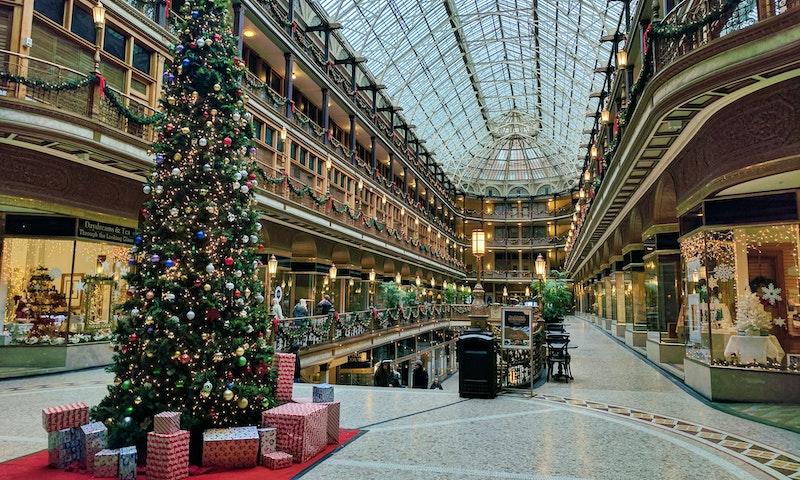 Cleveland, Ohio, USA. Photo by Ron Dauphin on Unsplash.
Where was A Christmas Story Filmed?
A Christmas Story was filmed in 232 Queen St, 3159 W. 11th St (A Christmas Story House), 64 Sears St, 744 Gerrard St, Central Senior Public School, Cherry Street Bridge, Cleveland, Cleveland Public Square, Higbee's Department Store, Sears St, St. Catharines, Tremont and Victoria Public School (closed).
The complete list of the locations with latitude and longitude coordinates are listed below in the table.
A Christmas Story Locations Map
A Christmas Story Locations Table
| Location Name | Latitude | Longitude |
| --- | --- | --- |
| 232 Queen St | 43.650341 | -79.390221 |
| 3159 W. 11th St (A Christmas Story House) | 41.468731 | -81.687355 |
| 64 Sears St | 43.662479 | -79.328430 |
| 744 Gerrard St | 43.666840 | -79.347305 |
| Central Senior Public School | 44.353687 | -78.745491 |
| Cherry Street Bridge | 43.641300 | -79.349007 |
| Cleveland | 41.505550 | -81.691498 |
| Cleveland Public Square | 41.499695 | -81.693726 |
| Higbee's Department Store | 41.498119 | -81.690918 |
| Sears St | 43.662708 | -79.327209 |
| St. Catharines | 43.159988 | -79.247017 |
| Tremont | 41.483089 | -81.689552 |
| Victoria Public School (closed) | 43.171249 | -79.234215 |
Related Movies