A Simple Favor Locations
An American comedy crime mystery movie A Simple Favor is directed by Paul Feig, produced by Feig and Jessie Henderson, written by Jessica Sharzer, and based on the debut novel of the same name by Darcey Bell. Starring Anna Kendrick, Blake Lively, Henry Golding, Andrew Rannells, Ian Ho, Joshua Satine, Glenda Braganza, and Kelly McCormack, the film was released on September 14, 2018, earned $97.6 million worldwide, won several awards and nominations. A Simple Favor was shot in Ontario, Canada, and New York, USA. Elmcrest Public School in Mississauga was used as a stand-in for Warfield Elementary School in the film.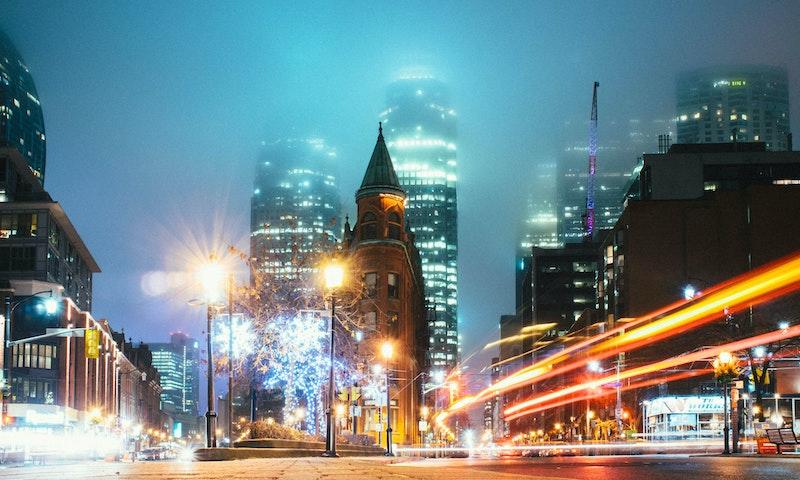 Toronto, Ontario, Canada. Photo by Daniel Novykov on Unsplash.
Where was A Simple Favor Filmed?
A Simple Favor was filmed in Elmcrest Public School, New York City, The Dutch, Toronto and Unionville.
The complete list of the locations with latitude and longitude coordinates are listed below in the table.
A Simple Favor Locations Map
A Simple Favor Locations Table
| Location Name | Latitude | Longitude |
| --- | --- | --- |
| Elmcrest Public School | 43.508812 | -79.654831 |
| New York City | 40.763008 | -73.997116 |
| The Dutch | 40.726532 | -74.002213 |
| Toronto | 43.735840 | -79.434151 |
| Unionville | 43.866718 | -79.319153 |
Related Movies