AEW Dynamite Locations
AEW Dynamite, also known as All Elite Wrestling: Dynamite, is an American action sports professional wrestling TV Series created by Tony Khan and Tony Schiavone, presented by Excalibur, Tony Schiavone, and Taz, and produced by All Elite Wrestling, an American promotion based in Jacksonville, Florida. The series was originally released on October 2, 2019, on TNT (2019–2021) and TBS (2022–). AEW Dynamite was shot in various arenas in the United States, as well as in Canada. Daily's Place, an amphitheater connected to TIAA Bank Field in Downtown Jacksonville, is among the filming locations.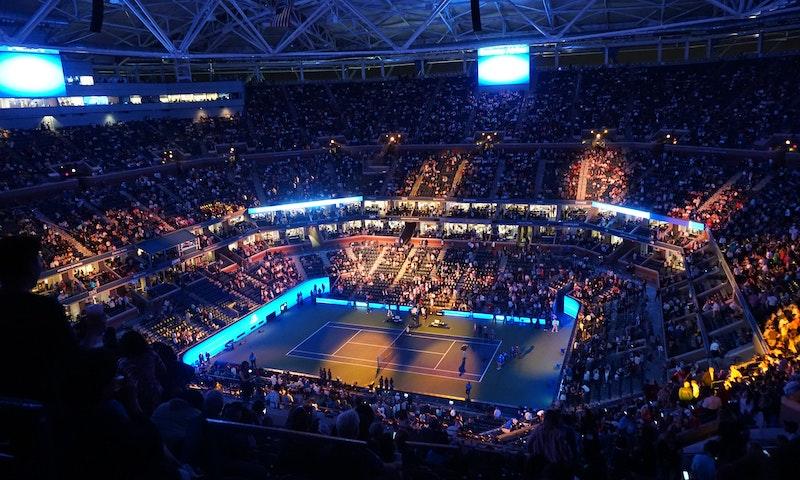 Arthur Ashe Stadium, NY, USA. Photo by Sudan Ouyang on Unsplash.
Where was AEW Dynamite Filmed?
AEW Dynamite was filmed in 1stBank Center, Addition Financial Arena, Agganis Arena, Arthur Ashe Stadium, Blue Cross Arena, Capital One Arena, Coca-Cola Coliseum, Curtis Culwell Center, Daily's Place, Entertainment & Sports Arena, Fertitta Center, Fifth Third Arena, Gas South Arena, Greensboro Coliseum, Heritage Bank Center, Indiana Farmers Coliseum, James L. Knight Center, Jim Whelan Boardwalk Hall, Liacouras Center and Maverik Center.
The complete list of the locations with latitude and longitude coordinates are listed below in the table.
AEW Dynamite Locations Map
AEW Dynamite Locations Table
| Location Name | Latitude | Longitude |
| --- | --- | --- |
| 1stBank Center | 39.904549 | -105.085609 |
| Addition Financial Arena | 28.607468 | -81.197548 |
| Agganis Arena | 42.352242 | -71.117851 |
| Arthur Ashe Stadium | 40.749939 | -73.847382 |
| Blue Cross Arena | 43.153770 | -77.611107 |
| Capital One Arena | 38.898109 | -77.021332 |
| Coca-Cola Coliseum | 43.636044 | -79.415253 |
| Curtis Culwell Center | 32.959278 | -96.642189 |
| Daily's Place | 30.322128 | -81.637932 |
| Entertainment & Sports Arena | 38.846909 | -76.991455 |
| Fertitta Center | 29.724691 | -95.347176 |
| Fifth Third Arena | 39.131176 | -84.514229 |
| Gas South Arena | 33.991619 | -84.094109 |
| Greensboro Coliseum | 36.059692 | -79.825966 |
| Heritage Bank Center | 39.098019 | -84.504578 |
| Indiana Farmers Coliseum | 39.827618 | -86.135231 |
| James L. Knight Center | 25.770933 | -80.191200 |
| Jim Whelan Boardwalk Hall | 39.354942 | -74.438713 |
| Liacouras Center | 39.979828 | -75.158714 |
| Maverik Center | 40.702770 | -111.950821 |
| Nashville Municipal Auditorium | 36.167576 | -86.782539 |
| NOW Arena | 42.069172 | -88.212151 |
| Petersen Events Center | 40.443893 | -79.962608 |
| PNC Arena | 35.803337 | -78.722054 |
| Prudential Center | 40.733585 | -74.171295 |
| Silverstein Eye Centers Arena (Cable Dahmer Arena) | 39.040043 | -94.357620 |
| UBS Arena | 40.711864 | -73.726135 |
| UW-Milwaukee Panther Arena | 43.042187 | -87.916908 |
| Wintrust Arena | 41.853634 | -87.621490 |
| Wolstein Center | 41.499378 | -81.677361 |
Related TV Series