AEW Rampage Locations
AEW Rampage, originally known as All Elite Wrestling: Rampage, is an American professional wrestling TV program produced by All Elite Wrestling (AEW), created by Tony Khan, and presented by Jim Ross, Excalibur, and Tony Schiavone. It was released on TNT on August 13, 2021, in the United States. The debut episode of Rampage was filmed at Petersen Events Center in Pittsburgh, Pennsylvania. Other venues that hosted the show include United Center and Wintrust Arena in Chicago, Arthur Ashe Stadium in Queens, Agganis Arena in Boston, Little Caesars Arena in Detroit, and so on.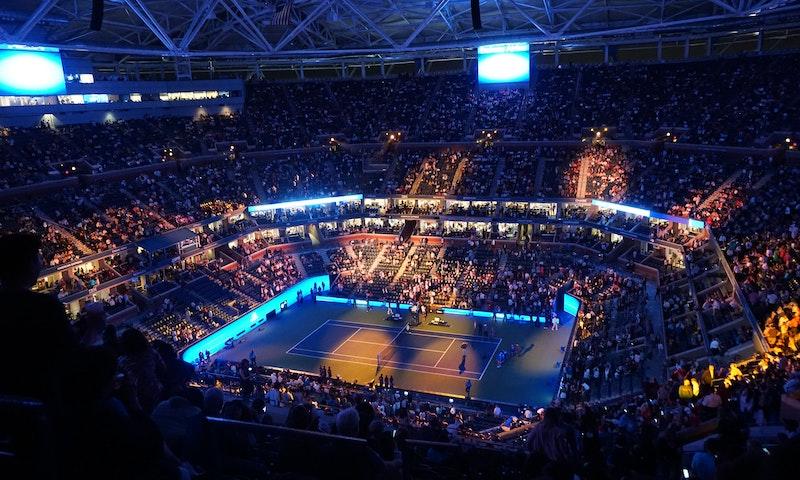 Arthur Ashe Stadium, NY. Photo by Sudan Ouyang on Unsplash.
Where was AEW Rampage Filmed?
AEW Rampage was filmed in 1STBANK Center, Agganis Arena, Arthur Ashe Stadium, Blue Cross Arena, Chaifetz Arena, Chartway Arena, Curtis Culwell Center, Daily's Place, DCU Center, Enmarket Arena, Entertainment & Sports Arena, Fifth Third Arena, Freeman Coliseum, Gas South Arena, Gas South Arena, Greensboro Coliseum, James L. Knight Center, Little Caesars Arena, Nashville Municipal Auditorium and NOW Arena.
The complete list of the locations with latitude and longitude coordinates are listed below in the table.
AEW Rampage Locations Map
AEW Rampage Locations Table
| Location Name | Latitude | Longitude |
| --- | --- | --- |
| 1STBANK Center | 39.904621 | -105.085518 |
| Agganis Arena | 42.352219 | -71.118011 |
| Arthur Ashe Stadium | 40.749943 | -73.847374 |
| Blue Cross Arena | 43.153839 | -77.610977 |
| Chaifetz Arena | 38.632542 | -90.227959 |
| Chartway Arena | 36.884151 | -76.301758 |
| Curtis Culwell Center | 32.959309 | -96.642349 |
| Daily's Place | 30.322102 | -81.637924 |
| DCU Center | 42.264530 | -71.798714 |
| Enmarket Arena | 32.074051 | -81.111679 |
| Entertainment & Sports Arena | 38.846901 | -76.991463 |
| Fifth Third Arena | 39.131161 | -84.514214 |
| Freeman Coliseum | 29.427082 | -98.439369 |
| Gas South Arena | 33.991665 | -84.094048 |
| Gas South Arena | 33.991673 | -84.094200 |
| Greensboro Coliseum | 36.059620 | -79.825867 |
| James L. Knight Center | 25.770906 | -80.191147 |
| Little Caesars Arena | 42.341145 | -83.055435 |
| Nashville Municipal Auditorium | 36.167393 | -86.782654 |
| NOW Arena | 42.069157 | -88.212135 |
| Petersen Events Center | 40.443829 | -79.962608 |
| PNC Arena | 35.803402 | -78.722069 |
| Prudential Center | 40.733513 | -74.171188 |
| Target Center | 44.979511 | -93.276581 |
| The Liacouras Center | 39.979767 | -75.158669 |
| UBS Arena | 40.711803 | -73.726196 |
| United Center | 41.880703 | -87.674393 |
| UW-Milwaukee Panther Arena | 43.042233 | -87.916992 |
| Wintrust Arena | 41.853718 | -87.621582 |
| Wolstein Center | 41.499367 | -81.677094 |
Related TV Series