As Good as It Gets Locations
An American romantic comedy-drama movie As Good as It Gets stars a great cast consisting of Jack Nicholson, Helen Hunt, Greg Kinnear, Cuba Gooding Jr., Skeet Ulrich, and Shirley Knight. Directed by James L. Brooks, written by Mark Andrus and James L. Brooks, the film was released on December 25, 1997, and grossed $314.1 million against a $50 million budget. It won 2 Oscars: "Best Actor in a Leading Role" (Jack Nicholson) and "Best Actress in a Leading Role" (Helen Hunt). As Good as It Gets was shot in New York City, New York, and Los Angeles, California, USA. The apartments of Melvin and Simon were located at 31-33 12th Street, West Village, Manhattan. And the scenes of Carol's home took place at 1 Windsor Place, Prospect Park, Brooklyn.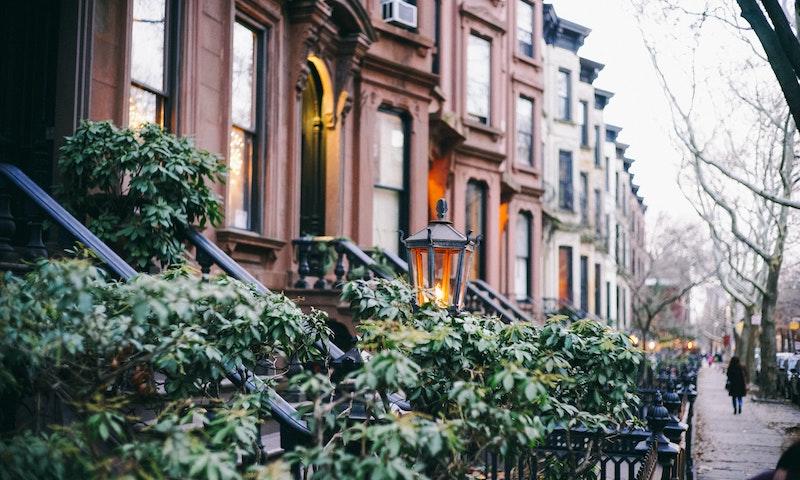 Park Slope. Photo by Josh Wilburne on Unsplash.
Where was As Good as It Gets Filmed?
As Good as It Gets was filmed in 1 Windsor Pl, 12th Street, 4th St, Alamitos Bay Landing, Barclay Hotel, Downtown Los Angeles, Jersey City, Khoury's Restaurant (Closed), Manhattan, Marina Dr, Park Slope, Pocantico Hills, Prospect Park, Seal Beach, Seal Beach Pier, Sony Pictures Studios, W 10th St and West Village.
The complete list of the locations with latitude and longitude coordinates are listed below in the table.
As Good as It Gets Locations Map
As Good as It Gets Locations Table
| Location Name | Latitude | Longitude |
| --- | --- | --- |
| 1 Windsor Pl | 40.657742 | -73.976891 |
| 12th Street | 40.735390 | -73.995918 |
| 4th St | 34.043507 | -118.235344 |
| Alamitos Bay Landing | 33.747093 | -118.114815 |
| Barclay Hotel | 34.048458 | -118.247169 |
| Downtown Los Angeles | 34.042515 | -118.247330 |
| Jersey City | 40.718510 | -74.084023 |
| Khoury's Restaurant (Closed) | 33.747604 | -118.113876 |
| Manhattan | 40.770290 | -73.984444 |
| Marina Dr | 33.747101 | -118.113235 |
| Park Slope | 40.672089 | -73.983772 |
| Pocantico Hills | 41.094879 | -73.836761 |
| Prospect Park | 40.660252 | -73.968994 |
| Seal Beach | 33.759827 | -118.078377 |
| Seal Beach Pier | 33.739220 | -118.106537 |
| Sony Pictures Studios | 34.017555 | -118.401588 |
| W 10th St | 40.734280 | -74.003036 |
| West Village | 40.733593 | -74.004883 |
Related Movies