Back to the Future Part III Locations
Back to the Future Part III is an American adventure comedy sci-fi movie directed by Robert Zemeckis, written by Bob Gale. Starring Michael J. Fox, Christopher Lloyd, Mary Steenburgen, Thomas F. Wilson, Lea Thompson, Elisabeth Shue, Matt Clark, and Richard Dysart, the film is the final installment of the Back to the Future series. It was released on May 25, 1990, grossed $246.1 million worldwide and won 2 Academy of Science Fiction, Fantasy & Horror Films Awards. Back to the Future Part III was shot in Los Angeles, South Pasadena, and Jamestown, California, USA. Filming also took place at Universal Studios Hollywood. Jennifer's house was located at 161 N. Magnolia Ave, Monrovia. The McFly house was located at 9303 Roslyndale Ave, Arleta, Los Angeles.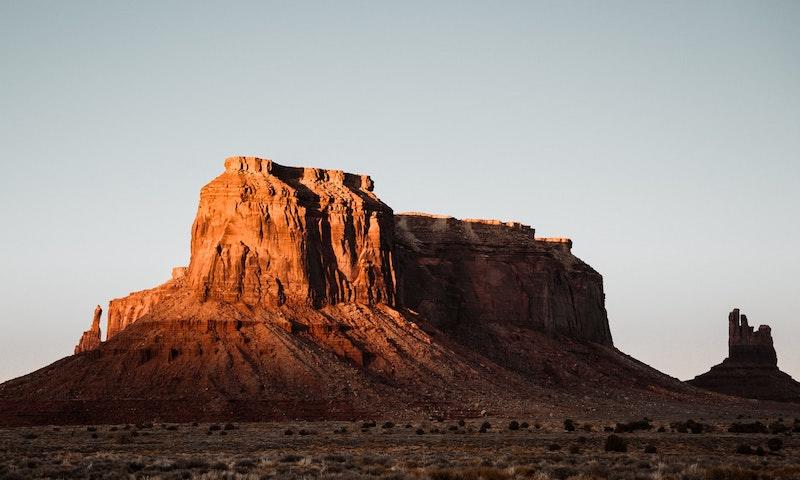 Monument Valley, AZ, USA. Photo by lev Kamalov on Unsplash.
Where was Back to the Future Part III Filmed?
Back to the Future Part III was filmed in 161 N. Magnolia Ave (Jennifer's house), 3793 Oakhurst St (Marty's house in 2015), 9303 Roslyndale Ave (McFly house), China Flat, Jamestown, Monument Valley, Oxford Dr & Doris Ave, Red Hills Ranch, S Ventura Rd & Shoreview Dr, Sandusky Ave & Kagel Canyon St, Sierra Railroad, South Pasadena, The Gamble House, Universal Studios Backlot - Courthouse Square and Universal Studios Hollywood.
The complete list of the locations with latitude and longitude coordinates are listed below in the table.
Back to the Future Part III Locations Map
Back to the Future Part III Locations Table
| Location Name | Latitude | Longitude |
| --- | --- | --- |
| 161 N. Magnolia Ave (Jennifer's house) | 34.153404 | -118.005867 |
| 3793 Oakhurst St (Marty's house in 2015) | 34.068611 | -118.005440 |
| 9303 Roslyndale Ave (McFly house) | 34.238918 | -118.433540 |
| China Flat | 34.208897 | -118.769875 |
| Jamestown | 37.956425 | -120.419510 |
| Monument Valley | 37.031734 | -110.271309 |
| Oxford Dr & Doris Ave | 34.208317 | -119.197258 |
| Red Hills Ranch | 37.840462 | -120.458000 |
| S Ventura Rd & Shoreview Dr | 34.144840 | -119.195656 |
| Sandusky Ave & Kagel Canyon St | 34.242172 | -118.433197 |
| Sierra Railroad | 37.958313 | -120.404037 |
| South Pasadena | 34.113548 | -118.163681 |
| The Gamble House | 34.151604 | -118.161057 |
| Universal Studios Backlot - Courthouse Square | 34.141342 | -118.349571 |
| Universal Studios Hollywood | 34.138039 | -118.353905 |
Related Movies