Barry Lyndon Locations
Barry Lyndon is a historical adventure drama film written and directed by Stanley Kubrick, based on William Makepeace Thackeray's novel "The Luck of Barry Lyndon". Starring Ryan O'Neal, Marisa Berenson, Hardy Krüger, Patrick Magee, Leonard Rossiter, Steven Berkoff, Gay Hamilton, Marie Kean, and Diana Körner, the film was released on 18 December 1975, won 4 Academy Awards in 1976. Barry Lyndon was shot in England, Scotland, Ireland, and Germany. Filming locations included Chatsworth House, Carton House, Blenheim Palace, Royal Victoria Park, Cahir Castle, Dunrobin Castle, Huntington Castle, Lavenham Guildhall, Compton Castle, Dublin Castle, and Somerset Rural Life Museum.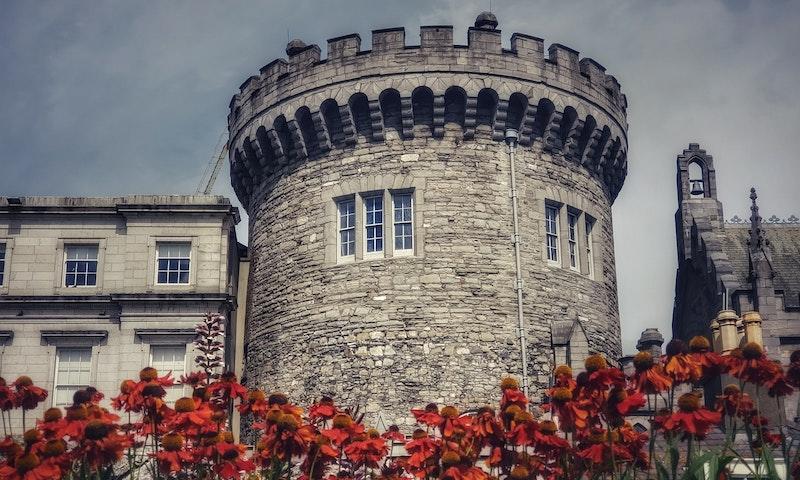 Dublin Castle, Ireland. Photo by Jeremy Matteo on Unsplash.
Where was Barry Lyndon Filmed?
Barry Lyndon was filmed in Baden-Württemberg, Blenheim Palace, Cahir Castle, Carrick-on-Suir, Carton House, Castle Howard, Chatsworth House, Chavenage House, Compton Acres, Compton Castle, Coneysthorpe, Corsham Court, Dublin Castle, Dunrobin Castle & Gardens, Hechingen, Hohenzollern Castle, Huntington Castle & Gardens, Kells, Lavenham Guildhall and Longleat House.
The complete list of the locations with latitude and longitude coordinates are listed below in the table.
Barry Lyndon Locations Map
Barry Lyndon Locations Table
| Location Name | Latitude | Longitude |
| --- | --- | --- |
| Baden-Württemberg | 48.670910 | 8.573920 |
| Blenheim Palace | 51.841354 | -1.361082 |
| Cahir Castle | 52.374523 | -7.927147 |
| Carrick-on-Suir | 52.348297 | -7.420859 |
| Carton House | 53.390865 | -6.567319 |
| Castle Howard | 54.121742 | -0.906179 |
| Chatsworth House | 53.227554 | -1.611536 |
| Chavenage House | 51.655338 | -2.186624 |
| Compton Acres | 50.705196 | -1.926009 |
| Compton Castle | 50.472504 | -3.600355 |
| Coneysthorpe | 54.131332 | -0.912698 |
| Corsham Court | 51.434967 | -2.182415 |
| Dublin Castle | 53.342869 | -6.267550 |
| Dunrobin Castle & Gardens | 57.981819 | -3.945546 |
| Hechingen | 48.354443 | 8.958639 |
| Hohenzollern Castle | 48.323551 | 8.967288 |
| Huntington Castle & Gardens | 52.690430 | -6.649187 |
| Kells | 53.727123 | -6.877802 |
| Lavenham Guildhall | 52.108727 | 0.796610 |
| Longleat House | 51.185802 | -2.274496 |
| Ludwigsburg Residential Palace | 48.899200 | 9.195885 |
| Petworth House and Park | 50.988148 | -0.610982 |
| Potsdam | 52.387939 | 13.060883 |
| Powerscourt | 53.184174 | -6.188267 |
| Rathgormack | 52.305973 | -7.499080 |
| Royal Victoria Park | 51.385658 | -2.370917 |
| Salisbury | 51.068134 | -1.797902 |
| Sanssouci | 52.403454 | 13.036895 |
| Somerset Rural Life Museum | 51.144085 | -2.711017 |
| Stourhead | 51.104961 | -2.318096 |
| Warminster | 51.206638 | -2.179860 |
| Wilton House | 51.078537 | -1.859382 |
Related Movies