Britannia Locations
Britannia is an action drama fantasy television series created by Jez Butterworth, Tom Butterworth, and James Richardson. Starring Gianni Calchetti, Mackenzie Crook, David Morrissey, Nikolaj Lie Kaas, Eleanor Worthington-Cox, Julian Rhind-Tutt, Liana Cornell, and Annabel Scholey, the series was released on 18 January 2018 on Sky (UK and Ireland), Amazon Prime Video (US) (Series 1), and Epix (US) (Series 2 - present). Britannia was shot in Wales, UK, and the Czech Republic. Filming also took place in Ashridge, Hertfordshire, England, UK.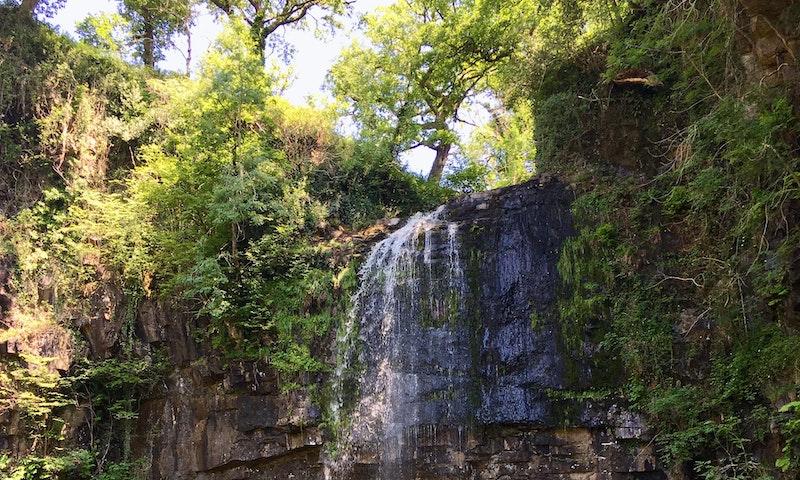 Henrhyd Falls, UK. Photo by Rhiannon Elliott on Unsplash.
Where was Britannia Filmed?
Britannia was filmed in Ashridge, Coelbren, Cwm Porth, Czech Republic, Henrhyd Falls, Hrubá Skála, Llanddeusant, Llyn y Fan Fach, Mořinka, Nash Point, Rhossili Bay, Šembera and Stará Huť.
The complete list of the locations with latitude and longitude coordinates are listed below in the table.
Britannia Locations Map
Britannia Locations Table
| Location Name | Latitude | Longitude |
| --- | --- | --- |
| Ashridge | 51.798756 | -0.560963 |
| Coelbren | 51.791782 | -3.668855 |
| Cwm Porth | 51.799782 | -3.555728 |
| Czech Republic | 49.924259 | 14.733577 |
| Henrhyd Falls | 51.794140 | -3.664146 |
| Hrubá Skála | 50.538895 | 15.200712 |
| Llanddeusant | 51.905651 | -3.780994 |
| Llyn y Fan Fach | 51.881653 | -3.741581 |
| Mořinka | 49.939156 | 14.233256 |
| Nash Point | 51.403717 | -3.560652 |
| Rhossili Bay | 51.577751 | -4.301138 |
| Šembera | 50.082260 | 14.896216 |
| Stará Huť | 49.773823 | 14.200398 |
Related TV Series