Chocolat Locations
Starring an incredible cast consisting of Juliette Binoche, Judi Dench, Carrie-Anne Moss, Alfred Molina, Johnny Depp, Lena Olin, John Wood, and Leslie Caron, Chocolat is a romantic drama movie directed by Lasse Hallström, scored by Rachel Portman, written by Robert Nelson Jacobs, based on the novel of the same name by Joanne Harris. It was released on December 22, 2000, grossed $152.7 million worldwide. The film was nominated for 5 Oscars: Best Picture, Best Actress in a Leading Role, Best Actress in a Supporting Role, Best Writing, Screenplay Based on Material Previously Produced or Published, and Best Music, Original Score. Chocolat was shot in France and England, UK. The village scenes took place in the medieval village of Flavigny-sur-Ozerain which is considered one of the most beautiful villages in France.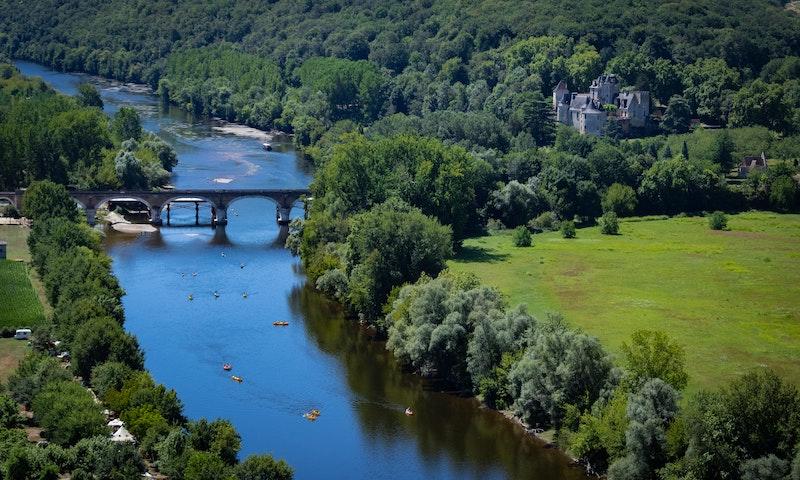 Beynac, Dordogne, France. Photo by Simon Hermans on Unsplash.
Where was Chocolat Filmed?
Chocolat was filmed in Bara Hall, Beynac-et-Cazenac, Flavigny-sur-Ozerain, Fonthill Lake, Noyers, Salisbury, Sarlat-la-Canéda, Shepperton Studios and Thionville.
The complete list of the locations with latitude and longitude coordinates are listed below in the table.
Chocolat Locations Map
Chocolat Locations Table
| Location Name | Latitude | Longitude |
| --- | --- | --- |
| Bara Hall | 51.515831 | -0.429357 |
| Beynac-et-Cazenac | 44.859680 | 1.120887 |
| Flavigny-sur-Ozerain | 47.511963 | 4.528071 |
| Fonthill Lake | 51.085155 | -2.095719 |
| Noyers | 47.697598 | 3.986506 |
| Salisbury | 51.071178 | -1.799976 |
| Sarlat-la-Canéda | 44.887783 | 1.211136 |
| Shepperton Studios | 51.407795 | -0.466224 |
| Thionville | 49.362385 | 6.142080 |
Related Movies