Dallas Locations
Dallas is an American romantic drama soap opera television series created by David Jacobs. Starring Larry Hagman, Ken Kercheval, Patrick Duffy, Linda Gray, Barbara Bel Geddes, Steve Kanaly, Howard Keel, Victoria Principal, Charlene Tilton, and Susan Howard, the series was aired on CBS from April 2, 1978, to May 3, 1991, ran for 14 seasons and 357 episodes, won a Golden Globe in 1982 for "Best Performance by an Actress in a Television Series - Drama" (Barbara Bel Geddes). Dallas was shot in several cities of Texas such as Dallas, Frisco, Parker, Rockwall, Plano, and Parker. Filming locations included Big Sky Movie Ranch, Campbell Centre, Fountain Place, Southfork Ranch, Golden Oak Ranch, Southern Cross Ranch, Renaissance Tower, and The Worthington.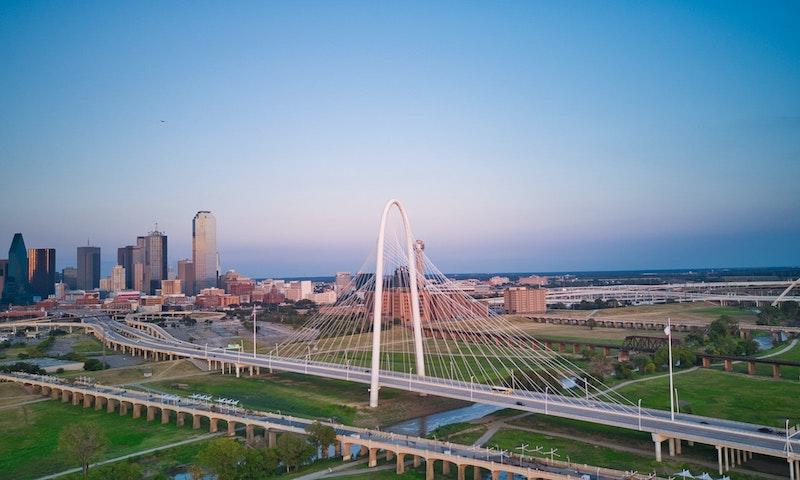 Dallas, TX, USA. Photo by Daniel Halseth on Unsplash.
Where was Dallas Filmed?
Dallas was filmed in 1181 Anna Cade Rd, 2001 Bryan St, 2100 Ross Ave, 4800 Park Ln, 4930 Park Lane, 6735 Westlake Ave, 701 Commerce St, Bank of America Plaza, Big Sky Movie Ranch, Campbell Centre, Cloyce Box Ranch (Brinkmann Ranch), Dallas, Fountain Place, Golden Oak Ranch, J.M.J. Ranch, Lufkin, Metro-Goldwyn-Mayer Studios (Sony Pictures Studio), Parker, Plano and Renaissance Tower.
The complete list of the locations with latitude and longitude coordinates are listed below in the table.
Dallas Locations Map
Dallas Locations Table
| Location Name | Latitude | Longitude |
| --- | --- | --- |
| 1181 Anna Cade Rd | 32.977623 | -96.437531 |
| 2001 Bryan St | 32.785294 | -96.796425 |
| 2100 Ross Ave | 32.787449 | -96.797684 |
| 4800 Park Ln | 32.873127 | -96.827522 |
| 4930 Park Lane | 32.872246 | -96.825081 |
| 6735 Westlake Ave | 32.822582 | -96.745293 |
| 701 Commerce St | 32.778690 | -96.805702 |
| Bank of America Plaza | 32.780155 | -96.803619 |
| Big Sky Movie Ranch | 34.319817 | -118.718063 |
| Campbell Centre | 32.862858 | -96.768745 |
| Cloyce Box Ranch (Brinkmann Ranch) | 33.155914 | -96.787560 |
| Dallas | 32.818764 | -96.843048 |
| Fountain Place | 32.784752 | -96.802483 |
| Golden Oak Ranch | 34.375591 | -118.486382 |
| J.M.J. Ranch | 34.143337 | -118.903717 |
| Lufkin | 31.337177 | -94.732193 |
| Metro-Goldwyn-Mayer Studios (Sony Pictures Studio) | 34.017635 | -118.401489 |
| Parker | 33.055477 | -96.627220 |
| Plano | 33.054455 | -96.740036 |
| Renaissance Tower | 32.781204 | -96.801941 |
| Southern Cross Ranch | 32.718758 | -96.494514 |
| Southfork Ranch | 33.050278 | -96.609428 |
| The Worthington | 32.755859 | -97.332710 |
| Trammel Crow Center | 32.787781 | -96.799789 |
Related TV Series