Dopesick Locations
Dopesick is an American drama TV Mini-Series consisting of eight episodes, created by Danny Strong, based on the book "Dopesick: Dealers, Doctors and the Drug Company that Addicted America" by Beth Macy. Starring Michael Keaton, Rosario Dawson, Peter Sarsgaard, Michael Stuhlbarg, John Hoogenakker, Will Poulter, and Kaitlyn Dever, the series was released on Hulu on October 13, 2021. Dopesick was shot in various places in Virginia, the USA including Richmond, Covington, Hopewell, Clifton Forge, and Bowling Green.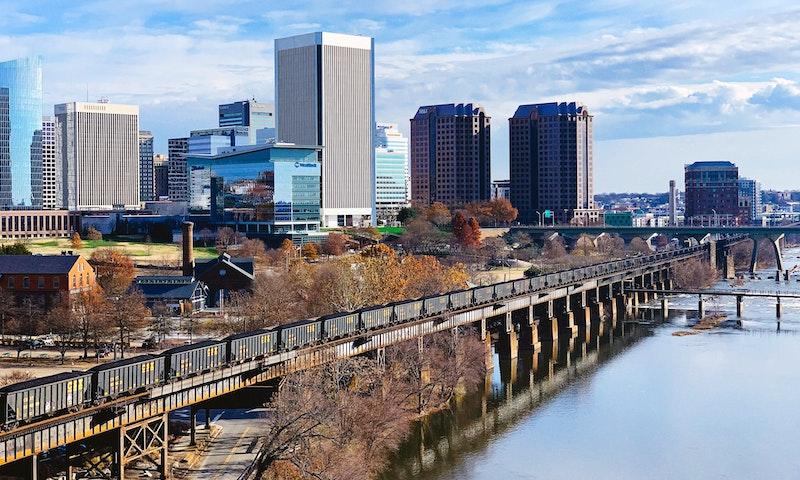 Richmond, Virginia, USA. Photo by STEPHEN POORE on Unsplash.
Where was Dopesick Filmed?
Dopesick was filmed in Alleghany County, Bookbinder's Seafood & Steakhouse, Boulevard Burger and Brew, Bowling Green, Clifton Forge, Covington, Hopewell, Lexington, Manchester Bridge, Richmond, The Estate at River Run, The Fan District and Virginia Museum of Fine Arts.
The complete list of the locations with latitude and longitude coordinates are listed below in the table.
Dopesick Locations Map
Dopesick Locations Table
| Location Name | Latitude | Longitude |
| --- | --- | --- |
| Alleghany County | 37.833111 | -80.116753 |
| Bookbinder's Seafood & Steakhouse | 37.528980 | -77.423241 |
| Boulevard Burger and Brew | 37.566948 | -77.468216 |
| Bowling Green | 38.051437 | -77.349625 |
| Clifton Forge | 37.820580 | -79.828812 |
| Covington | 37.775398 | -79.992920 |
| Hopewell | 37.293392 | -77.314224 |
| Lexington | 37.785378 | -79.447563 |
| Manchester Bridge | 37.531841 | -77.443016 |
| Richmond | 37.555023 | -77.459457 |
| The Estate at River Run | 37.653328 | -77.864799 |
| The Fan District | 37.552116 | -77.462509 |
| Virginia Museum of Fine Arts | 37.556030 | -77.474831 |
Related TV Series