Downsizing Locations
Downsizing is an American fantasy drama sci-fi film written by Alexander Payne and Jim Taylor, directed by Alexander Payne. Starring Matt Damon, Christoph Waltz, Hong Chau, Kristen Wiig, Rolf Lassgård, Udo Kier, Jason Sudeikis, and Maribeth Monroe, the film premiered at the 74th Venice International Film Festival on August 30, 2017, was released on December 22, 2017, in the US. It grossed $55 million worldwide, against a $68–76 million budget. Downsizing was shot on location in Omaha, Nebraska, USA. Filming also took place in Norway and Canada.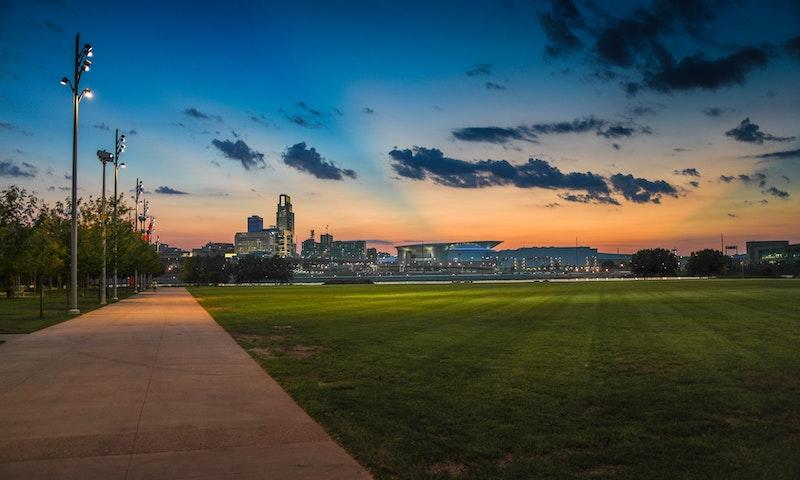 Omaha, US. Photo by Jesse Duering on Unsplash.
Where was Downsizing Filmed?
Downsizing was filmed in Aga Khan Museum, Bergen, CityPlace, Lancaster, Markham, National Trade Centre (now Enercare Centre), Omaha, Perimeter Institute for Theoretical Physics, Pinewood Toronto Studios, Revival 629, Trollfjord, University of Toronto Mississauga and York University.
The complete list of the locations with latitude and longitude coordinates are listed below in the table.
Downsizing Locations Map
Downsizing Locations Table
| Location Name | Latitude | Longitude |
| --- | --- | --- |
| Aga Khan Museum | 43.725254 | -79.332260 |
| Bergen | 60.394405 | 5.316223 |
| CityPlace | 43.641254 | -79.395981 |
| Lancaster | 34.701061 | -118.181923 |
| Markham | 43.891750 | -79.327560 |
| National Trade Centre (now Enercare Centre) | 43.634716 | -79.412437 |
| Omaha | 41.281158 | -96.083794 |
| Perimeter Institute for Theoretical Physics | 43.465405 | -80.527290 |
| Pinewood Toronto Studios | 43.648991 | -79.343063 |
| Revival 629 | 43.658848 | -79.335480 |
| Trollfjord | 68.363281 | 14.932965 |
| University of Toronto Mississauga | 43.548889 | -79.662956 |
| York University | 43.773575 | -79.501991 |
Related Movies