Emily in Paris Locations
Emily in Paris is an American romantic comedy-drama television series created by Darren Star. Starring Lily Collins, Philippine Leroy-Beaulieu, Ashley Park, Lucas Bravo, Samuel Arnold, Bruno Gouery, Camille Razat, William Abadie, and Frédéric Anscombre, it was released on October 2, 2020, on Netflix. It follows the adventures of Emily who is an American woman moving to Paris for a job. The second season of the series premiered on December 22, 2021 on Netflix. Emily in Paris was shot in Chicago, Illinois, USA and Paris, France. Filming locations included Berthillon, La Boulangerie Moderne, Château de Sonnay, Panthéon, Assemblée Nationale, Arc de Triomphe, Pont Alexandre III, Café de Flore, and Cité du Cinéma. Some scenes for the second season took place in Saint-Tropez.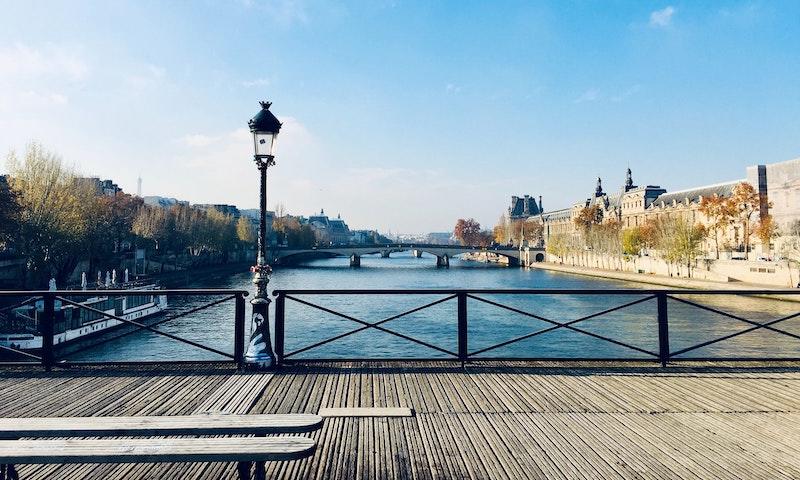 Pont des Arts, Paris, France. Photo by Steve Lussier on Unsplash.
Where was Emily in Paris Filmed?
Emily in Paris was filmed in Anaïs, Arc de Triomphe, Assemblée Nationale, Atelier des Lumières, Berthillon, Café de Flore, Café de la Nouvelle Mairie, Chapelle Saint-Pierre (Season 2), Château de Sonnay, Chicago, Cité du Cinéma, Colonne de Juillet (Place de la Bastille), Concordia, Eiffel Tower, Galerie Patrick Fourtin, Grand-Hotel du Cap-Ferrat (Season 2), Hôtel Plaza Athénée, Jardin du Palais Royale, La Boulangerie Moderne and La Machine du Moulin Rouge.
The complete list of the locations with latitude and longitude coordinates are listed below in the table.
Emily in Paris Locations Map
Emily in Paris Locations Table
| Location Name | Latitude | Longitude |
| --- | --- | --- |
| Anaïs | 48.864807 | 2.346848 |
| Arc de Triomphe | 48.873737 | 2.294977 |
| Assemblée Nationale | 48.860886 | 2.318389 |
| Atelier des Lumières | 48.861595 | 2.380803 |
| Berthillon | 48.851707 | 2.356682 |
| Café de Flore | 48.854137 | 2.332525 |
| Café de la Nouvelle Mairie | 48.845455 | 2.344822 |
| Chapelle Saint-Pierre (Season 2) | 43.703079 | 7.311820 |
| Château de Sonnay | 47.161263 | 0.325668 |
| Chicago | 41.875870 | -87.644791 |
| Cité du Cinéma | 48.922577 | 2.336527 |
| Colonne de Juillet (Place de la Bastille) | 48.853157 | 2.369117 |
| Concordia | 48.841969 | 2.348297 |
| Eiffel Tower | 48.858360 | 2.294441 |
| Galerie Patrick Fourtin | 48.863125 | 2.338283 |
| Grand-Hotel du Cap-Ferrat (Season 2) | 43.676937 | 7.331428 |
| Hôtel Plaza Athénée | 48.866241 | 2.304117 |
| Jardin du Palais Royale | 48.864937 | 2.337716 |
| La Boulangerie Moderne | 48.845482 | 2.344116 |
| La Machine du Moulin Rouge | 48.884186 | 2.332124 |
| La Maison Rose | 48.887932 | 2.339620 |
| La Patache | 48.872662 | 2.363524 |
| Le Champo (Season 2) | 48.849991 | 2.343151 |
| Le Grand Véfour (Restaurant Vefour) | 48.866131 | 2.337933 |
| Le Jardin du Luxembourg | 48.846226 | 2.337063 |
| Moulin Rouge | 48.884144 | 2.332224 |
| Musée des Arts Forains | 48.832745 | 2.388946 |
| Palais Garnier | 48.871937 | 2.331642 |
| Panthéon | 48.846222 | 2.346414 |
| Paris | 48.866871 | 2.329013 |
| Place de l'Estrapade (Emily's Apartment) | 48.844688 | 2.347073 |
| Pont Alexandre III | 48.863808 | 2.313442 |
| Pont des Arts | 48.858295 | 2.337492 |
| Saint-Tropez (Season 2) | 43.267643 | 6.638657 |
| Senequier (Season 2) | 43.272282 | 6.639202 |
| Terra Nera (Gabriel's restaurant) | 48.845421 | 2.344302 |
Related TV Series