Gossip Girl Locations
Gossip Girl is an American romantic drama television series created by Stephanie Savage and Josh Schwartz, based on the novel series of the same name by Cecily von Ziegesar. Starring Blake Lively, Leighton Meester, Penn Badgley, Chace Crawford, Ed Westwick, Kelly Rutherford, Matthew Settle, Taylor Momsen, and Jessica Szohr, the series was released on The CW from September 19, 2007, to December 17, 2012, ran for 6 seasons, 121 episodes, and won ASCAP Film and Television Music Awards in 2009. Gossip Girl was mainly shot in New York City, New York, USA. Filming also took place at the Silvercup Studios East, Long Island City, NY. Filming locations included Bethesda Terrace, Grand Central Station, Museum of the City of New York, St James' Church, and many notable places in New York.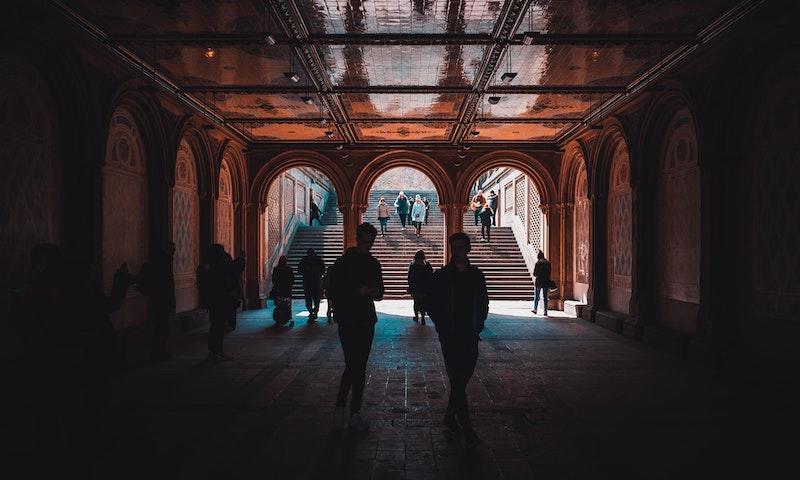 Bethesda Terrace, NY, USA. Photo by Brunno Tozzo on Unsplash.
Where was Gossip Girl Filmed?
Gossip Girl was filmed in Archibald Townhouse, Barrio Chino, Bethesda Terrace, Brooklyn, Cooper Hewitt Smithsonian Design Museum, Empire State Building, Grand Central Station, King Cole Bar, Lotte New York Palace Hotel, Manhattan, Museum of the City of New York, New York City, Queens, Silvercup Studios East, St James' Church, Synod Of Bishops Russian Church, The Campbell, The Empire Hotel, The Metropolitan Museum of Art and The Pond.
The complete list of the locations with latitude and longitude coordinates are listed below in the table.
Gossip Girl Locations Map
Gossip Girl Locations Table
| Location Name | Latitude | Longitude |
| --- | --- | --- |
| Archibald Townhouse | 40.773373 | -73.965607 |
| Barrio Chino | 40.717987 | -73.990051 |
| Bethesda Terrace | 40.773800 | -73.970818 |
| Brooklyn | 40.676891 | -73.950592 |
| Cooper Hewitt Smithsonian Design Museum | 40.784378 | -73.957878 |
| Empire State Building | 40.748436 | -73.985626 |
| Grand Central Station | 40.752682 | -73.977249 |
| King Cole Bar | 40.761272 | -73.974403 |
| Lotte New York Palace Hotel | 40.757950 | -73.975197 |
| Manhattan | 40.781628 | -73.979172 |
| Museum of the City of New York | 40.792496 | -73.951920 |
| New York City | 40.764313 | -73.978081 |
| Queens | 40.727238 | -73.804337 |
| Silvercup Studios East | 40.736324 | -73.937309 |
| St James' Church | 40.771099 | -73.965363 |
| Synod Of Bishops Russian Church | 40.784943 | -73.954147 |
| The Campbell | 40.752617 | -73.977776 |
| The Empire Hotel | 40.771461 | -73.982704 |
| The Metropolitan Museum of Art | 40.779400 | -73.963326 |
| The Pond | 40.765850 | -73.974106 |
| The Russian Tea Room | 40.764832 | -73.979431 |
| Veselka | 40.729004 | -73.987122 |
Related TV Series