Happy Valley Locations
British crime drama thriller TV Series Happy Valley stars Sarah Lancashire, Siobhan Finneran, Steve Pemberton, George Costigan, James Norton, Joe Armstrong, Adam Long, Kevin Doyle, Charlie Murphy, Karl Davies, Robert Emms, Shirley Henderson, and Vincent Franklin. Created and written by Sally Wainwright, and directed by Wainwright, Euros Lyn, Tim Fywell, and Neasa Hardiman, the series was released on BBC One and BBC One HD on 29 April 2014, and won four BAFTA Awards including "Best Drama Series". It follows the life of Police Sergeant Catherine Cawood (Sarah Lancashire). The third season of the show first aired on 1 January 2023. Happy Valley was shot in Calder Valley, West Yorkshire, England, UK. The office interiors were filmed at North Light Film Studios in Huddersfield.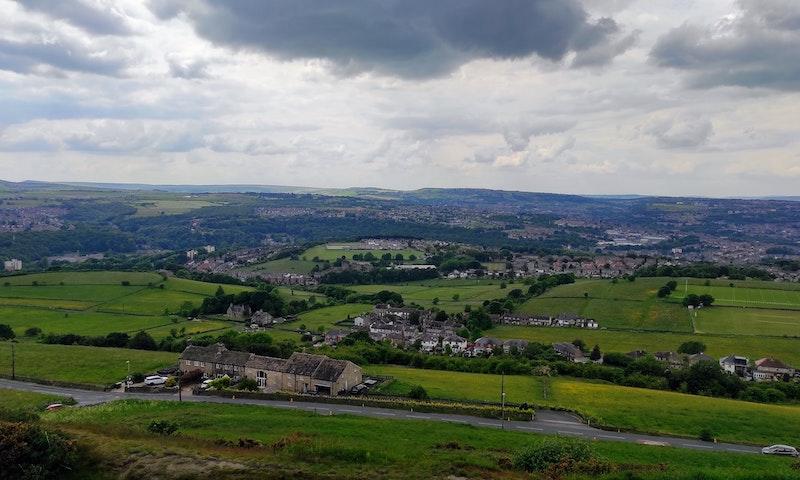 Huddersfield, UK. Photo by Amit Jagnade on Unsplash.
Where was Happy Valley Filmed?
Happy Valley was filmed in Baildon, Bierley, Bradford, Calder Valley, Church St, Halifax, Hebden Bridge, Heptonstall, Huddersfield, Keighley, Luddenden, North Light Film Studios, Shipley, Sowerby Bridge, St Thomas The Apostle Church, Heptonstall, Sylvia Plath's Grave and Todmorden.
The complete list of the locations with latitude and longitude coordinates are listed below in the table.
Happy Valley Locations Map
Happy Valley Locations Table
| Location Name | Latitude | Longitude |
| --- | --- | --- |
| Baildon | 53.852596 | -1.783937 |
| Bierley | 53.766644 | -1.730615 |
| Bradford | 53.799652 | -1.799791 |
| Calder Valley | 53.706261 | -1.941552 |
| Church St | 53.749039 | -2.022399 |
| Halifax | 53.737133 | -1.889273 |
| Hebden Bridge | 53.743599 | -2.015242 |
| Heptonstall | 53.748173 | -2.023191 |
| Huddersfield | 53.649647 | -1.801236 |
| Keighley | 53.866646 | -1.921913 |
| Luddenden | 53.730717 | -1.941602 |
| North Light Film Studios | 53.619286 | -1.799643 |
| Shipley | 53.831108 | -1.787041 |
| Sowerby Bridge | 53.706223 | -1.920259 |
| St Thomas The Apostle Church, Heptonstall | 53.748337 | -2.022189 |
| Sylvia Plath's Grave | 53.747890 | -2.023287 |
| Todmorden | 53.715710 | -2.113387 |
Related TV Series